"Last Night in Soho" REVIEW
Edgar Wright is back with a horror movie. How does it hold up against the rest of his body of work?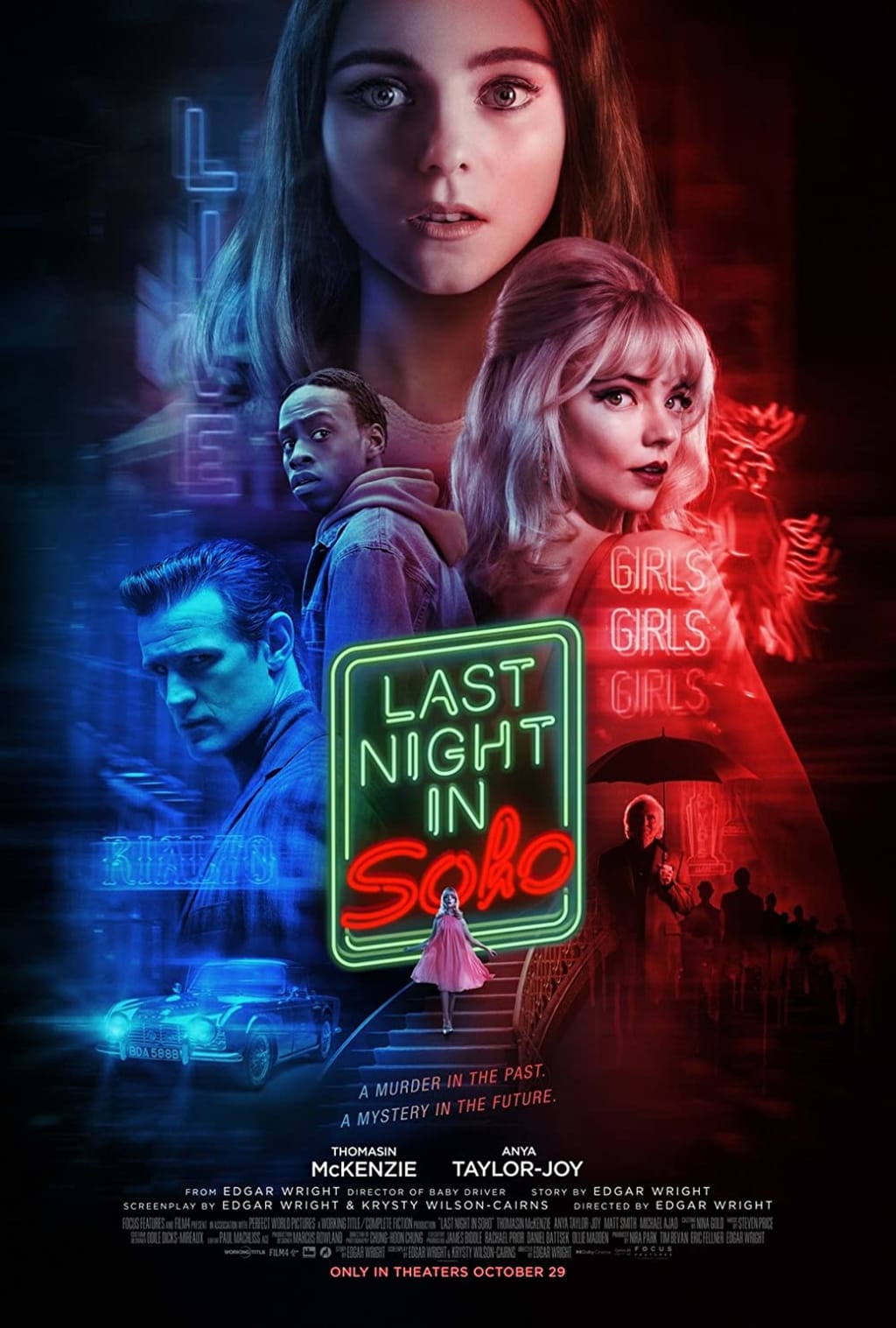 Reading those credits at the bottom, I feel like Edgar Wright might have been involved.
Edgar Wright is geek royalty at this point, and it's not hard to see why.
You could point to the Cornetto Trilogy, where Edgar Wright collaborated with Simon Pegg and Nick Frost to create three wildly different, wildly fun genre flicks. Shaun of the Dead brought an unexpected mix of heart and humor to the zombie genre. Hot Fuzz managed to recreate the magic trick in the format of a police procedural. And they topped it off with The World's End, which remains an absolute joy to this day.
Not content to stay in that mold forever, Wright also handled the adaptation of Scott Pilgrim, bringing absolutely startling visuals to match the cartoonish plot of the original comic. And of course, who can forget Baby Driver?
Even his worst movie is still pretty fun, so when it was announced that his next movie would be a horror film... What can I say? He had my attention.
If there's one criticism that's been regularly levelled at Wright's work over the years, it's that the female roles tend to be pretty bland. Many of his fans were willing to forgive that in the Cornetto trilogy, since the focus was the bromance between Simon Pegg and Nick Frost in all three instances, but when Scott Pilgrim had a manic pixie dream girl, and Debora remained pretty one dimensional in Baby Driver, it started to feel like a trend.
I bring this up because Last Night in Soho, Edgar Wright's newest movie, feels very aware of this criticism. The movie follows Ellie (Thomasin McKenzie) as she arrives in London and starts to have visions of Sandie (Anya Taylor-Joy). Both of these women are at the start of their careers, fighting for the recognition that they feel they deserve. The movie hinges on their journeys and the performances from McKenzie and Taylor-Joy. For once, it feels like the women in an Edgar Wright movie are essential and driven by their own objectives, rather than simply occupying various roles in a story that really wants to follow men.
Exactly how much of this was Edgar Wright's work is unknown, though, as he collaborated on the script with Krysty Wilson-Cairns, who was nominated for an Academy Award for her work on 1917. Whatever the case may be, it's a refreshing change for Wright's films, and it feels like he's interested in remaining flexible as an artist. After a string of successful comedies, he made the less-humorous Baby Driver. After making a blockbuster hit with Baby Driver, he's returned with a psychological horror movie.
His signature visual flair is back. Sequences that are meant to feel dream-like definitely have that effect, and as the line blurs between Ellie's visions and reality, the audience itself will get lost as to what is actually happening. The movie explores the line between fantasy and reality, between dream and nightmare, with the two leads anchoring the movie in a serious way.
Those performances and those visuals are the highlight of the film. Thomasin McKenzie plays the part of the eager ingenue with pep and excitement, although perhaps the script could have given her a bit more nuance off the start, while Anya Taylor-Joy is mysterious and enchanting. There are sequences where Anya Taylor-Joy can only express her character's attitude with her eyes while she dances, and she manages to be convincing and captivating.
Where the movie fails to live up to its potential, however, is the script. While much of the dialogue is still pretty solid, Last Night in Soho lacks the creativity we've come to expect from Edgar Wright, especially as it depends far too heavily on stock scenes.
You know what I mean.
You have to depict that your character is distracted and possibly losing their mind? Have them stumble into the street in a daze, only returning to the moment after someone honks at them!
You want to show that your character is at the end of their rope? Have them bring incredibly thin evidence to the police, only to be humiliated when the cops don't take them seriously!
We've all seen these scenes in a dozen different movies, and there's a reason for that: these scenes are broadly speaking functional. But they're not fresh, and they're not exciting.
The end result is a movie that looks stunning, with strong performances at the center, but that never really manages to achieve the punch of Edgar Wright's earlier films. Nothing here feels as iconic as some of the over-the-top visuals in Scott Pilgrim or any of the chase sequences in Baby Driver, and it can't find the emotional notes that made the Cornetto Trilogy so memorable.
And yet, it's still distracting to watch. I was engaged from beginning to end, and some sequences where the tension rises at a steady clip had me on the edge of my seat. It's still a good movie.
Is it unfair to grade it on a curve just because I wanted a great movie?
If you get the chance, and you're in the mood for a psychological horror story, check it out. But, if you've spent the last decade following Edgar Wright's career with great attention, do yourself a favor and lower your expectations a few notches before the opening credits.
movie
Short stories, movie reviews, and media essays.
The primary task of life is outgrowing the bio you have already written.
Receive stories by Littlewit Philips in

your feed