John Krasinski, SGN and the Fandom Ownership Illusion
He provided comfort to millions of people during a dark time, now people are furious at him.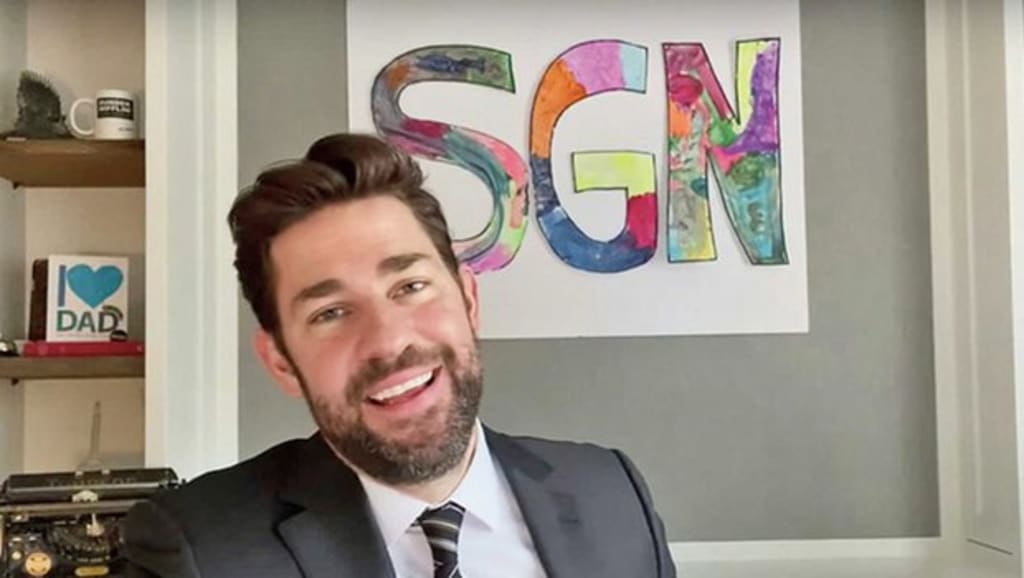 "He has made money off his 'Good News' program while people are dying, laid off, can't get food, etc. Smart, John." Someone tweeted. "This is a sellout move made on the backs of fans who contributed almost all of his content, and he's not even going to keep doing it..." writes another twitter user, "never forget the rich live in a completely different world and do NOT care about us."
Tweets like these are not the minority. Look at the replies on John Krasinski's tweet where he announced that he sold his YouTube show to CBS and you will find an overwhelming amount of anger directed at the guy who made a show that encouraged people to be kind and spread positivity.
In case you have been living under a rock - I guess all of us have been living in isolation for the past few months - in case the rock you've been living under didn't have internet connection until just now, Some Good News or SGN was an eight episode YouTube series created by actor/director John Krasinski while he was hunkered down at home. When talking about this show, remarkable is an understatement. It provided such a sincere, breath-of-fresh magical quality that the world hasn't seen since Mister Rogers' Neighborhood. In the eight episodes Krasinski made for us, he reunited the Original Broadway Cast of Hamilton as well as a reunion of the entire cast of The Office. He hosted a live virtual prom party and a virtual graduation ceremony. He spread goodwill by partnering with brands like AT&T to provide free cell phone service to all nurses and doctors in the US and PepsiCo to donate 3 Million Dollars to a charity that supports restaurant workers during the pandemic.
While the show had a charming, homemade and low-budget feel to it, the amount of work Krasinski put in to this weekly series was evident. From the massive reunions he coordinated to negotiating with big brand sponsors, you could tell this was no side-hustle. We all should be sincerely appreciative for the fantastic eight episodes Krasinski made for us. After the eighth episode, he announced he was taking a break from the show. A few days ago he made this announcement.
The backlash has been huge. In my opinion, the anger directed at Krasinski is unjustified. But it's worth talking about because it points to a bigger problem; this problem is bigger than John Krasinski, bigger than SGN and even bigger than CBS. It's called The Fandom Ownership Illusion - I'm coining the term now. The Fandom Ownership Illusion happens when a piece of intellectual property takes up such a big part of someone's life it creates the illusion that they own something that actually doesn't belong to them. It was behind the bigoted backlash after Marvel announced bi-racial actress Zendaya would be playing MJ in the MCU Spider-Man series. It fuelled the vitriol from Star Wars fans who disliked the character Jar Jar Binks that caused actor Ahmed Best to battle depression and contemplate suicide. It's the reason Logan Paul's fans threatened to kill people who criticized the YouTuber after he uploaded a vlog which included footage of a dead body he found in a forest. SGN may be important to you but it doesn't belong to you. It belonged to John Krasinski, now it belongs to CBS.
From my observations there seem to be three main criticisms people are directing towards the shows creator:
He has now profited off something he created with the goal of spreading goodwill.
The show won't be free and accessible to everyone like it is on YouTube.
The show won't have the same unique charm when it's part of a conglomerate.
As far as profit goes, keep in mind that John Krasinski is a full time professional actor/director. The idea that you can't create something that contributes positively to society and profit off of that same thing is absurd. We don't know how CBS is planning to distribute the show but we know it won't be exclusive to their streaming service CBS All Access. So it most likely will not be behind a paywall. With regards to the quality of the show, all I can say is we haven't seen it yet. Maybe it will still have that wonderful and sincere feeling that made us adore the eight episodes on YouTube. But in all likelihood, the show won't be the same once it's in the property of a corporation like CBS. And that's okay. You don't have to like it or watch it. You are allowed to criticize it, but you don't have to hate the guy who was just trying to give us all a reason to smile in a difficult time.