Jackie Coogan: The man who lit up Uncle Fester
And left an important legacy for all child actors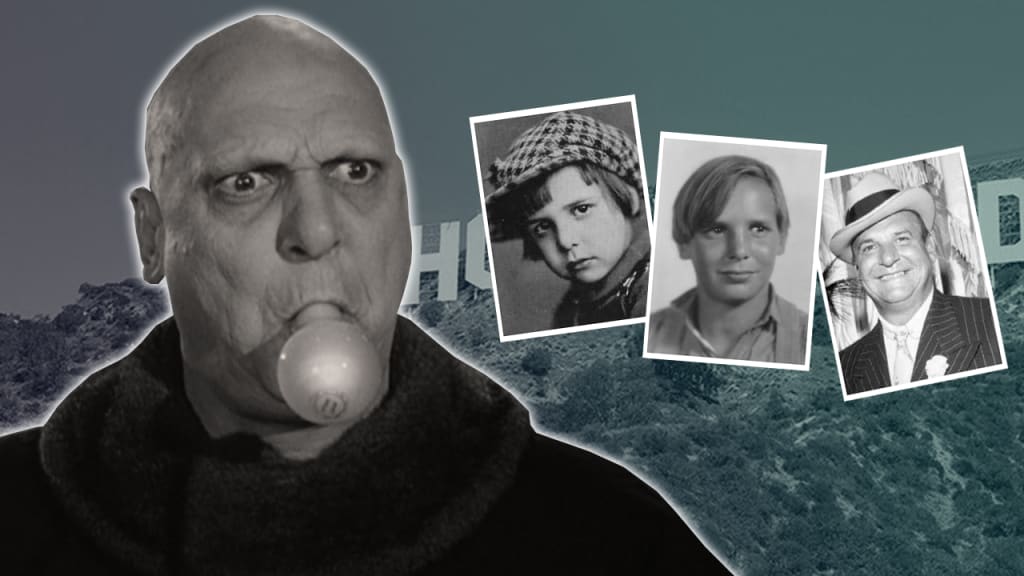 Today I learned three things about American actor Jackie Coogan… the fourth I already knew.
I discovered he was one of the first child stars in the history of Hollywood cinema and that he gave his name to a law to protect child performers from exploitation, particularly by their parents.
The third thing I found out is that his career in movies spanned 67 years… beginning in the silent era and ending with an appearance in The Prey, a slasher film directed by Edwin Brown that focused on a group of campers in the Rocky Mountains released in 1984.
The thing I already knew was that probably his most famous character could power up a light bulb by placing it in his mouth… and went by the name of Uncle Fester.
Born on 26 October 1914, Coogan was the son of two vaudeville actors, John Henry Coogan Jr and Lillian Rita Dolliver, and was on stage from the age of four and touring by five with his family in Los Angeles… even earning an uncredited role in the 1917 film Skinner's Baby, directed by Harry Beaumont in which he was cast as an infant.
His vaudeville appearances caught the eye of the silent era's leading light, Charlie Chaplin, who immediately began planning a movie in which he and Coogan would star.
As a test he was first given a small part in A Day's Pleasure (1919), which eventually led to The Kid (1921), where Chaplin the "Tramp" would raise Coogan and then lose him. It proved a very successful venture, with Coogan going on to play a child in a number of movies, while also touring with his father on the stage.
In fact Coogan's early performing career was such a success that he became one of the first stars to be heavily merchandised, with peanut butter, stationery, whistles, dolls, records and figurines all among the Coogan-themed merchandise on offer.
Aged 10, Coogan entered Urban Military Academy, a Hollywood boarding and day school, and attended other prep schools before dropping out of Santa Clara University in 1932 because of poor grades.
By that time he'd been credited with more than 20 film appearances, including the starring role in John Cromwell's Tom Sawyer (1930) and Norman Taurog's Huckleberry Finn (1931).
After university more than 40 films followed, none proving particularly memorable, before his death on 1 March 1984, after which The Prey was quickly released.
During that time Coogan had a successful career as a television actor with roles in The Andy Griffith Show, Perry Mason, The Lucy Show, Hawaii Five-O, Ironside, Gunsmoke, Alias Smith And Jones, The Red Skelton Hour and Cowboy G-Men.
His first TV appearance came in Racket Squad (1952) with Lanigan's Rabbi his last 25 years later, but if anyone suffered the effects of being typecast it was Coogan, his latter career forever overshadowed by his alter ego Uncle Fester in the incredibly successful The Addams Family, which ran for 64 episodes from 1964-66.
Coogan played Morticia's quirky uncle who sports a shaven dome and dresses in a floor-length fur-collared coat. Among his many eccentric pleasures are dynamite and blasting caps, while he also finds a bed of nails quite relaxing… but his one enduring claim to fame is his ability to power light bulbs by placing them inside his mouth.
Just three years in production out a career that spanned 67 but Uncle Fester was definitely Coogan's lifetime achievement on celluloid, the one enduring character for whom he will never be forgotten.
But his other great legacy was the "Coogan Act" which was passed in 1939 by the State of California to protect the earnings of child actors, most recently revised on 7 December 2019.
As a child star Coogan earned an estimated fortune of about US$50 million in today's money (in the region of US$4 million back then) but shortly after turning 21 in October 1935 found his assets had been stripped.
His father, who had been managing his money, died in a car accident in San Diego County that year when Coogan was the sole survivor in the crash which took the lives of four people. But when he asked his mother and stepfather about receiving the money he'd made as a child star in the 1920s they refused his request.
Bernstein had been a financial advisor for the family and married Coogan's mother in late 1936, the couple claiming Coogan had enjoyed playing before the camera and that no promises were ever made to pay him anything.
So in 1938 Coogan sued the pair and after his legal expenses received just US$126,000 of the US$250,000 that had not been squandered.
However the legal battle focused attention on child actors and resulted in the 1939 enactment of the California Child Actor's Bill, often referred to as the "Coogan Law" or the "Coogan Act", which required that a child actor's employer set aside 15 per cent of the earnings in a trust (called a Coogan account) and specified the actor's schooling, work hours and time off.
Coogan's other legacy was his four children. He married four times, with his first three to actresses proving short-lived. He and Betty Grable were married on 20 November 1937 and divorced less than two years later on 11 October 1939. On 10 August 1941 he married Flower Parry, the couple having a son, John, born in March 1942. They divorced a year later and Coogan married his third wife, Ann McCormack, on 26 December 1946. Together they had a daughter, Joann, but divorced on 20 September 1951.
Dorothea Hanson, also known as Dorothea Lamphere, became Coogan's fourth wife in April 1952 and they were together for more than 30 years until his death from heart failure on 1 March 1984 in Santa Monica, California, aged 69. They had two children, a daughter Leslie and son Christopher.
About the Creator
From Covid to the Ukraine... nothing is as it seems in the world. Don't just accept the mainstream brainwashing, open your eyes to the bigger picture at the heart of these staged productions.
JOIN THE DOTS: http://not.wildaboutit.com
Reader insights
Be the first to share your insights about this piece.
Add your insights