Is Disney+ Premier even worth it?
#BestOfStreaming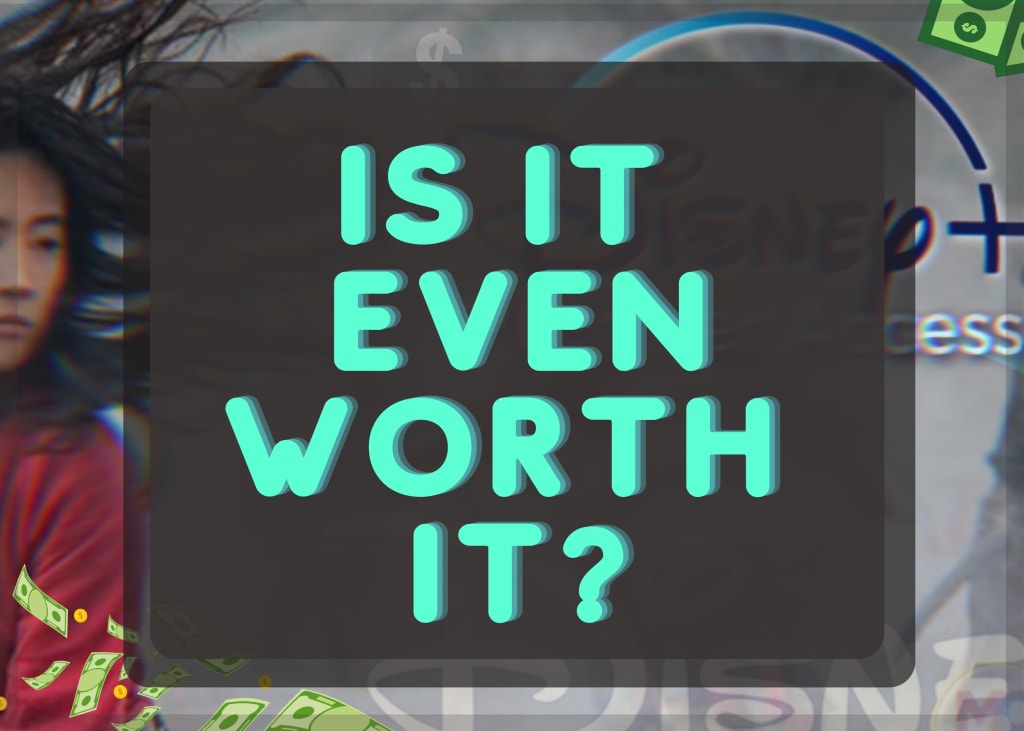 There was a countdown to the release of the live action of Mulan on Instagram that made me remember that September 4th is the big day ... I ended up remembering the date for Mulan's release date better than I remembered my dentist appointment. There were trailer's, sneak peaks and lots of pictures showing a gorgeous Chinese town. I was excited and ready to sit down to watch the new movie on Friday night just to realize ... you need something called 'Premiere Access' to see the new movie on the already glitchy streaming site. I was pissed.
All that hype and .... it turns out you need Disney+ 'Premiere Access' just to watch the new movie. Oh, and the new Mulan movie is the only thing behind the pay wall right now. I don't know about you, but I didn't pay the ridiculous 35$ extra fee just to watch the new Mulan.
So ... what is going on? What is Disney+ premiere and why am I just hearing about it now?
It turns out that September 4th isn't just the release date of the movie, it also the release date of Disney's newest way to get more money out of people ... also know as premiere. I can't be the only one refusing to pay the extra hidden fee after being given no warning before the 4th that there would even be any extra fees needed to see this movie.
Should you get Disney+ 'PREMIER ACCESS'?
The good news is that it is only a one time fee for the upgrade.
The bad news is that if you cancel your subscription then you lose the upgrade.
The really bad news is that the upgrade costs 35$, when you already pay the monthly fees. It only costs 10$ to see a movie in the theaters, so why would anyone pay this much to watch the new Mulan even with the promise of other content being put behind this pay wall in the future.

Did Mulan (2020) even do well? Did people like the movie?
The live action remake of the 1998 Disney film has appeared to cause a wide range of disappointment across the internet not jut for price of entry but also for a lack of story that appeared in the original.
"A young Chinese maiden disguises herself as a male warrior in order to save her father." - IMDb

"It could have told its classic story with greater depth, but the live-action Mulan is a visual marvel that serves as a stirring update to its animated predecessor." - Rotten Tomates
Even the google reviews on Mulan 2020 are a low 2.8/5. Long story short, Mulan 2020 did madly and the people aren't being quiet about it.
So, is Disney+ Premiere worth it??
No, it is not. If you already pay for the Disney+ subscription then you shouldn't have to pay extra for any new content added to it. Especially when the only thing behind the pay wall right now is just one movie.
Not too mention, there is a #BoycottMulan movement happening on Twitter as the movie is being released to different countries, more and more people find the movie to be offensive for several different reasons. One of the reasons is for promotional stereotypes of China.
If you really feel like you need a bit of Mulan in your life, why not just watch the original again? It doesn't cost 35 extra ... and its the same one I love from my childhood.
I hope this article helps you understand what Disney+ premiere is why it isn't worth the cost ... or at least I hope you find this article relatable.
Thank You!
I hope this article helped you find your new show on Netflix. If you loved what you read than check out my other articles here on Vocal. If you really loved what you read send a 1 time tip, the support will make sure that more articles like this are coming your way!
References
"Mulan." IMDb, IMDb.com, 3 Sept. 2020, www.imdb.com/title/tt4566758/.
"Mulan (2020)." Rotten Tomatoes, www.rottentomatoes.com/m/mulan_2020.
"Mulan: Why Disney's Latest Reboot Is Facing Boycott Calls." BBC News, BBC, 4 Sept. 2020, www.bbc.com/news/newsbeat-54024810.