Interview With Jennifer Camper, Host of the Queers & Comics Convention
As cartoonist and organizer Jennifer Camper tells it, the biennial Queers & Comics convention is exactly what it sounds like: a "crazy family reunion" of artists that assemble to reflect on their craft and on the culture that informs it.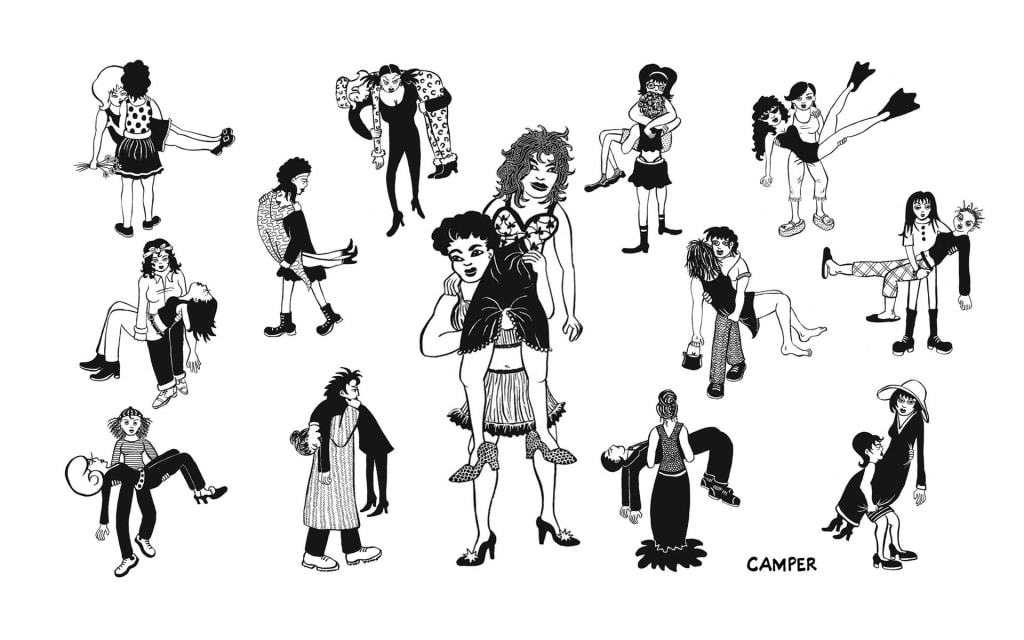 As is the case with many social movements globally and throughout history, art–and in this case comic art–is a key element of LGBTQ culture and one of the most effective mechanisms for social commentary, critique and progress. It is in this very spirit that cartoonist and graphic artist Jennifer Camper and her co-organizers put together the inauguralQueers & Comics Conference in 2015. To put this in context, until as late as 1989 the Comics Code Authority had banned any mention of homosexuality in comics, forbidding gay characters, themes or even subtle references in dialogue. Even in the years following, queer comics were relegated to the underground comic world, where the niche content gained traction and an impassioned following until it spawned a genre unto itself. You need only look at the presence of queer comic book characters like Supergirl to understand that queer comics is underground no longer.
In anticipation of the second biennial Queers & Comics Conference, Geeks spoke with co-organizer Jennifer Camper about how she first came to establish the event, what's changed since the inaugural conference and about the unique power of this visual literature that allows comic creators and fans alike to reflect upon and critique the past, present and future of queer culture.
GEEKS: What is the Queers & Comics Convention, in a few words?
Jennifer Camper: The Queers & Comics Conference is a chance for LGBTQ cartoonists to document their history and discuss their craft. We will have five decades of queer cartoonists attending – it's like a crazy family reunion of artists. This is our second biennial conference and the focus is on Queer Manga (Japanese comics) and LGBTQ Comics in the Bay Area. The panels cover genres (sci-fi, Manga, memoir, erotica, non-fiction, young readers, humor, etc.), identity (transgender cartoonists, women, People of Color, etc.), craft and technique, publishing, the history of queer comics, and more. But the magic of this conference is in the connections – people meet their favorite cartoonists, discover new inspiring comics, and make networks for creating exciting new work in the future. All our events will be video-taped and archived for future viewing. Documentation of our history is an important part of the conference.
What are the primary frustrations that queer comics creators face in the comic industry at large?
Comics are an incredibly labor-intensive medium, and there is not much money to be made in selling comics. So most cartoonists have to figure out a way to support themselves while they make their art. The variety of ways queer cartoonists pay their bills is amazing – I know cartoonists who have side jobs that range from graphic designers and illustrators, to lawyers, healthcare workers, teachers, librarians, and exotic dancers.
Also, comics need to be published – either in print or digitally. Most of the mainstream outlets have been slow to include LGBTQ content. So LGBTQ cartoonists often self-publish, or publish with smaller presses.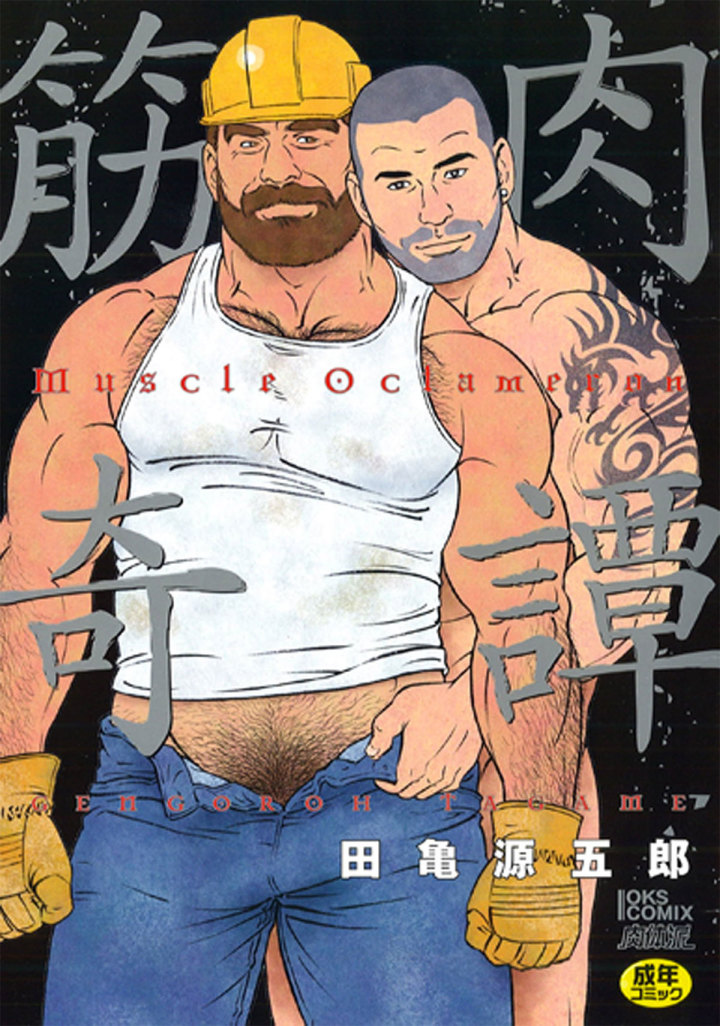 What was the impetus behind your launching the first conference in 2015?
In the 1990's many queer cartoonists connected at the "Outwrite" conferences, the LGBTQ Writer's Conferences in Boston. Some of us were reminiscing about those past panels and parties, and I thought we should create a cartoonists' conference where those connections could happen now. Also, our first wave of openly-LGBTQ cartoonists are now in their sixties and seventies, and I wanted their experiences documented and archived for history. If we don't tell our own stories, they may not get told, or be told incorrectly.
How active was the LGBTQ comics and manga community before the inaugural Queers & Comics conference, and what effects have you seen since?
In the U.S., there's been openly queer cartoonists making comics with LGBTQ content since the 1970's. Every year, the numbers of queer cartoonists are increasing, in the U.S. and internationally, and this meant we could attract enough cartoonists to our conference. We hope the conference helps create community to nurture the cartoonists and their work.
The 2017 conference is larger than our first one in 2015, and future conferences promise to be even bigger. Queers & Comics reflects the diversity of our community, and gives us a chance to learn from each other, and to network. Many of the ideas discussed at our first conference inspired new comics. And many cartoonists met future collaborators at our first conference. We plan to alternate the conference between NYC and SF to allow more people to easily participate.
Who are some of the most influential names, past and present, in the Queer comics/manga scene, and what makes them so?
Gengoroh Tagame is probably the best known Japanese gay cartoonist. His amazing work is known and translated internationally. He has written and illustrated over twenty graphic novels, and was instrumental in creating some of the first gay publications in Japan. Most of his work is deliciously erotic, but he has also recently written his first "all-ages" book, My Brother's Husband. He is one of our Keynote Speakers at Queers & Comics 2017.
Other gay male Japanese cartoonists: Jiraiya creates beautifully realistic art depicting erotic large men, Poohsuke Kumada's comics have an exuberant humor, Takeshi Matsu's comics feature "boys-next-door" adventures, and many more.
Nakamura Ching is one of the only openly-lesbian Japanese cartoonists (mangaka), and the creator of Gunjo, and Dare mo Korinai. She creates yuri that deals with the emotional realities of lesbian life, including the joys and difficulties of having a lesbian family in Japan. She's also written Okaasan Futari Itemo Iikana!?, a memoir of her relationship with another woman and her step-children.
Rica Takashima is a Japanese cartoonist who created comics about the everyday lives of lesbians in Japan's premier lesbian magazine, and created the comic Rica 'tte Kanji!? She's presently living in New York, and will be a panelist at Queers & Comics 2017.
There's much Japanese manga with queer content. There are many comics within the genres Yaoi and Shonen Ai (Boys Love), and Yuri and Shoujo Ai (Lesbian) – however not all are written by LGBTQ cartoonists.
Is there something about comics as an artistic medium that is particularly conducive to depicting/critiquing queer culture, and minority groups in general?
Comics are an easily accessible art form – inexpensive to create and to consume – and maybe that's why so-called "marginalized" people are drawn to it. Many people who want to explore art with words and pictures are able to create their own mini-comics or zines with just a pen, paper, and copy machine. Also, because comics are still a "bastard" art form with less prestige, I think people feel comfortable and safe in that medium, especially when telling personal stories or stories outside the mainstream.
Is there pressure on comic artists and graphic novelists that identify as LGBTQ to explicitly feature/explore those themes in their work – or criticism if they don't?
Years ago, many young queer cartoonists created autobiography and memoir, and focused on "coming out" stories and explorations of identity. Now I see more young queer cartoonists creating speculative fiction comics – sci-fi and fantasy. I think each artist gets drawn into comics to tell the stories they want to read. Some of them will do exclusively LGBTQ themed work, some not. There's an audience for a wide variety of queer comics. And queer cartoonists will create work in every genre.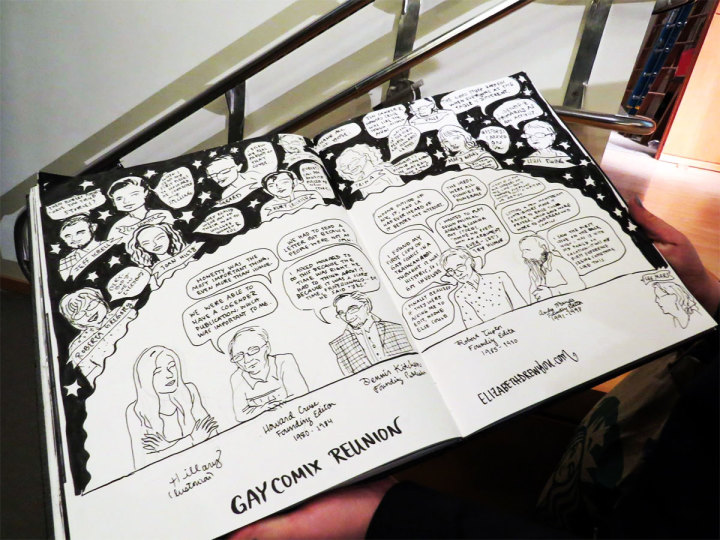 Top fan favorite characters in queer comics, go!
There's no easy answer to that question anymore. There are too many different kinds of LGBTQ comics – literary fiction, memoir, superhero, young adult, erotica, historical, political, etc. So "favorites" depends on what genre you like best.
Certainly, Alison Bechdel and Howard Cruse are well-known for their complex and ground-breaking work. Mariko Tamaki (one of our 2 Keynote presenters) writes Young Adult comics, often illustrated by her cousin Jillian, and is now working on SuperGirl and The Hulk.
What do you most look forward to about the event?
I'm thrilled to connect with old comrades and to discover new cartoonists. I love seeing our community grow and I'm thankful to have our history recorded. I'm looking forward to the new comics generated by this conference. And I know there will be some delirious, kick-ass parties.
Are costumed encouraged, à la Comic Con?
Queers & Comics attendees are encouraged to wear whatever they want, or nothing at all.
For more about the conference visit the Queers & Comics website and follow them @QueersComics
For more about Jennifer Camper and her work visit www.JenniferCamper.com and follow her @JenCamperX
literature
interview
conventions
feature
comics