I Think We've 'Maid' A Mistake: How This Forgotten 'Game Of Thrones' Character Could Bring Down Cersei
There is one Game of Thrones character who is possibly even more Team Cersei than her golden-handed incest brother.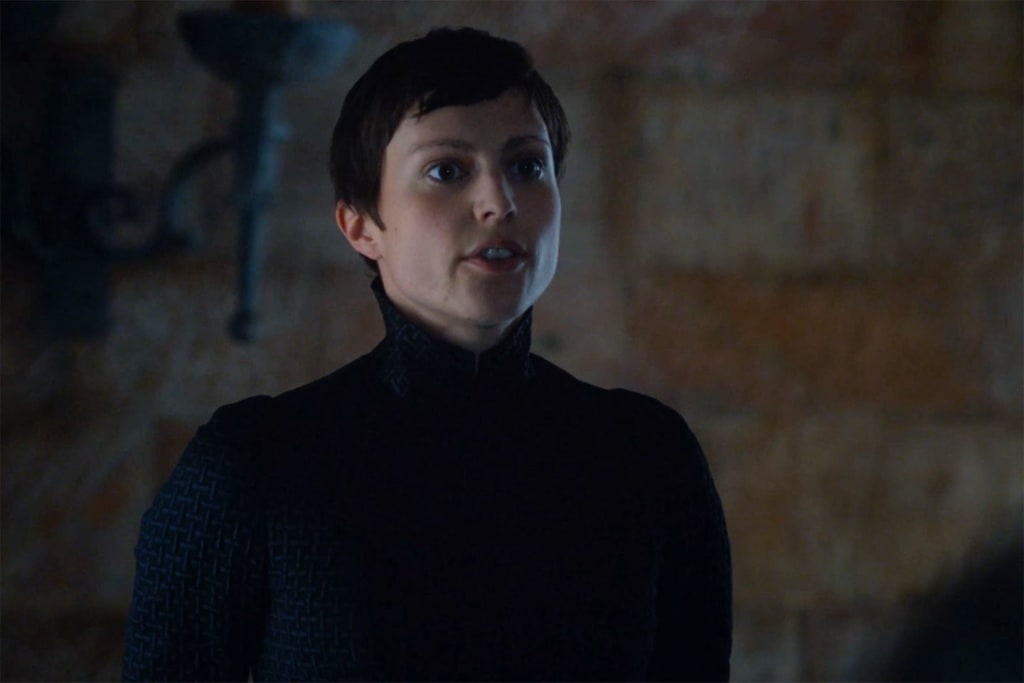 As HBO's Game of Thrones winds toward its dramatic climax, the race for the pointy chair narrows the playing field and all bets are off on whether it will be man, woman, or White Walker to wear the crown in Season 8.
However, for the time being, it is Cersei Lannister who rules the roost, but it must lonely for her there in King's Landing. Cersei's son hopped out the window, her brother/lover is off fighting her wars, and even her sparring partner has slurped down a goblet of poisoned wine. That being said, there is one character who is possibly even more Team Cersei than her golden-handed incest brother, so please enter Cersei's long-suffering maid Bernadette — "who?" I hear you cry!
Maid For Trouble
The Lannister lioness uber-fan popped up in Episode 3, "The Queen's Justice," sporting a pixie cut and some Cersei runway realness. Returning from an equally brief appearance last year, Bernadette was modeling a new look based on her idol and in fitting with the Queen's ferocious winter wardrobe.
It didn't take the official #GameofThrones reddit to pick up on Bernadette's return, and it looked like she has either done her own shame walk or taken a trip to the King's Landing barber ahead of Season 7. But, apart from Cersei being a trendsetter in the capital, was that the only thing we should take away from Sara Dylan's return as Bernie?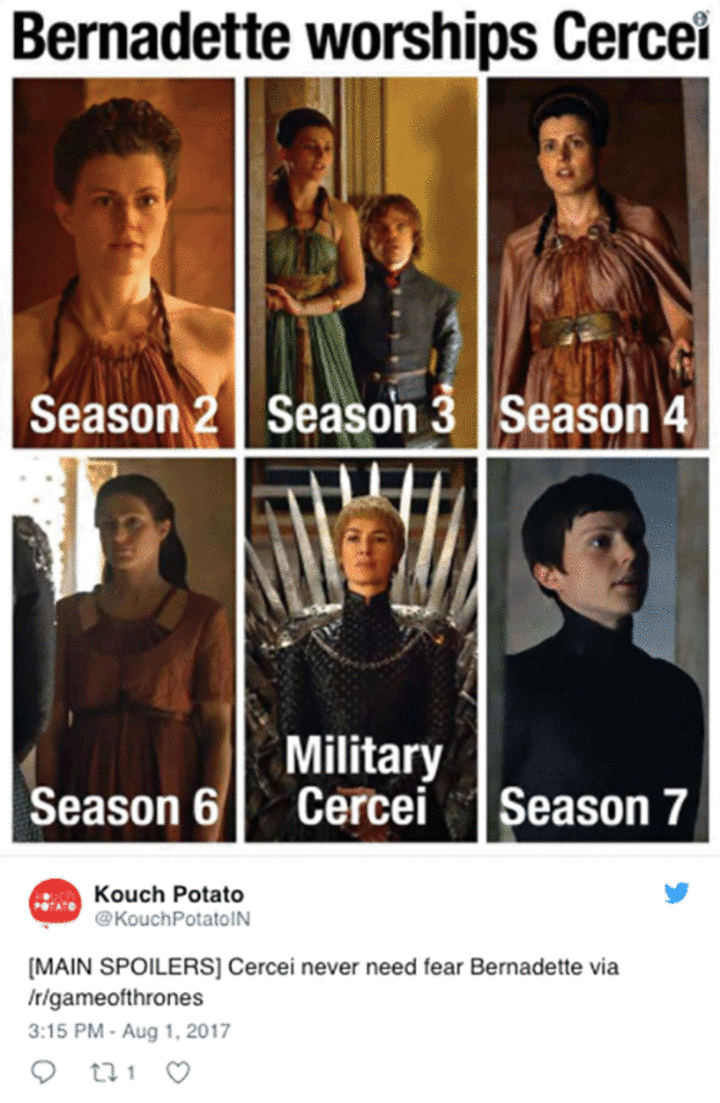 While a minor character like Bernadette may seem like a non-part or perfect cannon fodder, you have to ask how and why she has survived the past five seasons to outlive some much more important characters to the plot. Also, we should probably take note that the camera lingered just a little too long on Bernadette, almost to remind audiences, "Hey, she's still here."
It seems that Cersei only trusts three people right now, and while her confidantes Qyburn and Jaime may be prime suspects to finally bring down the roaring dynasty before the show's end, could it be the maid, in the bedroom, with the lead pipe?
Arya Paying Attention
Among the big winners and losers of Season 7 thus far, we have seen #MaisieWilliams come a long way as the spunky Arya Stark. Over the past seven seasons, the youngest of the Stark girls has masqueraded as a boy, lost her sight, become a faceless assassin, and now finally head for that big family reunion at Winterfell.
The season opened with Arya putting her new skills into practice and wiping out House Frey in one of the show's biggest fist-bump scenes to date. Now that Arya has perfected her training under Jaqen H'ghar, we can't see showrunners David Benioff and D.B. Weiss discarding her storyline for an easy life up in the North. While it could be all be pies and ale by the Winterfell hearth, should we really expect the plucky survivor to give up on her list of vengeance and toppling Cersei?
I had previously theorized how Arya could get close to Cersei by taking the face of Jaime Lannister, but a cautious Queen will undoubtedly start to remember that prophecy of "the little brother" choking the life out of her. According to redditor elcarnaza, one thing Cersei definitely wouldn't expect is coming home to her freshly changed sheets, only to have her throat cut by a vengeful Arya wearing the face of her maid.
Arya could easily set out for the capital and to kill the big boss before the show comes to a close in Season 8, while Bernadette's visage would be a perfect candidate to help enact this fate. We are certainly counting down the days until Maggy the Frog's prophecy is fulfilled and Cersei shifts her bony behind off the Iron Throne and into a shallow grave. After six seasons of smizing her enemies, we have seen Cersei become the de facto villain of the piece and crown herself Queen of the Seven Kingdoms. Rarely has TV gifted us such a brilliant bitch since Joan Collins played Alexis Colby on Dynasty.
While Arya/Bernadette would throw the various Valonqar theories out the window, it would nevertheless still be a brutal end to the story and one in fitting with Arya's current Kill Bill hit list — someone get that girl a yellow jumpsuit and a motorbike, stat!