Hubie Halloween - A Netflix Movie Review
Hubie Halloween is a fun film to make you laugh.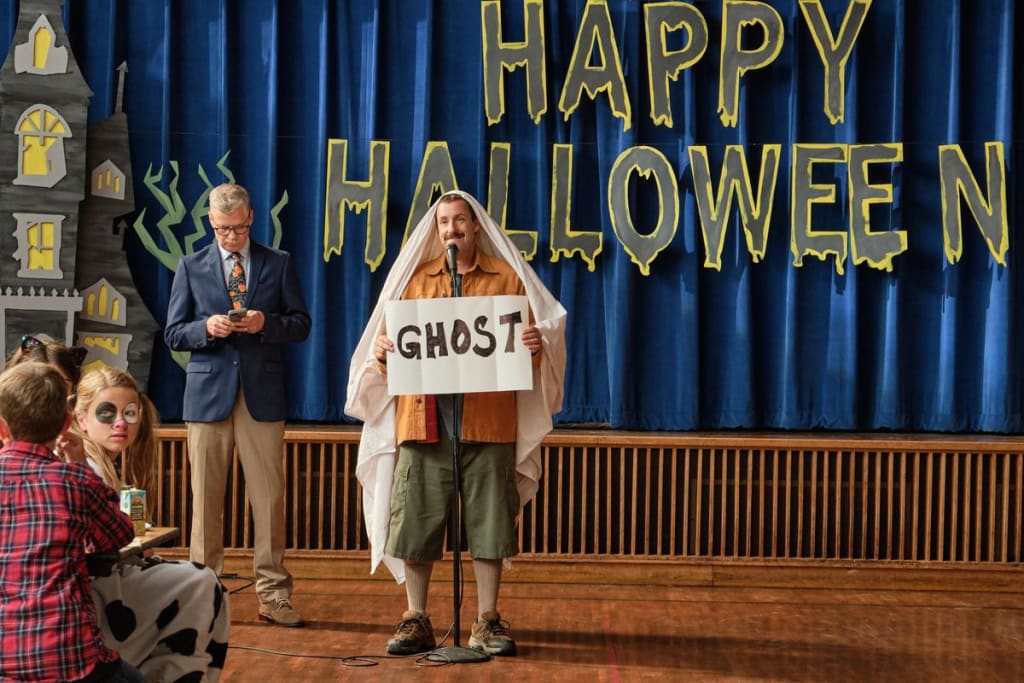 There's something strange going on this Halloween, and I don't mean the usual strange.
Hubie Halloween is a 2020 Netflix film. Hubie Debois is devoted to making this the safest Halloween for all the kids in Salem. Unfortunately, Hubie is mocked everywhere here goes. On Halloween, something is not right. It's up to Hubie to save the day.
I knew that I was going to have mixed feelings about Hubie Halloween seeing how it was the usual Adam Sandler comedy. Watching it, I actually had fun, laughing at some humorous scenes. It's not a film that viewers should take seriously. Hubie Halloween is a fun film to enjoy for the Halloween season.
I have always had mixed feelings for Adam Sandler, but over the year I have become more fond of what he is capable of bringing to the screen. His performance as Hubie was great. It's his usual sense of humor, whether he is crass or well-meaning in his own way. Hubie is not taken seriously in the town because he gets scared easily. Real easily. I like how Hubie looked out for the town, giving them advice, even though they don't do the same for him.
The only part about Sandler's performance that I disliked was the voice he created. It didn't make sense to his character. It's so hard to understand what he is saying and ruins an aspect of the movie.
Hubie Halloween includes several cameos in the parts of supporting roles. The film incorporates scenes for actors who have had small parts in other films. That was the fun part of watching Hubie Halloween. Seeing actors appear who you have not seen on the screen for some time. Everybody had fun in the making of this film. That's what matters.
Some notable credits to mention are Kevin James, Kenan Thompson, Julie Bowen, June Squibb, Ray Liotta, Steve Buscemi, Rob Schneider, Maya Rudolph, Tim Meadows, and many more surprise faces. There is even a commemoration to the late Cameron Boyce who sadly died before filming began.
Let's talk about some of the jokes. Not all of them are funny, but because of the well-timed deliveries, it makes it funnier. There are running gags, on-going jokes about Hubie's soup canister, and humorous dialogue among characters.
My favorite moment was when an animal joke was made in front of a cat. I howled in laughter when the camera cut back to the cat's face.
Do you know where Hubie Halloween was filmed? That's right, the spooky destination Salem, Massachusetts! Many viewers are sure to recognize popular spots and streets.
The whole point of Hubie Halloween is that you should not take it seriously. Steven Brill directed a film that has its own typical humor. Know what you are going to watch. There were several occasions when I turned up my nose at the vulgar jokes, cringe-worthy dialogue, and some of the way the cast reacted to the drama. It's on purpose. All Hubie Halloween is trying to do is make us laugh.
This year, Halloween is very different. Not knowing that there was going to be a pandemic, Hubie Halloween came out at the right time. Not only is it a film to lift everyone's spirit, but its message about staying safe is extremely important. Stay safe this Halloween and make the right decisions.
If you are going to watch Hubie Halloween on Netflix, don't give up on it and turn it off. Give it a chance. It was becoming a little drawn out by the end, but it is a funny Halloween film. Enjoy your Halloween this year.