How to Ensure Success of Your Online Store in India
With technological advancements, there are no more storms in the teacup. Daily to-do tasks have turned easy and convenient. Everything is on your fingers. These changes have affected the behaviour of customers as well.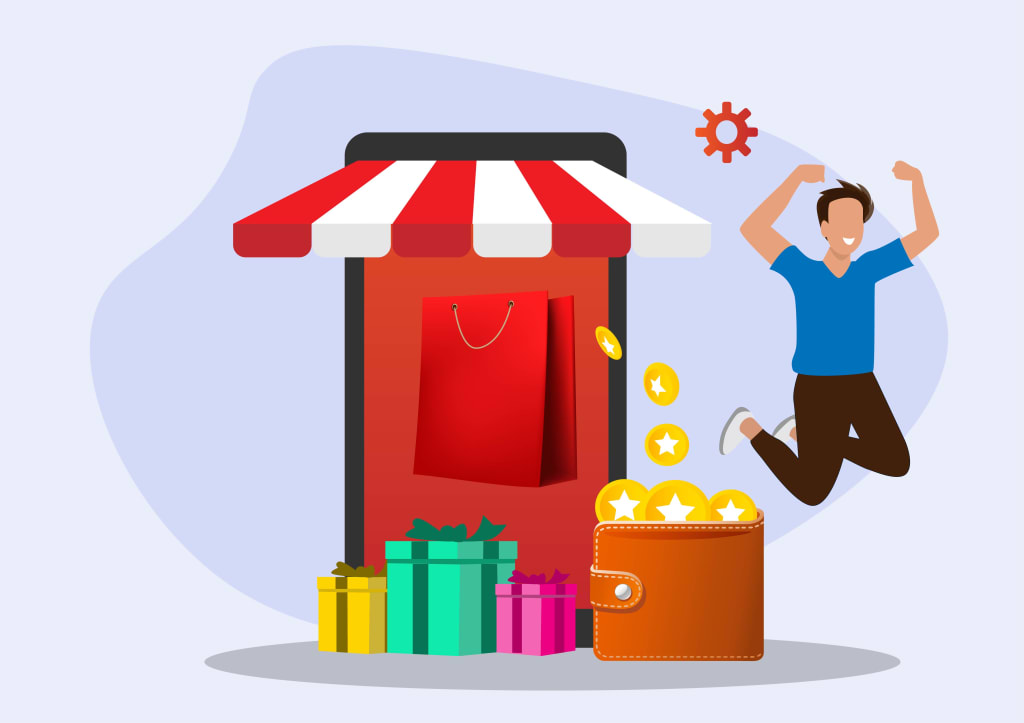 Whether intentionally or unintentionally, somewhere in your mind, you might think, "I'm happy with ongoing sales, then what's the need to create an online store"?
Right?
Well, the truth is you might start making losses soon. Yes, there are a handful of proofs to support this conclusion.
But, before we uncover the must-have for your online store success, it's important for your business to answer the most pressing question –
"Is There an Increase in Online Shopping"?
Yes, there is an unprecedented increase in online shopping.
These days, the number and value of online sales are witnessing an inclining trajectory. In 2022, global e-commerce sales are expected to reach $5 trillion, fueled by several factors, like an increase in mobile shopping, the rise of social media, and many more.
retail ecommerce sales growth
Source
The Food Delivery Industry is estimated to reach $300 billion by 2029.
Food Delivery Industry stats
Also, the online grocery segment has touched closed to the clock 23 million active users.
Still not convinced? Let's take a look at the numbers to make a stronger case.
The online shopping growth presented as an amalgam of new online buyers with a higher frequency of purchases by existing online buyers shows a clear rise in the onset of eCommerce since 2020.
retail ecommerce sales
Source
These outlined stats clearly portray that there is more demand for online stores than ever before. But what are the reasons that ensure the success of your online store?
Are you ready? Here's a comprehensive guide on how to make your online store in India a big success.
The Must-Have To Ensure Success of Your Online Business
According to eMarketer, retail e-commerce sales are predicted to grow by over $5.5 trillion by the end of 2022. This clearly shows that having an online store can be a profitable venture. However, not all online businesses become successful, as online retail is much more than just putting products on the website. You must ensure different elements to make the online world work for you.
It would be best if you prioritized the below-pocketed insights to become a successful online store.
# The Must-Have 1: Choosing The Right Business Model
The first and foremost thing you need to do before you make an online store is to think long and hard about funneling down to the perfect business plan.
Precisely, there are two types of business models you can choose – Single-Vendor Store or Multi-Vendor Marketplace.
Narrowing it down a little, you can choose either a single product line or multiple product lines based on the budget you have decided for yourself for your e-commerce venture.
Single-Vendor Store
As the name suggests, a single-vendor store is a marketplace where a single seller sells its product to several customers. To this end, it's not just easy to keep track of the transactions between the two-fold entities; administrative costs are lower, and also you have more control over the inventory.
Multi-Vendor Marketplace
This eCommerce business model calls for multiple vendors to sell their products to numerous customers, with the vendors registered on your website or online store. This business model helps you address the demand fluctuation and prevents a disruption in the supply chain.
Notably, within this as well, you have different options:
You can sell a unique product yourself or on a similar platform
You can allow other sellers to sell their products in your store
In the first situation, you can earn high profits. While in another scenario, you will get a commission every time a seller registers with your store and makes a successful sale.
#Must-Have 2: Choose The Right Product to Sell
There's one thing you need before you start selling online, and that is product ideas that can drive sales.
Although the struggle to find the right product for your online store is real, so we are lending a hand to help you throughout the process. Here's what you need to know when vetting a new potential product.
Look for a product that resolves customer's pain points
Understand the current trend
Find the products that have high-profit margins
Read product reviews from shoppers
Identify the appropriate niche segment for your online store
Follow your passion
Remember, the niche or product you choose will shape your complete business, so it's a crucial step that you need to do carefully.
#Must-Have 3: Come Up With The Perfect Name For Your Store
Once you have selected the suitable business model to build your own eCommerce website, narrowed down the products you wish to sell, and defined your targeted audience – the next big thing to pay attention to is – "name your brand."
You may be thinking, "What's in a Name"?
Well, personal branding shares deep roots with managing your name. Besides, your brand must create a memorable impression on customers. And to achieve this, your brand name should be:
Unique
Easy and short to remember
Reflect your brand
#Must-Have 4: Don't Forget Payment Gateways
It's essential to integrate payment gateways to make your online business profitable. After all, it allows the processing credit cards, debit cards, net banking, and cash transactions through the website.
And to get a payment gateway for your online business, you must submit the following documents. Let's look at them!
Bank account in the name of the business
Memorandum of association
PAN card of the business
Website privacy policy
Article of association
Address and identify proof
Website term of use
Certificate of incorporation
And once you have submitted all these documents, you will be given the payment gateway for your online business, through which you can enable your online payments. Some famous payment gateways are PayU, RazorPay, and PayPal.
#Must-Have 5: Decide on The Perfect Service Provider
When everything funnels to creating a successful online store, finding the right technology partner is imperative.
So, instead of picking any company, your core focus should be on finding a savvy-experienced technology company that dwells with years of experience in delivering projects within a timeline while maintaining quality.
So, before you put your finger on any development company, remember to ask your potential company the following questions:
What is their relevant experience?
What practices do they follow?
Do they adhere to effective collaboration and honest communication?
How have they helped their clients in achieving their business objectives?
How do they develop user experience?
Do they focus on keeping it simple for users?
Take your time to evaluate the company's portfolio, analyze your research and find the perfect company to create an online store. So, it's important not to be in a rush while choosing a tech partner since you may lose a significant amount of clients and businesses.
#Must-Have 6: Remember – Customers Love Great User Experience
Everything comes from funneling traffic towards the desired action, like making a purchase. And to do this, you need to optimize the user experience.
If a site visitor gets confused, they'll simply leave. So, online stores or websites should be easy to navigate.
In addition, ensure that you have clarified what your business does. Bolster what your brand does on your website or store. After all, what's obvious to you might not be evident to someone else.
Another unskippable element of a great user experience is landing pages. But how did the user get to the landing page? Why is landing page content relevant? Simple, use a clear and straightforward Call To Action.
Furthermore, when you create an online store, ensure that the shopping cart is easily accessible. Besides, the checkout process must be straightforward. But, of course, nobody wants a chaotic checkout process.
Lastly, use A/B testing to find what works wonders for you.
Compare two or more page designs for effectiveness in maximizing sales
Optimize UX for mobile – Ensure prints are big, load time is three seconds or less, and it is easy to navigate.
Your mobile online store shouldn't look like your regular eCommerce website.
#Must-Have 7: Attract Customers To Your Online Store
If you want to succeed in an online business, you must create traffic.
SEO Marketing
Search Engine Optimization is the way of the world and will dominate the future of smart marketing.
In a nutshell, getting noticed by potential customers is vital for the success of your online store. This is where SEO steps in, as it helps you put on search engine maps. After all, 44% of shoppers begin their search with a search engine, and you need to be on their radar.
Ads
Advertisement is yet another way to capture the customer's eyeball.
You can choose "paid ad" options on social platforms like Instagram and Facebook and pay a definite amount to promote your ads on the user's daily feed.
Choosing the Right Keywords
There are approximately 700,000 Google searches performed in one minute.
So, to ensure you come up in these searches, you must show up with a targeted keyword list. One kind of keyword between 0-26 characters is termed as "head-terms," while the one between 26-40 characters is often more specific.
Retargeting
Did You Know!
Retargeting campaigns can boost your conversion rate by 161%.
The only way to re-engage potential customers after losing them is retargeting. This is a process where a cookie is placed on the computer of those who have visited once but hadn't purchased anything. Once a cookie is placed, when a visitor visits another site that shows ads from the retargeting network, your ad will be shown there.
This is an expensive approach to choose but often brings positive results.
Word-of-Mouth
You can always turn to the oldest practice of ensuring that your online store is being spoken about – "Word-Of-Mouth."
So, without any second thought, ask your customers to recommend your brand to their friends and families. Besides, you can tie up with bloggers and ask them to review and write about your brand, which is a magnetic element of your store.
Simply put, it's a gold rush for online business owners. Besides, global e-commerce sales are predicted to double by the end of the decade.
Google search trends
Presently, from a business perspective, the number of online stores is still too low to address the increasing demand. But, apparently, there is no significant rise in interest either. This means you still have a chance to jump on the bandwagon and ride the wave of online stores.
In a nutshell, setting up an online store in India, considering the blooming market, is a STEAL!
Though, it's not going to be all rainbows and butterflies. There may be a handful of challenges, but once you address them and get your business recognized, you will face the bottleneck competition from people like you looking to thrive in this ever-evolving e-commerce industry.
If your business is looking for help in creating an online store, ValueAppz is your ideal partner for growing your online business. So, jump in with industry experts that offer tailored-fit solutions to your business needs.
for more info visit us at https://www.valueappz.com
About the Creator
ValueAppz is a vision, that empowers our team to help businesses launch next-gen on-demand apps and marketplace solutions easily. We take pride in utilizing top-of-the-line technologies, best-in-class app developers
https://www.valueappz.com
Reader insights
Be the first to share your insights about this piece.
Add your insights