How "Elfquest" Enraptured Me as an Adult
Falling in love with Skywise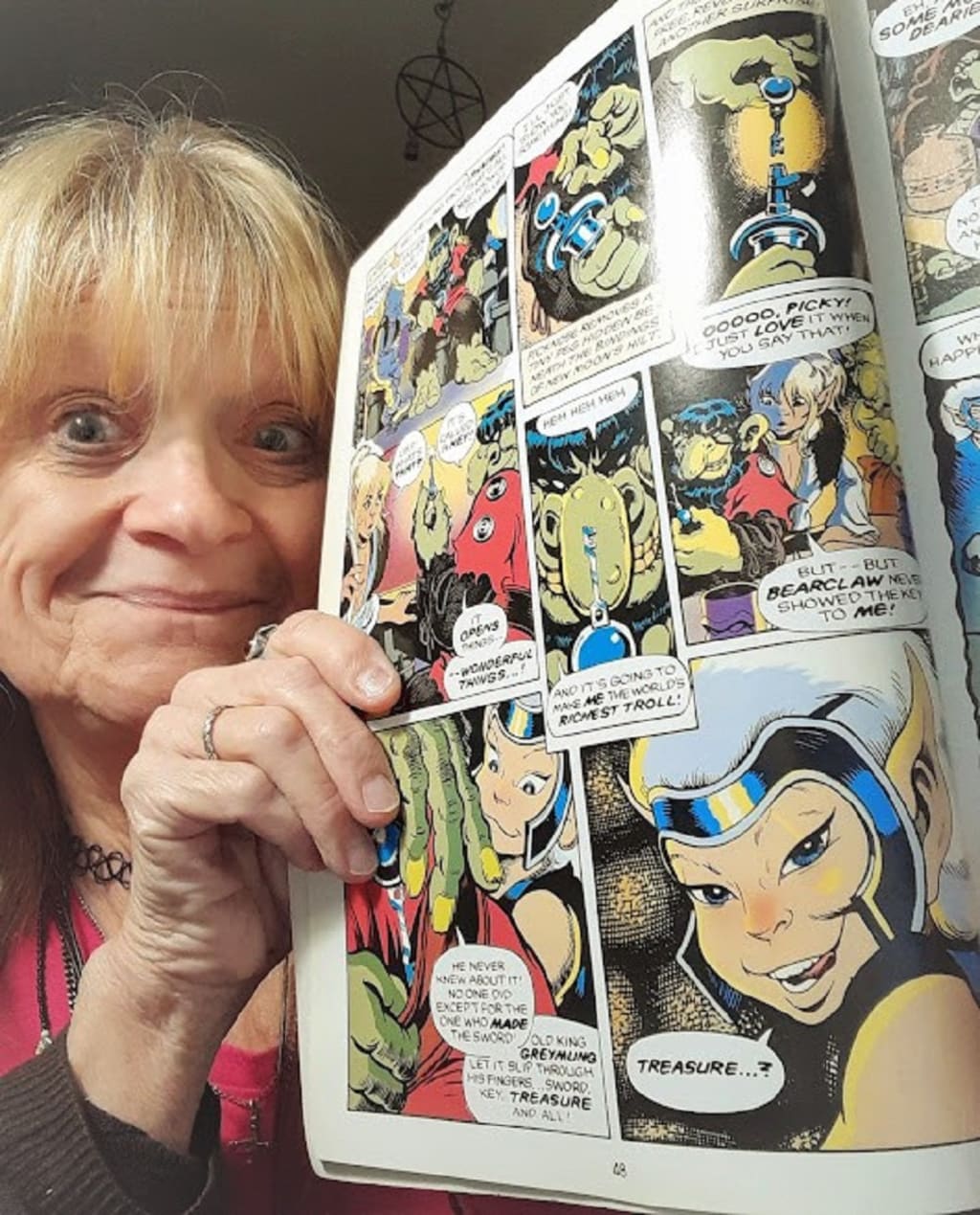 Selfie of author with Skywise -- photo by the author
Are you into comics/graphic novels? Yes? Have you heard of Elfquest? No? WHY NOT!?!?
You're not into graphic novels/comics? That's okay, I'm not really either. I still think you should know about Elfquest.
As a kid I read the Archie comics, but for the most part I stuck to books without pictures. I probably missed a lot, but with a mother whose idea of bedtime stories consisted of Coleridge's Rime of the Ancient Mariner and Poe's The Raven, I didn't have a chance, I suppose.
I never thought I would fall in love with a comic series as an adult. Then I discovered Elfquest. This series by married couple Wendy and Richard Pini features Wendy's fantastic art stylings. It's pretty much the only graphic novels I've been into, and I still have so much more to read! I was first introduced to Elfquest in the mid-90s when a fellow poet handed me five graphic novels and said, "I want you to have these. You'll love them."
She was right.
I read through those five books of The Complete Elfquest by Father Tree Press (Warp Graphics) in a couple of days. The artwork was amazing, the stories were exciting, and the elves were…delectable. I fell in love with the Wolfriders; especially Skywise. I wanted more, but had no idea how much more would come until recently. I read and re-read my books multiple times. I introduced them to my daughters, who read them just as voraciously as I had. One of my daughters practiced drawing like Wendy. When as an adult someone gifted her with a tattooing kit, she tattooed an Elfquest-inspired character on her own thigh.
Fantasy and Sci-Fi meet and make history
Wendy Pini (Fletcher) is a self-taught artist with influences from "turn-of-the-century illustrators, film and TV animation, Shakespeare, Japanese history, fairy tales, myths and modern fantasy" (Elfquest.com). She became involved in the world of science fiction conventions, where she displayed her artwork. During the 1970's she played Red Sonja in The Red Sonja and the Wizard Show. By 1974, Wendy was illustrating sci-fi magazines.
Richard Pini graduated from the Massachusetts Institute of Technology with degrees in astrophysics and astronomy. He was always a science fiction fan, and while in college he discovered that comics were a good form of entertainment. According to his bio on the Elfquest website, he read a letter written by a Wendy Fletcher in Silver Surfer's letters section, and was intrigued. The two began corresponding. This lasted for four years. Wendy and Richard Pini were married in 1972.
When she was 19, Wendy met comic illustrator Jack Kirby, who told her never to work in comic books. According to Wendy, he didn't feel that it was a field for young women to work in. Thankfully, Wendy had ideas of her own. She co-wrote Volume 1 Issue 6 of Red Sonja, entitled The Siren of the Singing Tower, which came out in August, 1977. That was the beginning of Wendy's foray into comic writing and illustration.
Wendy and Richard started Warp Graphics together in 1977. In 1978, the first issue of their new comic series, Elfquest, was released. It was the first ongoing fantasy series created, written, and illustrated by a woman. Over the years, Elfquest has been published by different comic companies. Initially, it was self-published through the Pini's own Warp Graphics. Later it would be published by Marvel Comics. The Pinis took charge again for a while, then, DC Comics, followed by Dark Horse Comics, had it. It's now back in the hands of Warp Graphics.
The Audio Movie
Over the years there have been various projects with Elfquest, including a Tarot experiment. There have suggestions that Elfquest be made into an animated film; however, for various reasons, this has not panned out. However, instead of an animated film, we now have the Elfquest Audio Movie!
This was a huge project, funded mostly from the millions of Elfquest fans who supported the project on Kickstarter. I was thrilled to be able to contribute to the project, which led to something a lot of us have been wanting for a long time. The whole process was one of the most exciting events in my recent lifetime, and the release of the first episode on September 1st was thrilling! The Audio Movie, which stars a number of well-known actors, is reminiscent of the radio serials that my grandparents would have listened to before television. It's available wherever you like to listen to podcasts. I have listened on Spotify, myself. You can get it on Apple and Google Podcasts as well.
This last June, I was laid up after some surgery. I took that time to re-read my Complete Elfquest. Sadly, all of my issues of this collection are torn apart due to having been so well-loved by me and my children. I love the artwork so much it sometimes takes my breath away. If I can ever completely replace and complete my collection with intact copies, I am going to take pictures out of these torn up ones and frame them.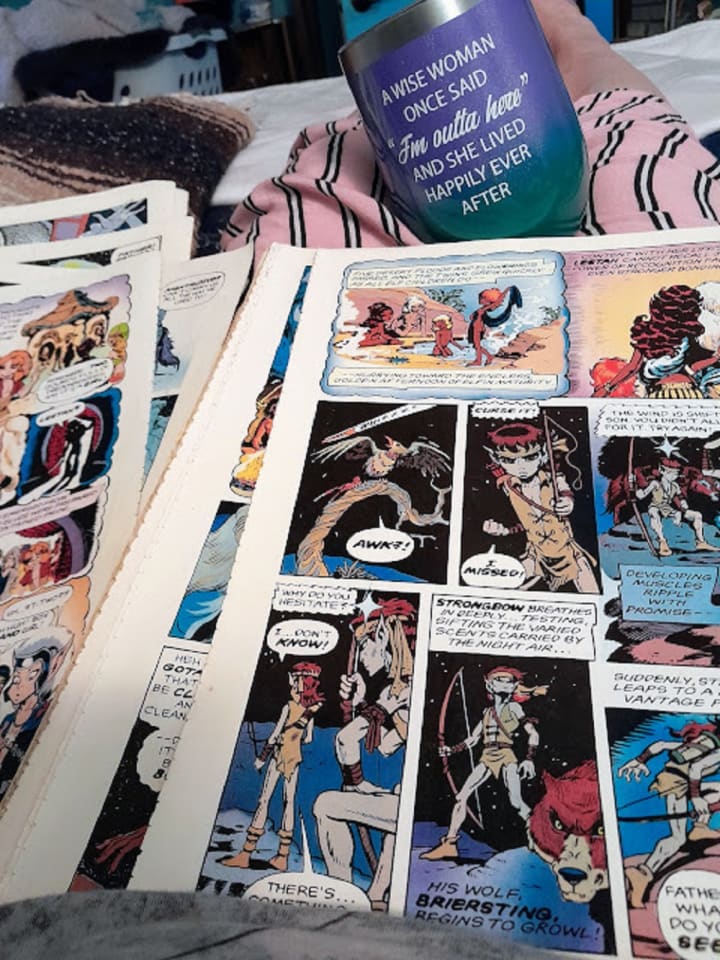 This time around as I read the stories, I truly realized how far ahead of its time ElfQuest was at the beginning. I love how the Elves don't have any gender-based roles and no expectation of heterosexuality. Wendy and Richard Pini brought acceptance of differences, love between friends, and polyamorous love into the stories without commentary, as if it was just the way of things. They did it without bravado or angst. Apparently, though, the sensuality of Wendy's elves faced puritanical hatred from fantasy traditionalists, such as Marian Zimmer Bradley, who apparently sneered, "Elves do not have cleavage." I will be exploring this and other subversive ideas from Elfquest further in the future.
Elfquest is also very spiritual to me. In fact, it approaches spirituality from a mystical perspective that speaks directly to my own spirituality. Ponder this quote from Rayek, an Elf of the Sun Folk:
Blend one candle flame with another…and you realize they never were, never could be anything but ONE. Any fire is ALL fire, any spirit is ALL spirit, forever! The blending takes up no space inside a body.
There are times when I feel a sense of regret about something I missed when I was younger. Moving around a lot as we did, I missed quite a few things that kids my age were into. More often than not, what I missed were things I was better off not discovering as a teen, considering I came of age during a time when so many kids were following their older siblings into the "turn on, tune in, drop out" counterculture of the late 60s and early 70s. Still, every once in a while I find something that I wish I'd known about earlier.
When Wendy and Richard Pini first introduced Elfquest to the world in February of 1978, I was one month away from turning 20 and was going through a few changes in my life. Having a place to visit like Abode, the World of Two Moons, and the Holt of the Elves who dwell there would have made the journey a bit more fun and interesting. I recommend Elfquest to any reader looking for a refreshing break from reality, and hope that it can be just as impactful for you as it was for me.
References
***
This story first appeared in Fandom Fanatics on Medium
About the Creator
AKA Lady Blue. Writer. Artist. Witch. ChristoPagan Abbess. Poetry, fiction, nonfiction, and thoughts on stuff she loves. Online pedlar of books & things. Chocolate seller at Arizona RenFaire. https://linktr.ee/suzyjacobsoncherry
Reader insights
Be the first to share your insights about this piece.
Add your insights