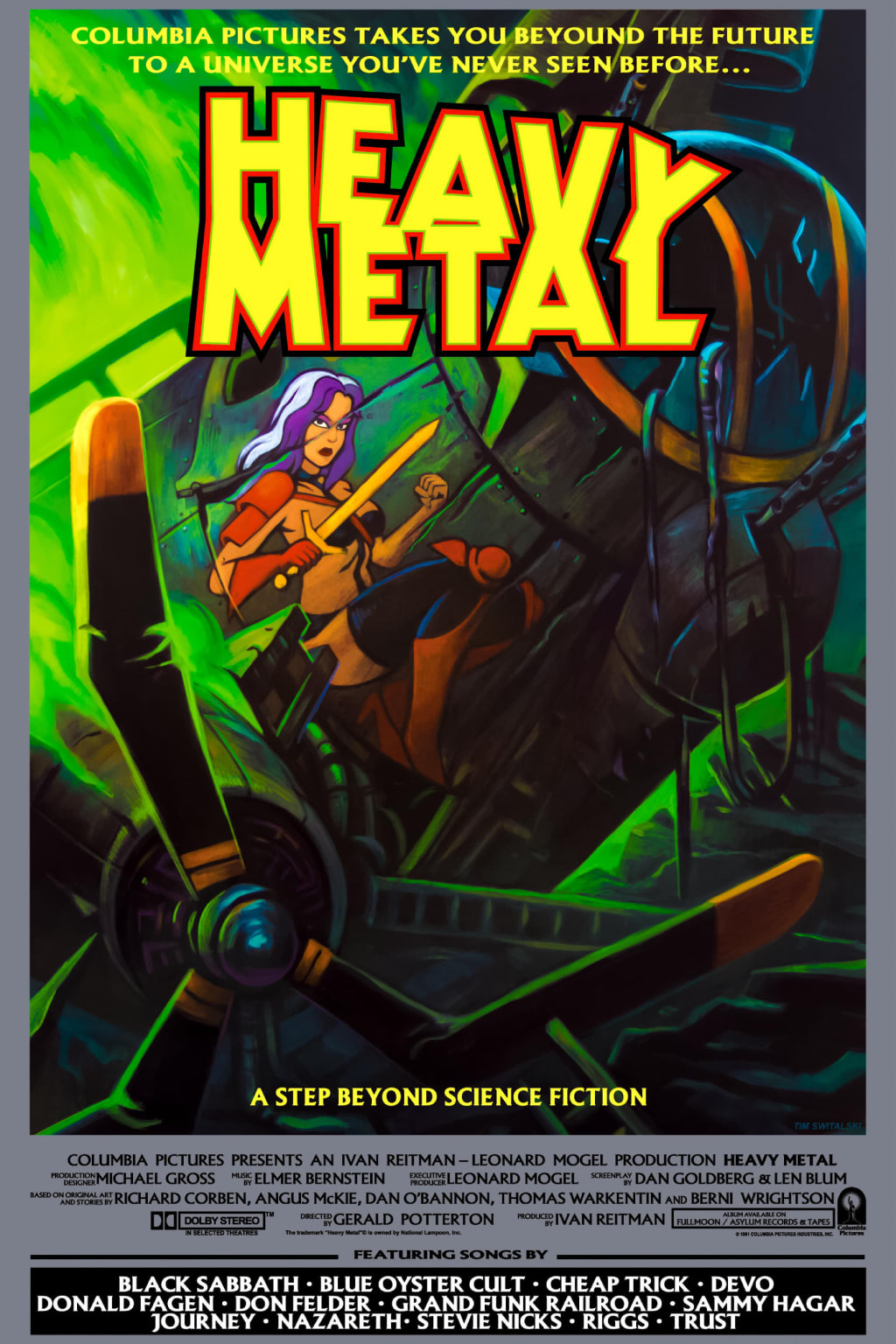 Original movie poster
Heavy Metal is an adult comic magazine focusing on the adult versions of the sci-fi and fantasy worlds usually aimed at those that are, most assuredly, not adults. At least, not in the United States.
The magazine was originally called Metal Hurlant but translated from French as "heavy metal." Which is perfect. It showcased the talents of artists such as the late French Jean Giraud, aka "Moebius," but the Americanized version featured such classic artists as Richard Corben, Bernie Wrightson, Dan O'Bannon, and ...Moebius.
The film is what Roger Ebert might have called "a perfect and complete entertainment," so shudderingly good it's no wonder audiences had "mixed feelings" about it when it first premiered; they weren't ready for it. It stars the vocal talents of such late greats as Harold Ramis and John Candy, as well as Eugene Levy who is thankfully still with us, and has a soundtrack of Elmer Bernstein and heavy metal and pop tunes by Black Sabbath, Devo, Sammy Hagar, Don Felder, Stevie Nicks, Blue Oyster Cult, Nazareth...it just doesn't get much better than this folks. Several different animation studios, a bevy of graphic artists and designers, and techniques that include the early "rotoscoping" technique popularized by Ralph Bakshi (i.e. animating over live-action actors and footage) are employed. The stories are based on popular comic stories and characters that appeared in the adult-oriented magazine, including Taarna, Den, Harry Canyon, and stuff originally written by Moebius, Wrightson, et al.
The basic plot is an anthology with a wraparound about a Corvette-driving astronaut that lands his space car outside a creepy old house. Going to greet his little daughter, he brings home a present that is like a giant green glowing orb. It dissolves him messily and begins to talk to the terrified daughter (the segment is called "Grimaldi"). We are then treated to quick segments where the green thing is dug up by prospectors on the surface of an alien world and melts them as well. In the background, we hear Blue Oyster Cult confess to being the "Veteran of a Thousand Psychic Wars," but not nearly at decibels loud enough to please me.
John Candy digs the thing up and voices "Den," a nerdy, twerpy amateur astronomer who gets whisked into another dimension and transformed into a muscle-bound comic book Conan, who has great sex with a wicked queen fighting a wicked ruler or something for possession of the green orb.
So good. So fun.
Next, Eugene Levy voices "Harry Canyon," a cynical, hard-nosed cab driver in a dystopian New York, who can zap violent passengers from the comfort of the front seat of his cab. He knows that "dames is no good," but takes up with one that wants the green "sum of all evils" jewel, and is being chased by gangsters from Venus. It's all downbeat and noirish and sexy and explicit and not for young kids.
Levy also voices the unbelievably square-jawed caricature pulp fiction space captain/criminal "Captain Sternn" in a segment that starts in an alien courtroom. Sternn, a reprobate that murders, blackmails, pirates, steals, panders, and generally try his level best to be as evil as possible, nevertheless is convinced he will be found not guilty because he has bribed "Hannover Fist" to testify on his behalf. The little glowing green marble "sum of all evils" has other ideas, however, and Fist becomes a hulking, rampaging monstrosity bent on Sternn's destruction, right before being ejected out into outer space. His next scene is of a burning, severed hand floating by.
A weird sort-of aerial WW2 dogfight from a flying fortress is interrupted when the plane goes down, and dead aviators turn into undead zombies.
Levy, Candy, and Harold Ramis then give us a segment with a giant, absurdly ugly UFO kidnapping a secretary at the Pentagon, while they mutate Earth, snort space coke, and come in for a crash landing. Levy and Ramis are two stoner aliens in t-shirts and baseball caps; Candy is a horny robot. "That's some great Niborg, maaaan!" There's enough sex and drug innuendo in this movie to give every moral crusader in America the willies.
The last segment ties it all together, as "Taarna", a warrior of Tarnak, is called forth to do battle with an evil warlord in a helmet with devil horns, and comes in flying or riding her giant bird that looks like an oversized baby eaglet with pterodactyl wings.
The movie is a blend of fantasy, sci-fi, and horror elements, and should take fans of these genres (which often overlap anyway) to a succession of worlds they can experience again and again. (Through the magic of digital video and streaming, of course.)
The music, the stories, and the animation--all put together with the graphic sex and violence, were all a bit much perhaps for audiences of the day, not yet used to the idea of CARTOON characters (always a genre aimed at the wee little ones) formicating like cheap crack whores. But that doesn't mean the older kids, who rolled many a 3d6 over a steaming hot game of Dungeons and Dragons, didn't appreciate this, and the contemporary version of said comic book and roleplaying geeks should love it as well.
Or damn me as the green glowing "Sum of All Evils," if I lie.
Heavy Metal Trailer (1981)
About the Creator
Author of Haunted Indianapolis, Indiana Ghost Folklore, Midwest Maniacs, Midwest UFOs and Beyond, Scary Urban Legends, 50 Famous Fables and Folk Tales, and Notorious Crimes of the Upper Midwest.: http://tombakerbooks.weebly.com
Reader insights
Be the first to share your insights about this piece.
Add your insights