'General Hospital' destroys Julian Jerome with the Floating Rib Bombing
Sorry Charlie but this is the final nail in your coffin. Risking the life of his own grandson is more than fans an endure.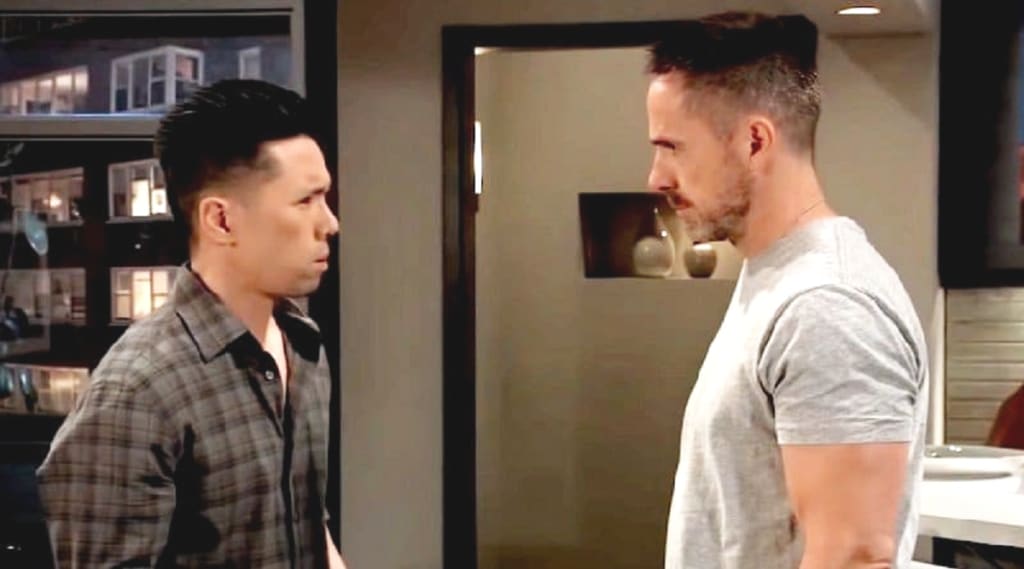 On Friday's episode of General Hospital, the character of Julian Jerome was totally destroyed. Viewers had believed that he could not sink any lower than when he put a knife to Alexis' throat. He has been clawing his way back ever since but continued to be sidetracked and make bad decisions. On Thursday Cyrus Renault told Julian that he should not complain because every decision has consequences. It's clear that the former mob boss did not think about the consequences of planting a bomb in a room full of people. Unless there is some strange twist to this tale, he set off a bomb in the Floating Rib with children in the building.
This was pretty low and fans were disappointed. Julian walked into Mac Scorpio's establishment and set a backpack down under a table. He then walked away, seemingly without a second thought to his actions. This is not the ending that fans wanted to see for William deVry's character. It's as if the writers wanted to remove any shred of humanity from Ava's brother. Some fans thought he might have executed Cyrus while he was in Charlie's Pub. This would have been a great service for the People of Port Charles. Instead, Julian just stood there allowing Renault to talk down to him, then went out and did his bidding.
iCyrus threatened Sam, Lucas, Leo and Danny, so Julian sacrificed the loved ones of others to save his own. Since he was outside of the building when it exploded he is probably still alive. William deVry is scheduled to exit General Hospital soon and spoilers suggested that his character might die when the bomb went off. There were several Port Charles residents who were in the line of fire. Dev and Cameron were playing video games with Danny when the explosion took place and Dustin had just proposed to Lulu. No one seemed to notice Mr. Jerome's actions, but Dev later saw the backpack and told an employee that he had seen a suspicious package.
Jason had been in the building but it's not clear where he was at the time of the explosion. Dante was heading to the Floating Rib but did not make it inside before the bomb went off. Soaps.com says that next week Dustin and Dante will share a common goal, which will probably be looking for survivors or working together to save Lulu's life. Emme Ryan is scheduled to leave the ABC daytime drama so fans and spoilers believe she will not make it out of this situation alive. Spoilers say that Kevin will give Laura some devastating news and it's probably about the death of her daughter.
Cameron will be injured but it will not be serious so this will add to the coming drama. Julian could always double back and help pull people from the rubble, but that's not likely. The way the writers have dismantled this character he will probably keep moving and never look back. Celeb Dirty Laundry is reporting that General Hospital viewers are shocked at Julian's actions and calling for his head on a platter. Social media is buzzing with the fact that Julian placed the bomb in the Floating Rib with his own grandson, Danny in the building. This seems to be a point of no return for the character based on fan reaction.
Julian almost killed Lucas when he cut the brake line on Brad's vehicle. Now he has risked the lives of Sam's child and the man she loves. Julian used to have a backbone but the writers have turned him into someone that the General Hospital viewers do not recognize. William deVry has said that if his character was written out of the ABC daytime drama, he would not return. After the events of Friday, I don't think anyone desires to see Julian stick around or return at a later date. In addition to the bomb, Cyrus had Brad beaten up in jail and now he is in the hospital. He and Britt believe that Julian is behind the attack and together they can reveal all of his deep dark secrets.
tv
About the author
Cheryl is a poet, freelance writer, published author and former Newspaper columnist. She has degrees in Psycology and Biblical studies. She enjoys sharing natural cures, and Nostalgia related info. Tips are greatly appreciated.
Reader insights
Be the first to share your insights about this piece.
Add your insights