Five Disney Princesses and a Mandalorian: A Photo Essay
Here's a fun story from my experience at Fan Expo Boston this past weekend.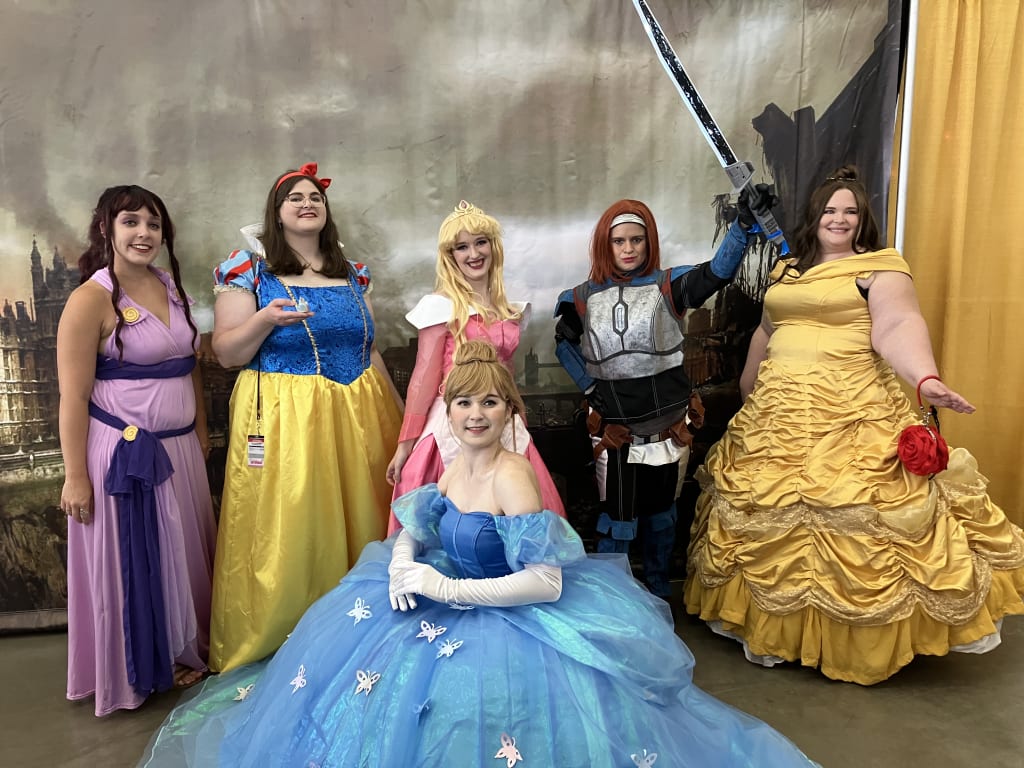 Bo-Katan Kryze(Me) and the Disney Princesses at Boston Fan Expo on August 13th, 2022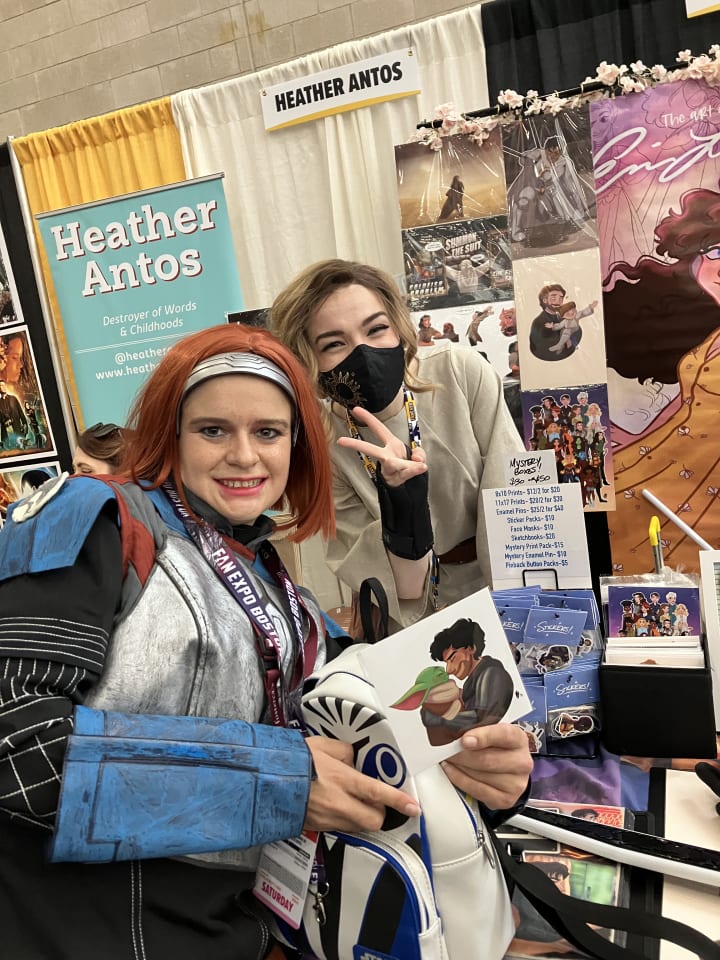 Ever since I began cosplaying in 2014, I have always wanted to attend a major convention in one of my cosplays. I first started my cosplay experience as May Maple (Haruka) from the Pokemon anime, and from there, I decided it would be one of my newfound hobbies. I saw cosplay to empower others, bring out the theatrics inside of me, and give kids that Disney character experience they might never get to have because trips to the parks are expensive. So, when Janis, my sister, and I found out about the Boston Fan-Expo, we knew we were going.
So, when the day came for us to attend the Expo, I went as Bo-Katan Kryze, my sister went as Kate Bishop, and our nephew went as Raven. We got ourselves checked in to attend the event and into the hall, we went. We began our day at the Con by checking out some of the little pop-up shops. For me, while I had a few ideas about what I wanted to buy, I wanted to wait until the end of the day.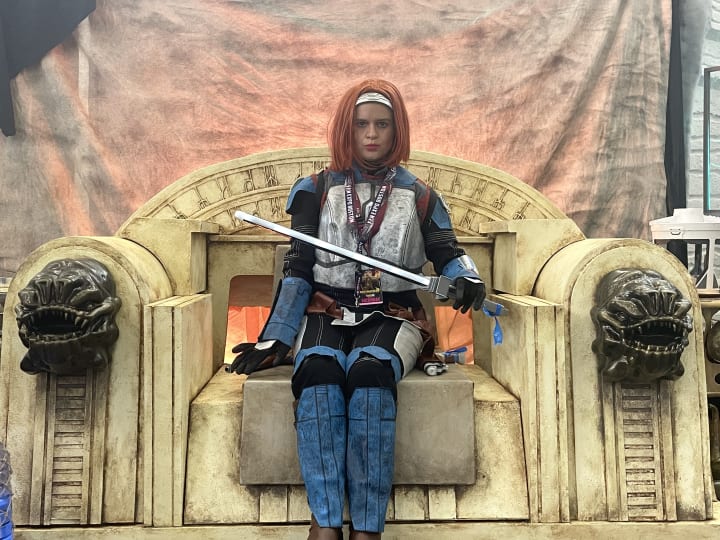 While we were taking a quick water break, we passed by a group of Disney Princess cosplayers who were having a good time. One was cosplaying Belle, another was Snow White. Megara from Hercules was brought to life by a third cosplayer, along with Cinderella and Aurora. They moved to another section of the Con before I could greet them. So, I stayed with my sister and nephew to continue our break.
I got a message on Instagram from Josh, a friend of mine, informing me he and his brother were on their way for a photoshoot session. When he got there, I told him I was taking it easy. After our water break, we headed over to the photo opportunity section to see all the cool backdrops. The set-ups felt like you were in your very own Star Wars story because of how realistic they were.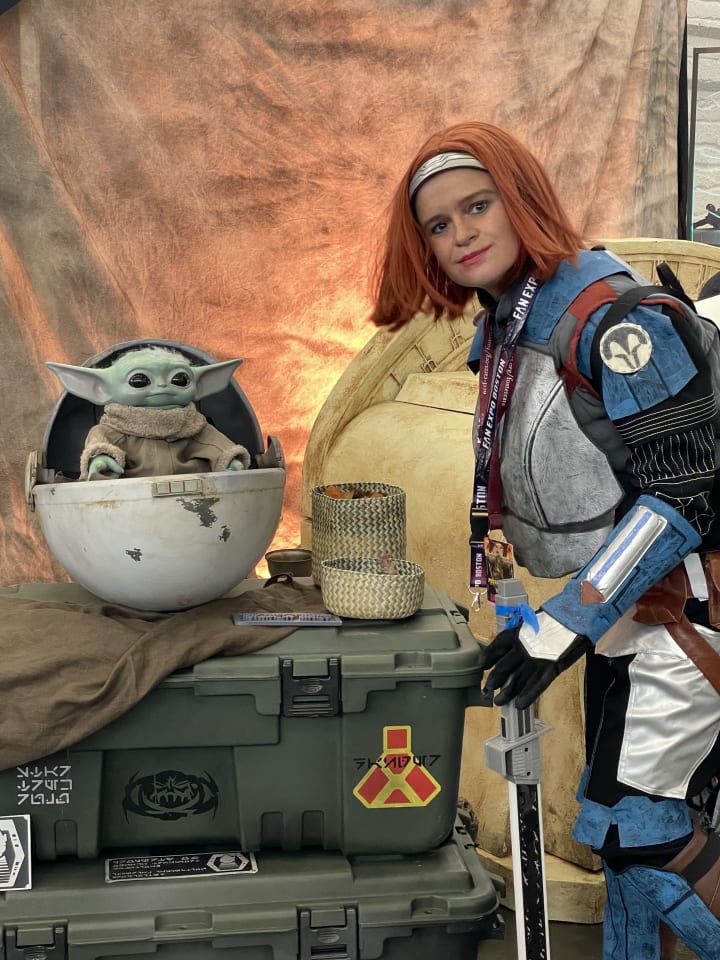 We first made our way around by taking our own photos sitting on Daimyo Boba Fett's throne on Tatooine. I took advantage of the recreated throne to get some photos of Bo-Katan. If I were honest, I would love to see the third season of The Mandalorian focus on what kind of ruler she was. After that, we walked over to another section of the area where we saw an adorable sight: R2-D2 having a dance-off with a Star Lord cosplayer. The droid reacted to the cosplayer's dance moves by moving around him in a circle. Once that ended, I put on my show with him by pulling off a scene where I got into character by asking him to send messages to both Ahsoka Tano and Sabine Wren to help in the battle to free Mandalore from the Empire.
Just as I was enjoying myself, I got another message from Josh, who was finally at the exhibition hall waiting for me to appear. He gave me his exact location in what section he and his brother went with my sister and nephew to find him. After stopping by some shops along the way, I found it and introduced it to my family. We quickly made our way back to the photo area occasion to do a Bo-Katan photoshoot in front of a colored background for meetups. I was delighted by the spectacle I saw at this section. They were the Disney Princess cosplayers, and they were having a Disney cosplayer meeting. I was against shooting there because I wanted to upset the other cosplayers. I insisted the shooting could take place on a red carpet that was threaded into an official "Fan-Expo" backdrop. However, once I realized that there were round tables for celebrity meetings, I changed my mind.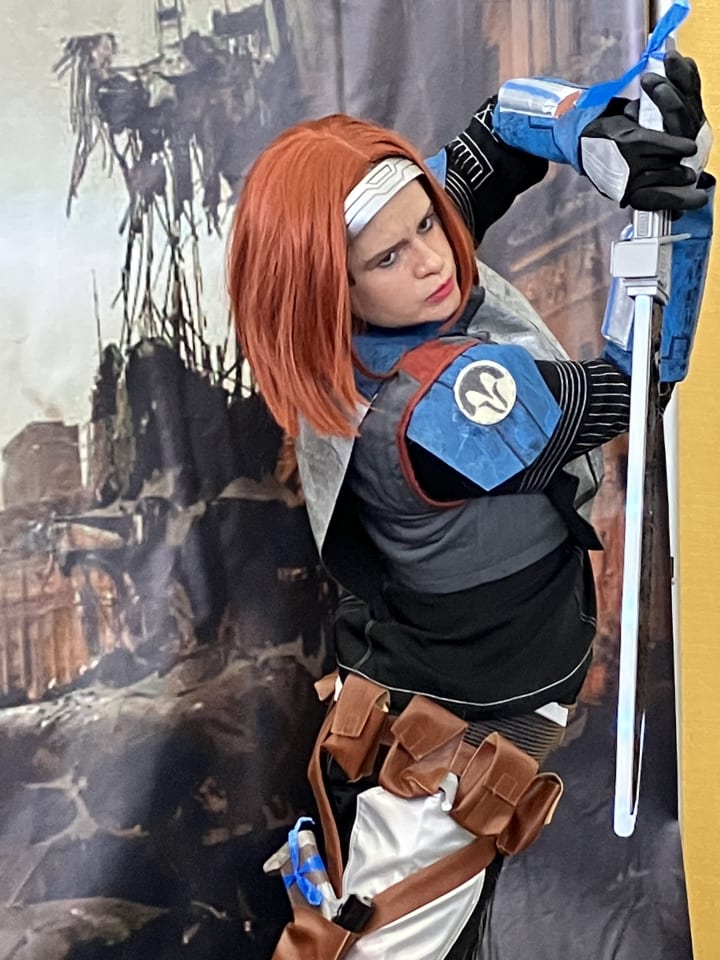 We got over to the area, and the photoshoot began. The shoots that I had in mind were inspired by various fan arts of Bo-Katan online in which she's holding the Dark Saber. For example, on the show Star Wars: Rebels, Bo-Katan earned the Dark Saber as a gift from the Mandalorian Warrior Sabine Wren after she fought alongside her to free their planet from an Imperial government. Although Sabine was the rightful wielder of the Dark Saber after winning a duel, she believed Bo would be a better fit as a leader for their people. Canon tells us it goes completely against Mandalorian tradition because in order for Bo-Katan to be deemed "Mand'alor", she would have to defeat the current holder and monarch in a duel, which was something she never did. While we never got to see Bo-Katan use the Dark Saber in battle, I took a lot of inspiration from those beautiful fan arts of her wielding it in combat. So, at my request, Josh took some amazing shots of me wielding the Dark Saber as Bo-Katan Kryze as if she was fighting in the Great Purge. I also included a few scenes of her wielding her blasters while in combat.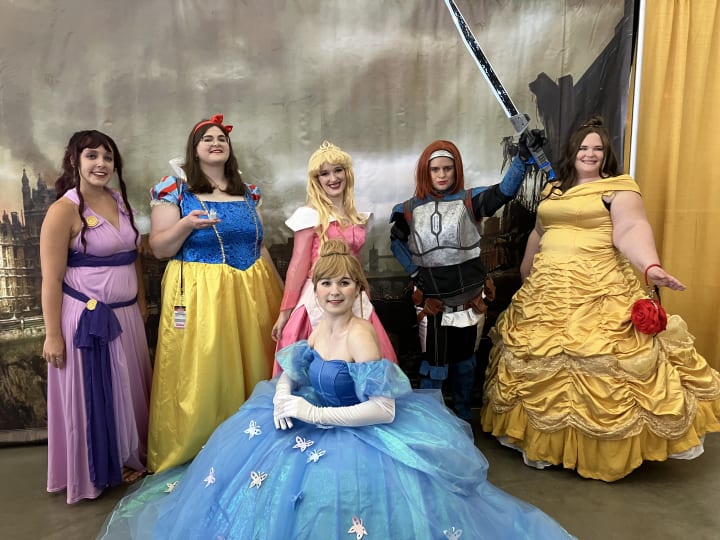 Suddenly, one of the Princess cosplayers took notice of my cosplay and saw I had the Dark Saber on me. She came right over to me and asked how I won back the Dark Saber from Din Djarin and I replied in character in what became a gag joke throughout the day by saying that I convinced Ursula the Sea Witch to make a potion that could put Din Djarin in a coma, making it easy to get back the Dark Saber. She then got all the other Princess cosplayers to come over to where I was standing for a few photos with me because after all, Disney was the parent owner of the StarWars franchise. In response, I gave each Princess a turn to wield the Dark Saber in their own right because I believe in the idea of letting a princess fight the villain themselves without a prince at their side.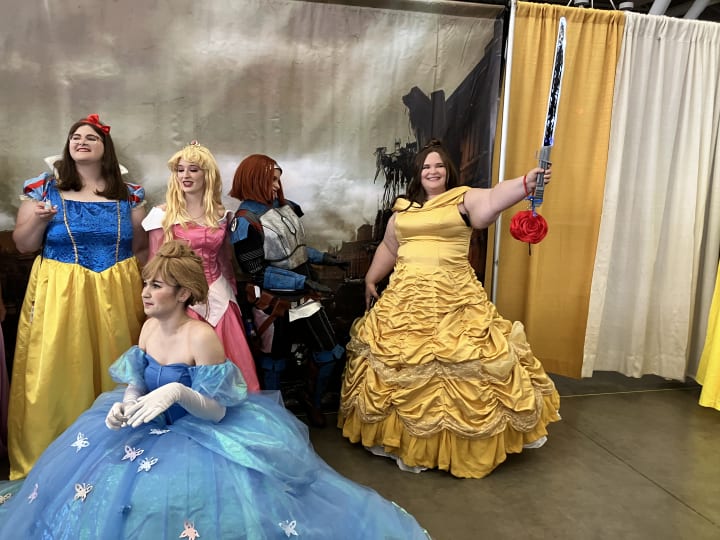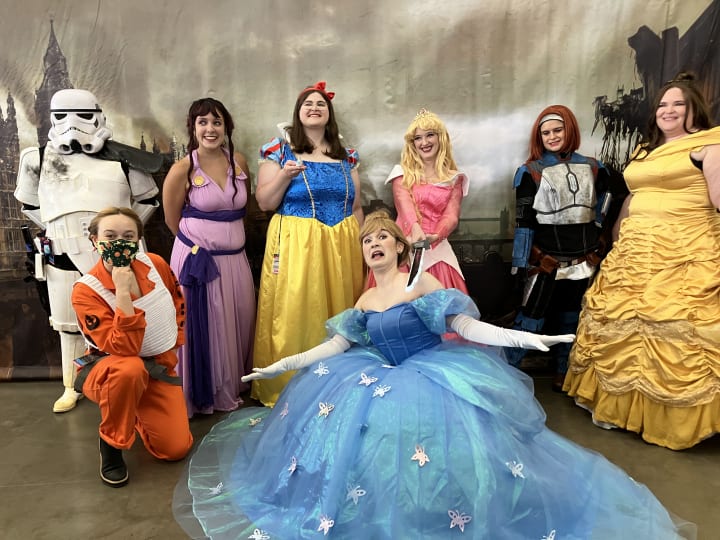 First came Cinderella, wielding the Dark Saber to fight off her wicked stepmother to her death and free herself from the captivity she endured since the death of her father. Then, came Belle, who would use the sword her father and Beast from the sinister Gaston. Next up was Aurora, who you think would use it to defeat Maleficent and free her kingdom, but it looked like she would use it to behead Cinderella to reduce the competition for the title of "queen". After that, Snow White wielded the saber, hoping to bring down the Evil Queen and reclaim her kingdom after that. So much for being the "fairest of them all". And Finally, Ms. Megara got her chance at claiming the sword to defeat Hades and take her place among the Gods on Mt. Olympus. What was even funnier about this moment was that Josh took photos of each Princess holding the saber while my Bo-Katan smiled with pride like she was some proud mom who just trained her kid to compete in a school sport.
After the shoot, I introduced myself and thanked the girls for including me in their meet-up which came to me as a big surprise because it wasn't something I was expecting to happen. Yet, they did so anyway. So after we parted (with the promise of keeping in touch on social media), I went on with my day to meet several more cosplayers and I thanked Josh for being part of the experience and he couldn't be happier than he was to meet a friend and her and her family out. I plan to come back next with an improved version of my Bo-Katan Kryze cosplay because I will spend a little more time with her over the next few years. It was all worth my Nite Owl patches falling off the costume. This is the way.
About the Creator
Zoo and Aquarium Professional, Educator, Cosplayer, Writer and B.A. in Psychology whose got a lot to share when it comes to animals, zoos, aquariums, conservation, and more.
Instagram: @jennacostadeedy
Reader insights
Outstanding
Excellent work. Looking forward to reading more!
Top insights
Easy to read and follow

Well-structured & engaging content

Excellent storytelling

Original narrative & well developed characters

Expert insights and opinions

Arguments were carefully researched and presented
Eye opening

Niche topic & fresh perspectives

Heartfelt and relatable

The story invoked strong personal emotions

On-point and relevant

Writing reflected the title & theme
Add your insights