Finding Nemo - A Movie Review
Before making 'Finding Nemo' the crew had to take a marine biology class to create realistic ocean-life.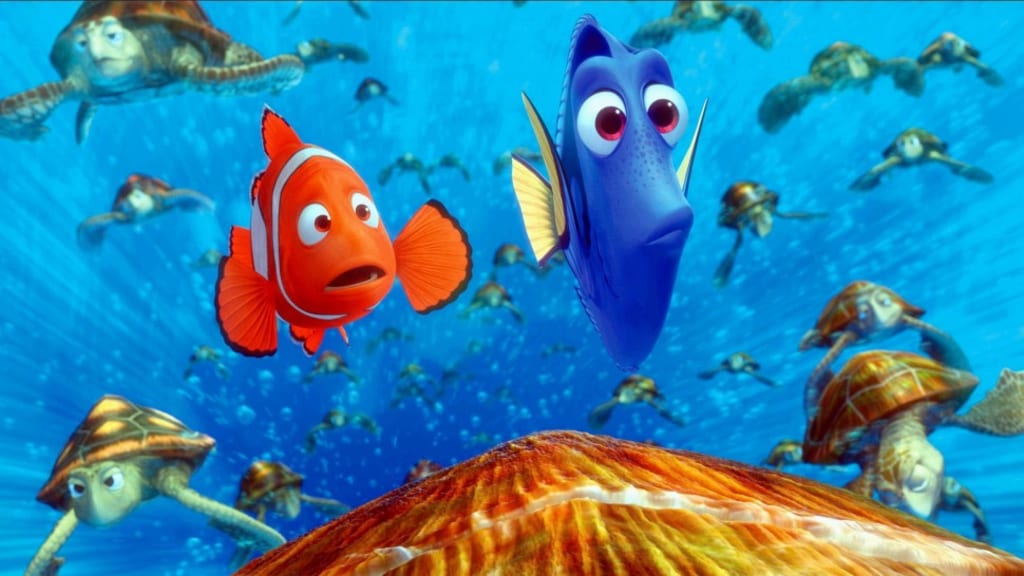 No matter how much life gets you down, just keep swimming.
Finding Nemo splashed into theaters in 2003. After his son is taken away from him, Marlin travels across the ocean to find Nemo. On this journey of a lifetime, Marlin befriends Dory, a forgetful fish, and encounters dangers, adventure, and a new meaning.
When I was a little kid I had a saying whenever I watched Finding Nemo. "When something happens to Nemo, they go back to his dad, and when something happens to his dad, they go back to Nemo." Finding Nemo is a breathtaking work of animation delivered by Pixar. It is a fun, hilarious, and heartwarming film. Be grateful for family and the adventure life presents.
Marlin and Nemo share a deep father-son bond. There are several moments that made me smile. However, Marlin's uptight parenting upsets the relationship. Their journeys of growth are inspiring. Because of their love, they stay confident.
What would Finding Nemo be without the incredibly funny Dory? Ellen DeGeneres hit the mark with her witty humor. I still remember laughing in the theater. As a fish with short term memory loss, she forgets things almost instantly. She provides the best comedy. Never let a disability stop you from living life.
Finding Nemo encompasses an ensemble of memorable characters. Everyone has a distinguishable personality, even if they are only on screen for one scene. You never know who you are going to meet in life. Marlin was not expecting to meet sharks, sea turtles, or jellyfish. The seagulls are the best belting out 'mine' whenever they are onscreen.
Albert Brooks, Ellen DeGenerous, Alexander Gould, Willem Dafoe, Brad Garrett, Allison Janney, Austin Pendleton, Stephen Root, Geoffrey Rush, Andrew Stanton, Bob Peterson, and several other voices lent their talent to this story.
Voice acting is different compared to regular acting. It still requires one to embrace the character. Voice acting also challenges you to perform emotions to bring out genuine layers.
Finding Nemo has the best bits of comedy. Dory provides most of the greatest lines. And Marlin's reactions are noteworthy. One can relate. Even though I was not a fan of the dentist at the time, surprisingly scenes that took place at the dentist were my favorite as a kid.
The animation for Finding Nemo is extraordinary. Pixar patiently created scenes that took hours to render. They did not leave a single detail out. I love the ocean. Listening to waves makes me feel calm. This film has a calming atmosphere.
Before making Finding Nemo the crew had to take a marine biology class to create realistic ocean-life. They succeeded. Interestingly, they had to change the work of the animation because the ocean looked too realistic.
Andrew Stanton delved deep into this story. He heavily focused on the story and characters making adjustments or getting rid of scenes for story purposes. Telling a story is tough. But Stanton did a remarkable job conveying a life lesson.
His direction brought out an entertaining film for all audiences to enjoy. Letting go is tough. For parents, Finding Nemo addresses a vital message that we need to let our kids explore. No matter how tough life gets, never give up. Just keep swimming.
Finding Nemo met critical acclaim with all audiences. Sales for tropical fish rose after its release. And it broke the record of most sold DVD's on the day it was released, selling over 40 million copies! No matter what, Finding Nemo always makes me smile whenever it is on. It is a monumental film. If you have not seen it, get out the popcorn and have a laugh.
movie
About the author
Writing has been my passion since I was 11 years old. I love creating stories from fiction, poetry, fanfiction. I enjoy writing movie reviews. I would love to become a creative writing teacher and leave the world inspiring minds.
Reader insights
Be the first to share your insights about this piece.
Add your insights