Fauda Season 4 | All Episodes Hindi Dubbed Review
Fauda Season 4 Review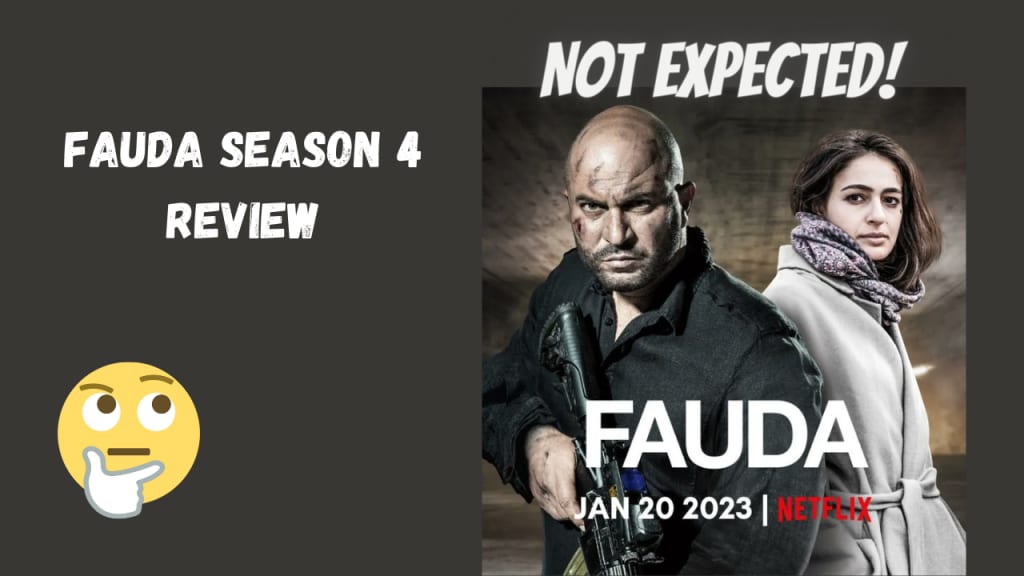 Fauda Season 4 Review
First of all, Fauda is an Israeli action thriller show; seasons 1, 2, and 3 were very good, and now it is time for season 4.
Well, season 4 of Fauda starts exactly where season 3 ended. At the beginning of season 4, it is seen that the special team is dealing with a team of thieves; a chase scene occurs between the thief and him.
And then it appears that something significant is about to occur.
In the meantime, it is shown that Doron has been evicted from the team because, in the last mission, his team members died because of him, but still, Gabi brings him back.
So, friends, to find out what the big deal is, how the unit handles things, and everything else, you must watch this Netflix show.
This show has also come out in Hindi this time; its total episodes are 12, and all revolve around 38 to 52 minutes.
Fauda Cast Season 4
Lior Raz as Doron Kavillio
Itzik Cohen as Gabi 'Captain Eyov'
Neta Garty as Gali Kavillio
Rona-Lee Shimon as Nurit
Doron Ben-David as Hertzel 'Steve' Pinto
Jonathan Avigdori as Doron Kavillio
Yaakov Zada-Daniel as Eli
Boaz Konforty as Avichay
Idan Amedi as Sagi
Aylam Orian as Gabi 'Captain Eyov'
Matt Gottlieb as Sagi
Assaf Cohen
Tsahi Halevi as Naor
Shadi Mar'i as Walid El Abed
Laëtitia Eïdo as Dr. Shirin El Abed
Adam Karst
Meirav Shirom as Dana
Jameel Khoury as Abu Smara
Fauda Season 4 Review
If I had to sum up Fauda Season 4 in one word, it would be "winner." I'm talking about the thrill and fun you had in previous seasons, which were definitely maintained here.
This show has gone international for the first time, so you get to see foreign locations that have been very well portrayed, and the thrill factor has been maintained.
I mean, the show has been completely successful in delivering the intensity that you expect from Fauda shows.
All of the subplots are included in the main plot as well, and they all effectively supported it. The conflicts were also impressive.
And plus, its intensity is amazing, and the thrill, like I said earlier, was great.
Aside from that, there are some minor twists and turns that help to keep the audience engaged.
Its screenplay is very good and smooth; things have been explained very well, and this show does a good job of engaging the audience at some point or another.
Like I said earlier, this show has gone international for the first time, and accordingly, superb production value is present in it.
Additionally, the action sequences are excellent, so this show definitely had the intensity and tension that should be present in action sequences.
The type from which we got to see the taunt of everything was very good; the cinematography was superb; and the locations have been captured in a very good way.
All the actors' performances were very good, and the open sound track is tremendous.
Weak Points
Although the plot or conflict has been well-emphasized, no character can stand alone. In the first two seasons of Fauda, it has been demonstrated that there is at least one character who is exceptional on his own. This time, this thing was missing.
And while the middle section of the show seemed long and drawn out, overall, Fauda: Season 4 is a winner.
Conclusion
You will definitely be able to enjoy watching this show, but keep in mind that this is not a family show. Do not watch it with your family.
So guys, this was my review of season 4 of Netflix's show Faauda, and if we talk about its Hindi dubbing, then it was good. You will be able to enjoy watching this show in Hindi.
I hope you like this review. Don't forget to subscribe for more topics like this.
Bye-bye.
Reader insights
Be the first to share your insights about this piece.
Add your insights