Mission Majnu Movie Ending Explained
Mission Majnu Movie Explained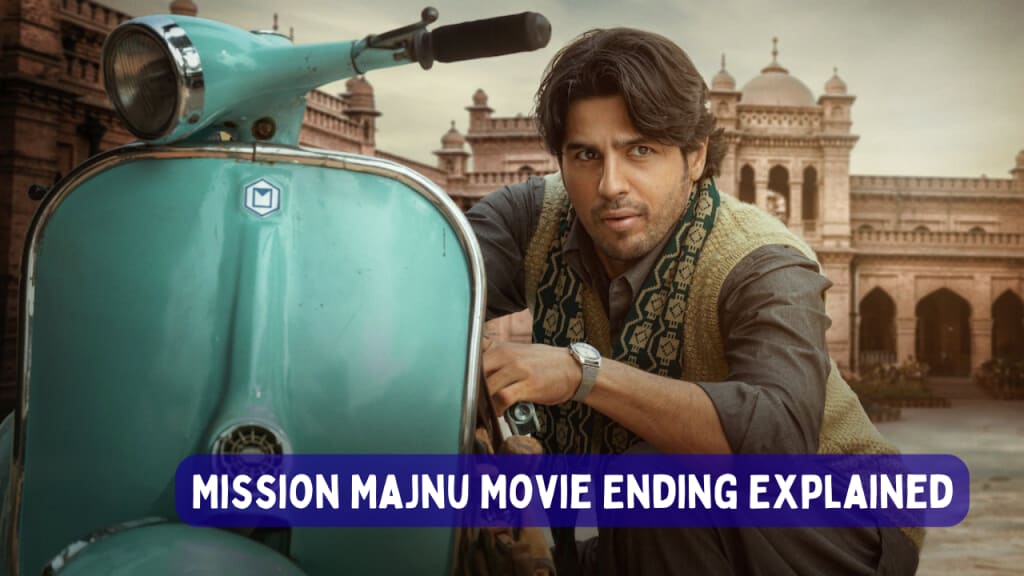 Mission Majnu Movie Ending Explained: Spoilers alert.
So in the beginning of the story, it is shown about World War II and how nuclear weapons were used for the first time at that time. Following this, competition began in each country to see who could establish nuclear weapons at their location.
And in the midst of all these situations, India did its first nuclear test, which was completely successful, due to which Pakistan did not like it, and because Pakistan has lost three times to India since 1971, the PM of Pakistan decides that he will get a nuclear test done.
Now after all this, the first scene of the movie starts where we see a RAW agent, Tariq Hussain, in Pakistan who is actually an Indian and whose real name is Amandeep Singh.
Mission Majnu Ending Explained
Tariq starts working with a dealer who makes uniforms for the army so that he can collect important information related to the Pakistani Army.
Now a girl named Nasreen attracts Amandeep to that dealer's place, and then, after some time, Amandeep or Nasreen get married, and then the scenes shift towards Indra Gandhi.
A senior RAW officer named Kao comes to meet Indra Gandhi.
Kao talks to Indra Gandhi about how Pakistan is going to do a nuclear test, that it is hiding it from everyone, and that all the things he will use for this will be illegal because if Pakistan does a nuclear test, then obviously it can become a big threat to India.
Then Indra Gandhi responded, "Whoever your agent is in Pakistan, tell him to find out the location of the nuclear test," and Tariq was given the task.
Now the scene shifts towards the PM of Pakistan, where he calls a very big Pakistani scientist named Abdul Qadeer Khan to get his test done as soon as possible.
Abdul Qadeer Khan is a dangerous scientist who can do anything to get his results, and this whole program is being funded by Carnal of Libya, who is giving five hundred million dollars, and in return, Pakistan will make nuclear weapons.
And the name of this top-secret project is Seven O6.
The PM of Pakistan is accusing India of how India is threatening Pakistan by making a nuclear weapon and from behind he himself is carrying out illegal nuclear tests.
Now, due to pressure from other countries, India has suspended its test, and Tariq is continuing to do his assigned work in Pakistan.
Tariq alias Amandeep's senior doesn't like him at all because Amandeep's father was a traitor who sold India's information to Pakistan, and the burden of this is still on Aman.
Due to this reason, many people in his department do not trust him at all, and his senior is also involved in all this.
How did Tariq locate Pakistan's nuclear test site? 
Aman's senior officer tells him to follow a command so that he can get some mission-related stuff.
And as Aman's senior said, he follows the same steps, due to which he gets an Indian guy named Aslam, who offers him money and a gun.
Then Aman goes back to his tailor shop, and the owner of the shop prepares some uniforms for the Pakistan Army and sends them through Amandeep.
Tariq removes two buttons from those uniforms in the middle of the road, and when the big officer's shirt lacks two buttons, he becomes enraged. Tariq then goes back to put those buttons on and apologizes to him.
After visiting the general officer's home, Tariq convinces him to reveal that Pakistan is also conducting nuclear tests, that they are nearby, and that they will be finished before Eid.
When Tariq shares this whole report with his senior, the latter says he wants the location, so Tariq goes to a public library to collect more details.
Where he starts reading newspapers from outside India, it is mentioned that scientists have come to Pakistan.
And now he prepares a list of some Pakistani scientists and also starts reading nuclear theory-related books.
In the midst of all this investigation, Tariq comes to know that Abdul Qadeer Khan had come to Pakistan some time ago, and he is sure that he must have come with nuclear purposes.
On the other side, Tariq's wife becomes pregnant when, one day, she is going to the washroom and she says something related to Indian ports or western ports, from which Tariq understands that Abdul Qadeer Khan's wife is a foreigner. So it is possible that she uses Western Port.
All this is what Tariq is thinking
But in the 1990s, such ports were not there in India or Pakistan, so Tariq visited a shop where only port-related stuff was sold, and he came to know that particular shop had an order for western ports that he had ordered from outside.
Tariq takes out the address of that house and directly reaches it by becoming a plumber. That house is currently closed, but there are some neighbors next to it where a grandmother is present.
Tariq comes to know from that grandmother that Abdul Qadeer Khan used to go somewhere in army vans every morning, as well as that he had a foreign wife and two children who also used to go to school.
So Tariq finds out the name of that school after talking to that grandmother's grandson, and then he goes to that school and finds out through the admissions list that Abdul Qadeer Khan has definitely come to Pakistan for nuclear purposes only.
Elections happen in India
Now that elections are held again in India and the BJP wins, Shastri Ji becomes the new PM, and when RAW agent Kao talks to Shastri Ji, he tells him about his mission.
And also, Pakistan is conducting nuclear tests, so they do not have much faith in that agent.
In fact, Shastri Ji orders the closure of more than half of RAW's missions and even reduces funding.
Shastri Ji does not trust Kao because he has up to this point worked for Indra Gandhi, so Kao gives him a letter of resignation to get Shastri Ji's attention away from him.
Furthermore, it states that the mission with Pakistan will continue in this manner.
Nasreen's father's death 
Nasreen's father overhears Tariq talking to his boss, but he does not understand what he is saying; rather, he feels that Tariq is having an affair with someone. Aslam sees all these things from a distance. He has no idea what the truth is; he believes Nasreen's father learned that Tariq is a RAW agent, and then Tariq or Aslam's boss orders Tariq to be killed, but Aslam shoots Nasreen's father so that the truth about Tariq is never revealed. 
Mission Majnu Ending: Mission Majnu Movie Explained
When Tariq comes to know all this, he gets angry and goes to kill Aslam, but only then does Raman Singh come to the front, who has been living as a Muslim in Pakistan for the last nine years and who is also a RAW agent.
In fact, Raman Singh is a senior RAW agent; he stops Tariq and says, "Now all three of us will execute this mission," and Tariq relaxes a little from his rage.
Once again, militarily imposed law is implemented in Pakistan, resulting in the general arrest of Pakistan's Prime Minister in a corruption case and the entire country operating under military law, despite the fact that the general tells Shastri Ji that there will be no nuclear testing in Pakistan, despite the fact that nuclear testing is ongoing. 
Tariq has very little time to find out the exact location. Now, when Tariq is talking to his shop owner one day, the shop owner tells him that he had received an order for 400 jackets, but after canceling the order, they gave them to a faraway retailer.
Now Tariq finds out from his shop owner that all those jackets are going to be delivered at the same place where nuclear testing is going on.
The day when the truck leaves to deliver complete jackets, Tariq, Raman Singh, or Aslam disguise themselves as Pakistani police and stop them midway and scare them so they know where the truck is going and also check the jackets.
Overall, it is known from all this that the jackets will be delivered in a village, and then Tariq, Raman Singh, or Aslam reach that village and find out about nuclear testing.
Behind the mountains, they find an army camp as soon as they start clicking photos. An army man sees them, but Tariq says that he has come to find his goat. Now Tariq informs all this to his senior, who gets very angry because Israel is about to attack after two days.
Tariq has only two days; if he does not get any solid proof in two days, then Israil will attack only where he suspects, whereas according to Tariq, there is nothing in Quetta.
Now for solid evidence; at first, Tariq planned that he himself would go to that whole place, but later he gets the idea that there is only one barbarian in that whole area.
Those who have been in contact with radiation for a long time will have a lot more radiation in their hair, and because there is only one barber, everyone will get their hair cut there if Tariq gets a hair sample from there. If found, by testing it, we can easily find out where nuclear testing is going on.
All these things are going on in Tariq's mind, and he does exactly the same, Raman Singh or Aslam pretend to fight outside the barber shop, and Tariq goes inside and collects a hair sample.
Tariq reaches Lahore railway station with a hair sample, where he steals his ID, etc., from someone and climbs into the train.
There is a lady in that train who is going to India, Tariq secretly puts a hair sample in her bag and is about to get down at the second station before the police come to know that there is such a person in the train. The one who killed someone and brought his ID
Tariq vs. Police is the beginning of an exciting action sequence. 
Tariq gets into the water and fights with the police; Raman or Aslam are waiting for him somewhere; after reaching them, he leaves with both of them.
Tariq now gives his superior all of this information: which train, which lady's bag he has hidden the packet in; when that lady arrives in India, the police take that sample from her bag.
The radiation and uranium particle levels in that packet are checked right away, and they are still very high.
Israel is about to launch an attack, but after receiving this information, they decide against it because if they attack in the wrong location, Pakistan will raise the issue and be able to carry out its nuclear testing.
Now RAW officers give all the information to Shastri Ji, who wants that there should be a war between India and Pakistan, but Shastri Ji, who has always avoided war, clearly refuses and talks to the Pakistani general on call. They do, and they tell him that he must stop his nuclear testing or India will go to war, which Pakistan has already lost three times.
Because it will take months to conduct the test but only 15 minutes for India to attack Pakistan, Pakistan's general orders an immediate halt to nuclear testing.
Now that the General has understood that some RAW agent is hiding in Pakistan, he orders his team to kill all RAW agents as soon as possible, and the same thing happens.
One by one, every RAW agent is being killed, and Aslam is also killed in all this.
Tariq is going to Dubai with his pregnant wife, but those people who are killing RAW agents one by one come to know about Tariq, and they follow him.
Tariq is with his wife at the airport, and the whole army has reached the airport. Now Tariq has no option left; if his wife is caught, she will also be put in jail.
Tariq diverts everyone's attention by sending his wife to board the plane; he fights alone against the entire army and is killed in the end; and his wife is also on the plane and arrives in Dubai. 
Kao comes to Dubai to meet Tariq's wife, who was Tariq's senior, and Kao reads a letter to Nasreen that Tariq has written for Nasreen, in which he tells Nasreen that his real name is Amandeep Singh. And he is an Indian. This is where the movie ends.
Now after this, it is told that under the supervision of Shastri Ji, India would have completed the second nuclear test as well, and the name of this movie is Mission Majnu, which has been released in the same year 2023.
And with this, I also bid you farewell; see you soon.
Have a good day.
Reader insights
Be the first to share your insights about this piece.
Add your insights