Fatherhood
A powerful story of love and loss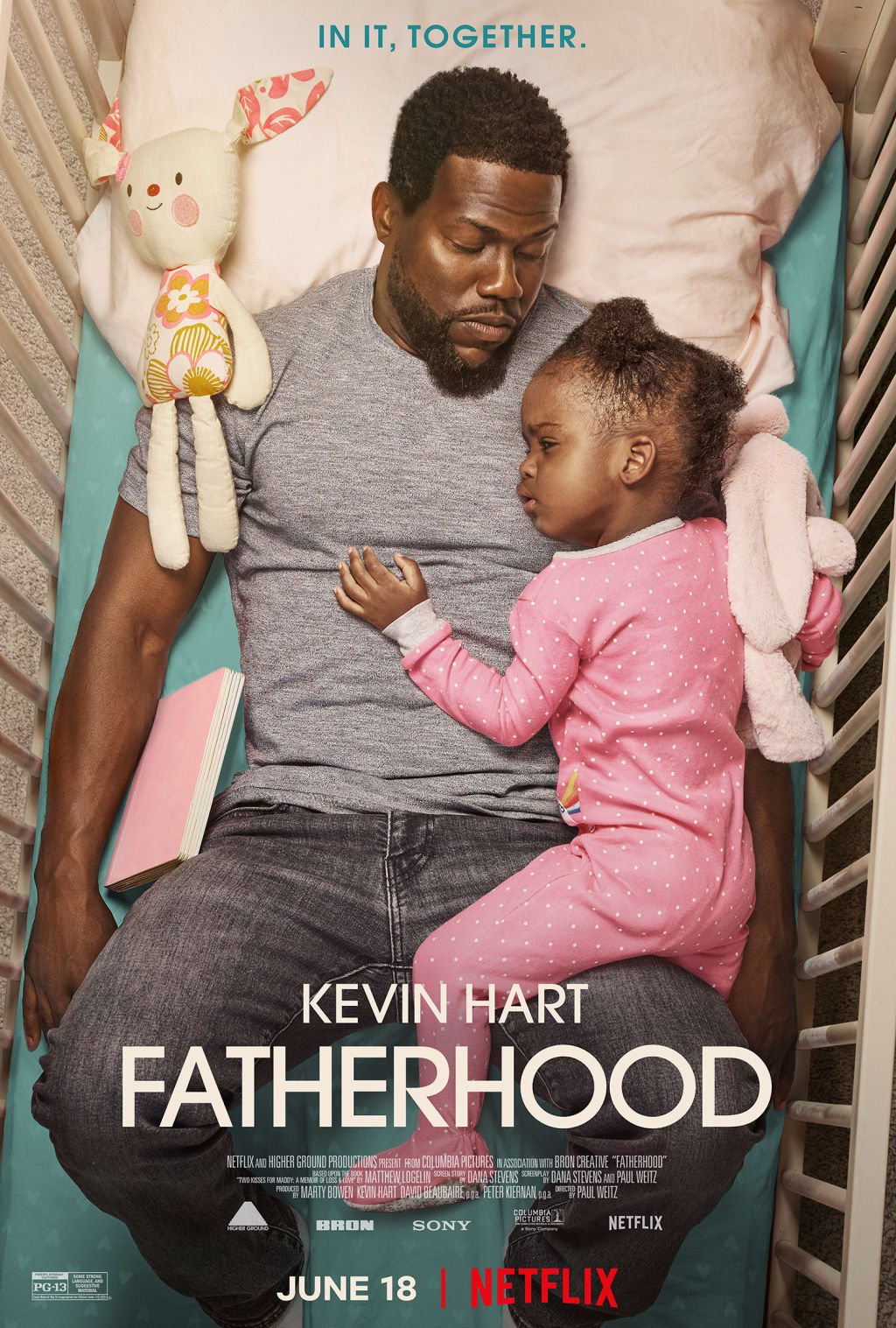 Image source: IMDB movie poster
Kevin Hart is well known for his comedy roles. It was quite refreshing to see him step slightly out of character for his role in Fatherhood. I say slightly because it is not possible for Kevin not to add a bit of comedy to everything he does (a case in point is the diaper-throwing scene in this movie). He plays a recently bereaved husband navigating life with a newborn. He is all heart and soul in this beautiful movie about life, grief, pain, parenthood, family, love and friendship.
About this movie
Fatherhood is a 2021 comedy-drama written by Paul Weitz and Dana Stevens based on Matthew Longelin's 2011 memoir, Two Kisses for Maddy: A Memoir of Loss and Love. The movie directed by Paul Weitz stars Kevin Hart, Melody Hurd, DeWanda Wise, Alfre Woodard, Thedra Porter, Deborah Ayorinde, Frankie Faison, Anthony Carrigan, and Lil Rel Howery among others.
Synopsis
Matthew Longelin (Kevin Hart) is thrown into mourning at his wife's sudden death shortly after childbirth. While grieving the loss of his wife and caring for his infant daughter, he still has to contend with work issues and family drama. His mum Anna (Thedra Porter) and his late wife's parents Marion (Alfre Woodard) and Mike (Frankie Faison) advise him to relocate to Minnesota so they can support him. He refuses choosing instead to remain in Boston working his tech job and raising Maddy (Melody Hurd) alone.
As Maddy grows older, he continues to juggle childcare, school, work, and even a new romance. He realizes that the strained relationship between him and Marion is affecting decisions about what is best for Maddy. Both must work out their differences and make the right decisions. Eventually, both reconcile allowing Maddy to spend more time with her grandparents.
Matthew rekindles his romance with Swan (DeWanda Wise) and passes up an opportunity to start up the new office in Croatia so he can be near Maddy. He constantly refuses pressure from Maddy's school to ensure she conforms with the school's dress code that requires girls to wear skirts. As a result, Maddy continues wearing jeans to school.
Social Relevance
This movie highlights topics like Life; Love and Relationships; Estrangement; Family Dynamics; Death and Grief; Parenthood; School; Work; Friendship; Pregnancy and Maternal Mortality among others.
Summary and Conclusion
Fatherhood is the touching and highly emotional true-life story of Matthew Longelin based on his memoirs. It highlights the pressures and challenges of juggling grief and single parenthood while celebrating the power of forgiveness, togetherness, love, family, and friendship. The movie highlights the strong bond between father and daughter. This movie is a powerful reminder that there is life after heartbreak and grief and that with supportive family and friends, one can pull through even the most difficult of times
Have you watched Fatherhood? What are your thoughts?
About the Creator
I write poems about life & love. I write about movies & other things. Want to know more about my work? Click link below for more info
https://linktr.ee/Imabongfaminu_wordsrwine
Reader insights
Be the first to share your insights about this piece.
Add your insights