'Fantastic Beasts: The Crimes of Grindelwald' Movie Review
This rotten second entry plunges the Wizarding World into bad prequel territory.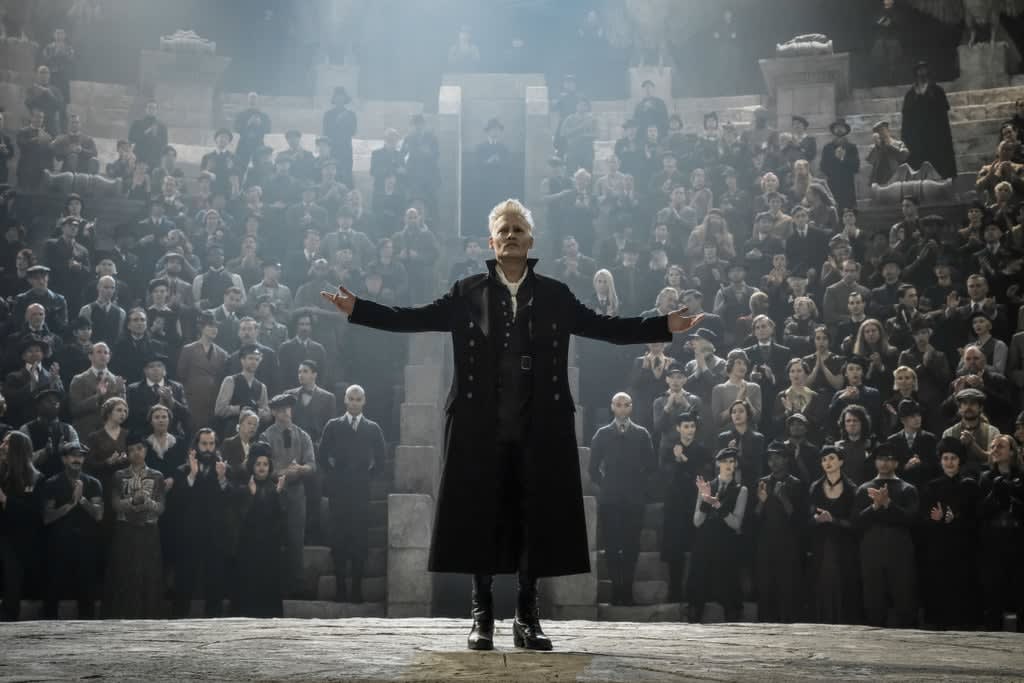 Released: 16th November 2018 (UK and US)
Length: 134 Minutes
Certificate: 12A
Director: David Yates
Starring: Eddie Redmayne, Katherine Waterston, Dan Fogler, Allison Sudol, Johnny Depp, Ezra Miller, Zoë Kravitz, Callum Turner, Claudia Kim, William Nadylam and Jude Law
Kicking off with Fantastic Beasts and Where to Find Them in 2016, the Wizarding World prequel series had a fair amount of potential to go beyond Harry Potter and create new stories that extended around the globe. Regretfully the second entry, The Crimes of Grindelwald is a humongous downturn for one of the most beloved film franchises of all time.
Picking up just a few months after the original film, the dark wizard Grindelwald (Johnny Depp) outwits his captors and escapes to Europe. Anxious for what he has in store next, Newt Scamander (Eddie Redymayne), with the American muggle Jacob Kowalski (Dan Fogler) sneaks to Paris to catch up with fellow witches Tina Goldstein (Katherine Waterston) and her sister Queenie (Alison Sudol) and put a stop to Grindelwald's schemes; central to this is the powerful orphan Creedence (Ezra Miller) who survived the events of the first film. Right from the start, it feels like too much is going on and from here, things don't get better. The plot is one-part confusing and another wholly uneventful; sequences come and go without really advancing the plot in a smooth manner and the conflicts between characters are horribly basic and underdeveloped all the way through. Furthermore, there is far too much pandering to nostalgia; the film sporadically plucks flimsy connections out the air and refuses to develop them properly. The biggest problem for me though is how many times characters simply stop in a room and start talking to each other, which ends up ruining the film's pacing. For an escaped dark wizard, Grindelwald's crusade in Europe really has no momentum or urgency behind it. It honestly feels like an advertisement for the next film, of which there are three to come.
Just like every other film in the franchise, COG is still a feast for the eyes and ears; the technical marvels that emerge from JK Rowling's universe are still as vibrant and absorbing as ever. The film continues the same wildly imaginative creature designs and authentic costuming that set the original apart; while they're not really a major part of the story, the creatures Newt makes use of are still woven into the action in all sorts of creative ways and this is matched by the same great visual trickery that places an entire animal preserve inside the protagonist's briefcase. The music by James Newton Howard is relatively similar but still packs a massive amount of heart. For as insignificant as the final battle is in the narrative, the raging hellfire that erupts looks visually spectacular. All is not perfect though; for all its deep dives into new landscapes, Crimes of Grindlewald doesn't really contrast the differences between American, British and French wizard cities well. More unique mannerisms in both creatures and extras in the background would have differentiated the settings.
The performances in this second entry certainly aren't awful by any means; every main cast member is simply buried under the mountain of irrelevant, trudging aspects of the narrative. Eddie Redmayne is again brilliant as Newt Scamander; he's created such a likable and endearing character with these movies that never loses his lustre. Katherine Waterston is still good as Tina; there's this stoic determination that drives her character forward throughout the film. Slightly less impressive though are Dan Fogler and Alison Sudol whose interaction and chemistry borderline insufferable territory. Johnny Depp receives a larger role in this second outing but he's often off-screen and doesn't have enough material to convey the antagonist's motives. Where Crimes really falters is with its new characters; not one of them engages or feels like a full piece of this world. Why is Claudia Kim's Nagini in this movie? To stand around and set up a horribly contrived connection to the original series. What role do Newt's brother Theseus (Callum Turner) and his bride-to-be Leta LeStrange (Zoë Kravitz) play in the story? Mainly exposition dumps that bring the story to a halt. Even the only great new addition, a young Albus Dumbledore played by Jude Law is sold short by a lack of screen time. The filmmakers tried to go too big too soon and spread themselves thin as a result.
It's hard to watch a franchise go so wrong, but Fantastic Beasts: The Crimes of Grindelwald is by far the worst entry in the long-running series. Solid main performances and dazzling effects can only get you so far when they're placed in a jumbled yet incredibly uneventful narrative that does nothing to expand the world or characters. Frankly, it's unthinkable that the Wizarding World could become so bland and unenjoyable.
Rating: 1.5/5 Stars (Bad)