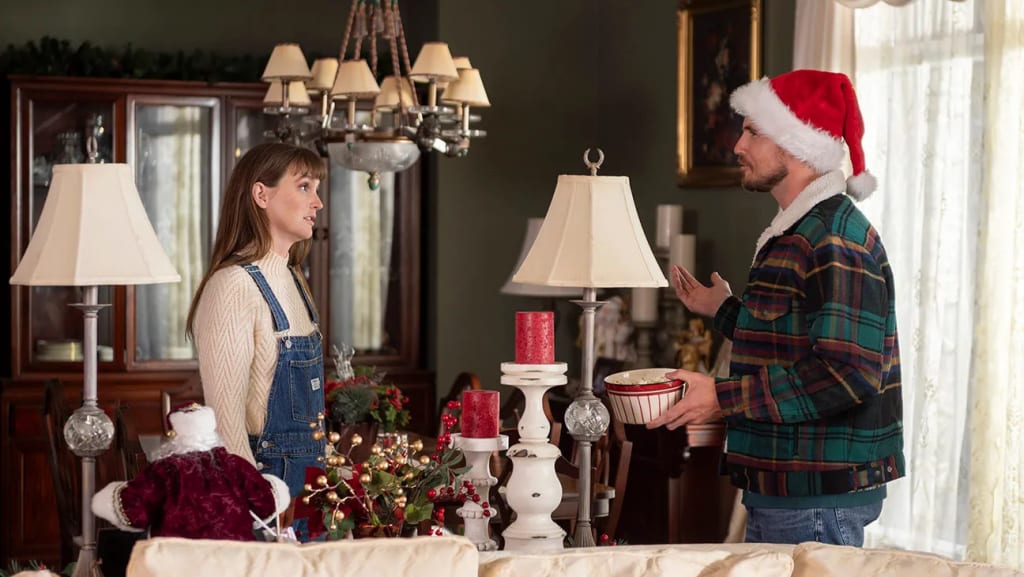 We have given you all of the best Christmas movies to watch on every streaming service. But of course there are constantly new holiday movies to watch. Amazon Prime came out with 2 new Christmas movies this year. We are reviewing the first one, Ex-Mas. Now the first thing that drew me to this movie (besides it being a Christmas movie) is the fact that Leighton Meester is in it and I love her.
We are used to enemies to lovers storylines but rarely do we get lovers to enemies. And honestly that is just so much more interesting. In this movie we get to see exes both spending time at his family's house. And their break up is still relatively fresh at only 6 months.
Graham is hellbent on getting his family to hate Ali. Ali has proven that she is a sweet, adorable angel who everyone loves for good reason. They make a bet that the family will ask one of them to leave before christmas morning.
Though this movie has some good twists on traditional tropes it also sticks to classic Christmas movie favorites. Including making Ali a baker which we know is one of the only professions that women can have in Christmas movies. And then of course we circle right back to enemies to lovers. But having the history and tension there already really adds to the intensity of the relationship. In literally every other Christmas movie the relationship is so shallow and there is really nothing to root for. But in this one, because their history is so well built you actually care about these two people and how their relationship ends up.
And there's actual communication between the couple in this movie? Since when does that happen in movies ever?
I feel like a death in the family during the narrative of the movie is a bit much. A death before the story starts? Sure, that makes sense. Gotta give your characters a challenge and something emotional to overcome. But this has been a very sweet and funny Christmas movie with plenty of emotional weight to it. But hospitalizing someone or killing them off during the movie just seems like a bit much.
Also we've gotta love a movie where an emotionally unavailable dude actually becomes self aware and corrects his behavior. Now it is a Christmas movie so they of course end up together. But it's actually really cute because they did a whole lot of relationship development in a very short amount of time. There were a lot of great moments between the siblings as well that were very realistic. The end where he invites his sister's ex to Christmas was great, siblings are the best with slow burn revenge. All of the relationships felt really authentic and honestly it's the most attention I've paid to any Christmas movie that wasn't driven by nostalgia. For the most part Hallmark and Lifetime movies are just something that are on in the background while I'm baking. But this one was actually worth watching and paying attention to. I love when new Christmas movies come out because it expresses a love for the season that I really appreciate.
Robbie Amell and Leighton did such a great job. Their banter back and forth was great, they have incredible chemistry. I love when actors that are really known for a single (but major) thing go do a Christmas movie. I think it's funny. And the writing was really fun. As far as Christmas movies go, Ex-Mas was fun, funny, well written and completely adorable. I highly recommend it if you want some new Christmas movies to watch.
Reader insights
Be the first to share your insights about this piece.
Add your insights