Endicott College's 'The Importance of Being Earnest' Excels in Comedy!
Endicott College's 'The Importance of Being Earnest' excelled in comedy creating a night of laughs and entertainment.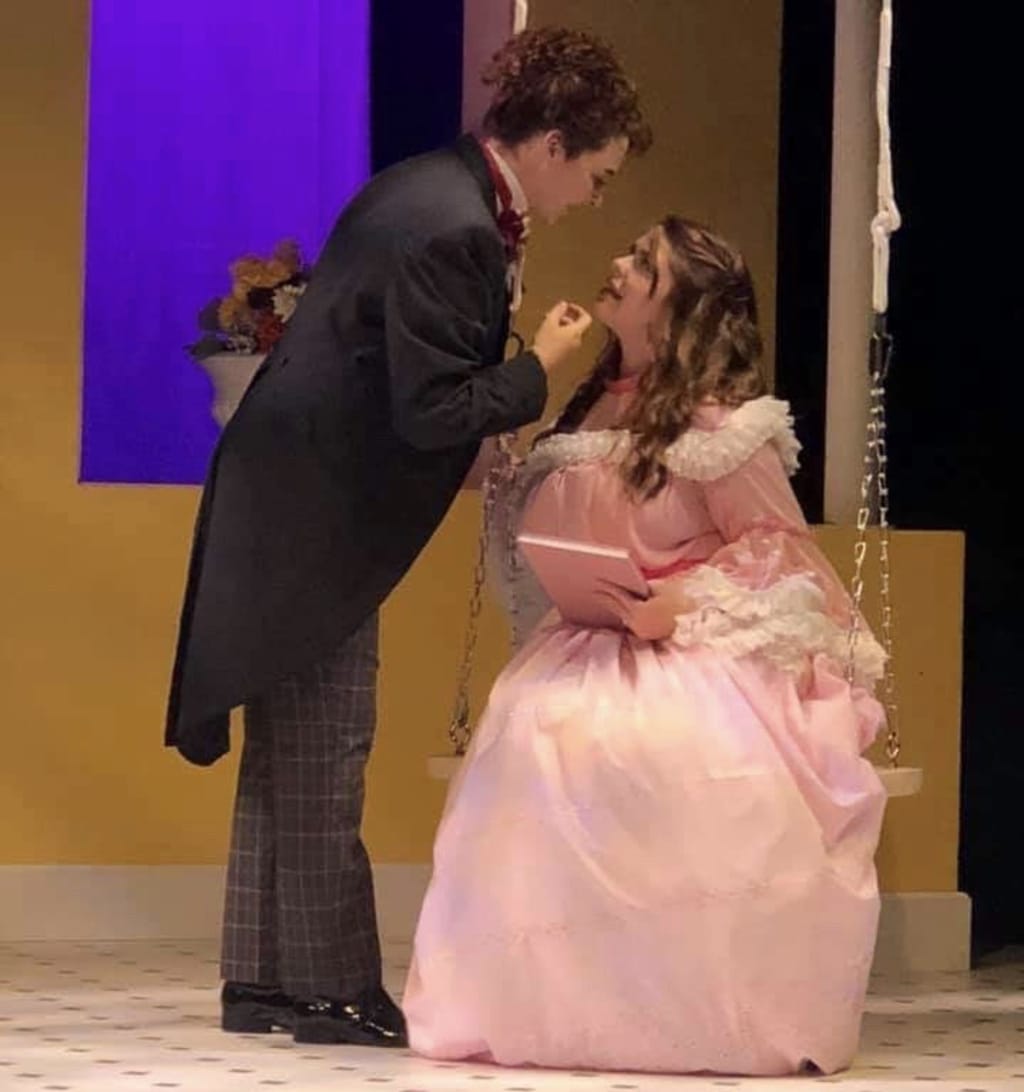 Lauren DiCocco (Algernon Moncrieff) and Allison Farago (Cecily Cardew) act out a scene in Endicott College's Mainstage production 'The Importance of Being Earnest'
I have exciting news! I just became engaged to Mr. Earnest Worthing! I beg your pardon? What do you mean you became engaged to him 10 minutes ago?
Endicott College performs The Importance of Being Earnest as its fall mainstage production. Jack Worthing and Algernon Moncrieff desire to escape their lives as bachelors and marry. Creating an alternative name of 'Earnest' hilarity ensues as they're mixed up among two young women.
The Importance of Being Earnest was a play written by Oscar Wilde first premiering in 1895. I was excited to see Endicott's production not only because I was returning to my old school, but I had read and studied the play twice in classes. The cast of Endicott College mainstage excelled in comedy creating a night of laughs and entertainment.
Freshmen, Lauren DiCocco and Megan Hemenway absorbed their roles as Algernon and Jack. I was very impressed the moment they stepped on stage exhibiting dramatic and humorous monologues. Their reactions to hilarious moments including the mix-up of which man was Earnest was one of my favorite scenes.
I could immediately feel the hostility and jealousy during Dana Chabot, 22, (Gwendolyn Fairfax) and Allison Farago's, 22, (Cecily Cardew) scenes. Representing women of different social classes, Gwendolyn and Cecily end up in a battle of sharp-tongued insults. Chabot and Farago were incredible in their interactions.
I was not expecting Ethan Richards's flawless performance as the stern mother of Gwendolyn, Lady Bracknell. Richards was genuine and I was very impressed with his mannerisms and the way he studied his character.
Stephen Hoadley, 20, and Mary Pfeifle, 20, had audiences howling in laughter. Whether it was Hoadley partying to himself once he had the mansion to himself or Pfeifle awkwardly flirting with Dr. Chasuble (Gage Jacques, 21) I had so much fun whenever they were onstage.
No part is ever small in the theater. An ensemble of butlers and maids would clear the stage, or fight with who is taking off what. I also love how they were listening in on the crazy confrontation scene at the very end. Watching their expressions and reactions was a fun part of the show.
The entire cast exceeded in a convincing British accent. The Importance of Being Earnest has quite the amount of monologues to which each actor studied endless hours in great dramatic deliveries.
Comedy is a tough subject to touch. The Importance of Being Earnest is famous for being a satire about society. In his own play, Wilde mocked the upper and lower class of society. Theatre is a fun experience because we get to look back on how our societies, either ridiculous or important events have changed.
The set for The Importance of Being Earnest was a creative architecture that represented either a mansion with comfy furniture or an outside garden with a swing set. Costumes were beautiful, along with hair and makeup. Listen very closely to some comical sound effects and even music cues. The lighting was remarkable especially when it was tinted red during Gwendolyn and Cecily's terse meeting.
Directors Katie Clarke and Brittany Pasko's made creative casting choices that brought out the comedy the show was about. The theater is all about possibilities. It's important to see this play with an open mind and it touched on very important subjects.
Well done to the cast and crew for a splendid evening of laughs. I always love walking back into the memories of Endicott College. Theatre brings us together for a night of recollecting, laughter, and to open our minds. I recommend that you catch a showing of Endicott College's The Importance of Being Earnest on November 8 and 9.