Doctor Who: Circular Time Review
The Fifth Doctor and Nyssa go through all four seasons in this anthology collection from Big Finish.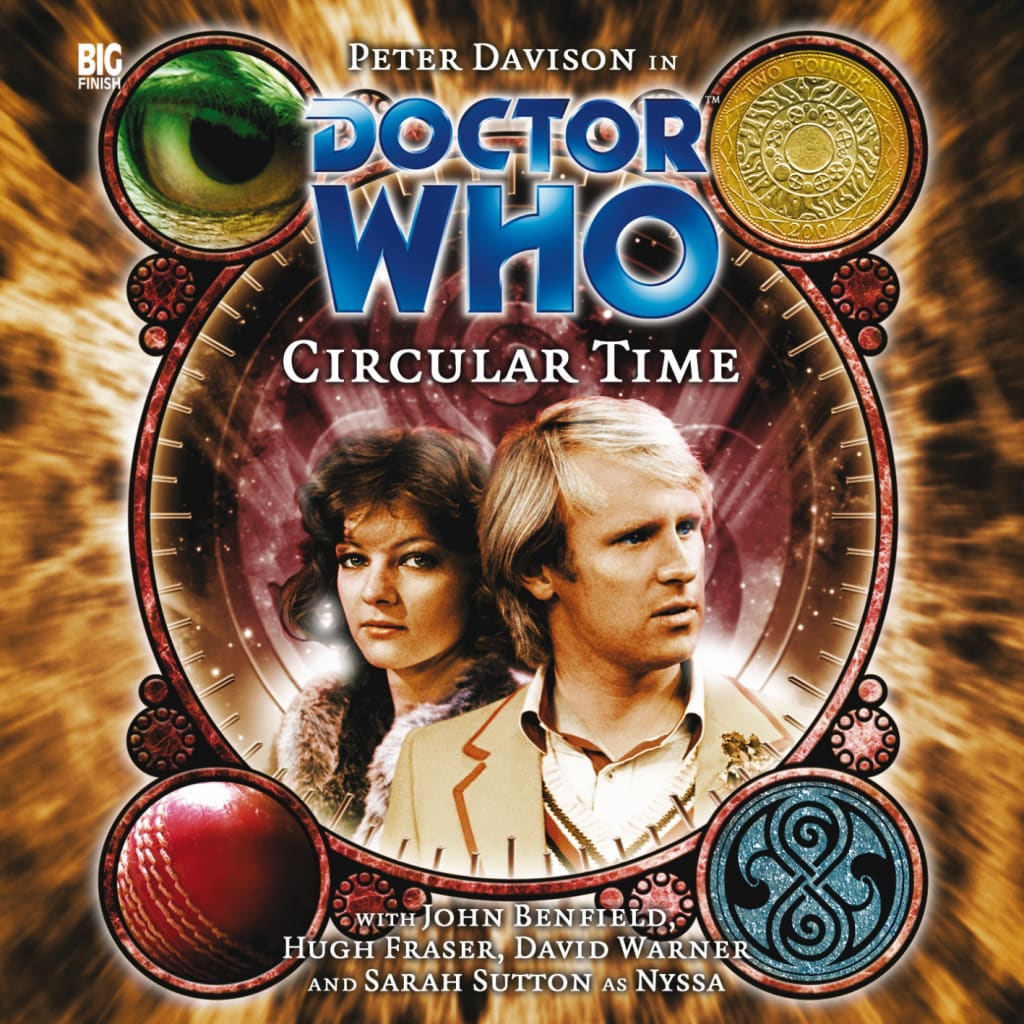 The CD cover for "Circular Time", designed by Barry Piggott.
In 2007, Big Finish launched a new recurring format for the Monthly Adventures. Every year, there would be a release that, instead of featuring one 4-part story, would feature four 1-part stories, often centred around a theme or central idea, and these releases ended up becoming some of the best examples in the Monthly Adventures of creativity and using the short-form format to tell Doctor Who stories out of the norm. The first of these was "Circular Time": four stories centred around the seasons and the relationship between the Doctor and Nyssa. It remains to this day one of the most well-regarded anthology collections, and one of my personal favourites, due to doing some very unexpected things with the Doctor Who format.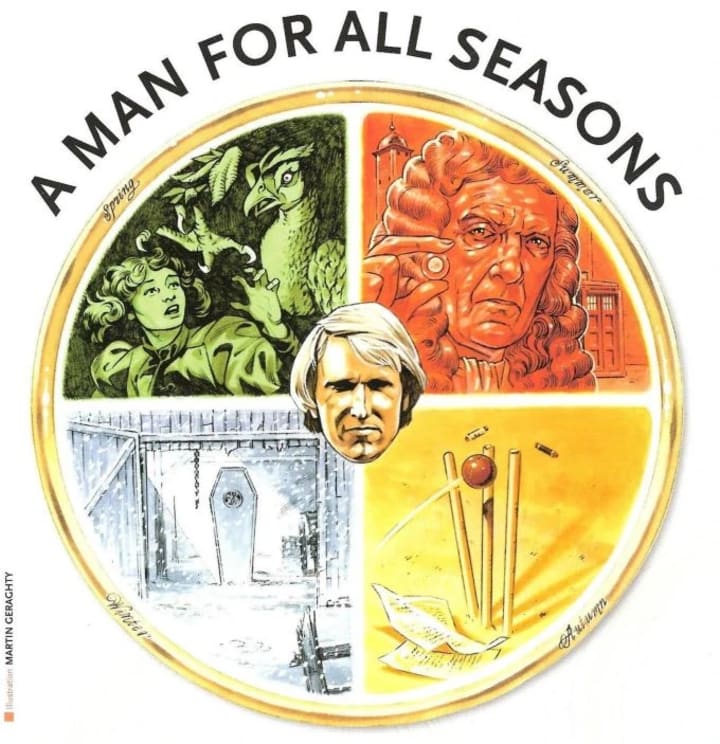 As mentioned above, each episode of this release is centred around one of the four seasons, and each one tells a different type of Doctor Who story. "Spring" sees the Doctor and Nyssa sent to a planet of Avians by the Time Lords in order to find out what a retired Time Lord Cardinal is up to. "Summer" features the Doctor and Nyssa under arrest and accused of forgery by Sir Isaac Newton. "Autumn" places the Doctor and Nyssa in the village of Stockbridge on holiday, only for the pair of them to become tangled up in events in more ways than one. And, finally, "Winter" brings the Doctor and Nyssa back together in the oddest of circumstances on one of the most important days of the Doctor's life... Each episode works very much on its own, but, when put together, they form a thematic link looking at the turning of time, and the development of the Doctor and Nyssa's relationship. The first two stories, "Spring" and "Summer", are lighter in tone than "Autumn" and "Winter", and revolve around some very unusual ideas. "Spring" brings a vivid alien civilisation to life with some skill, so much so in fact, that you wouldn't mind spending longer in this setting. While probably the most inconsequential story in the set, it acts as a nice opening, and Hugh Fraser's performance as the retired Time Lord Zero is a highlight of the set. "Summer", meanwhile, is one of the best historical stories Big Finish have ever done: not because of the educational aspects of it, or because it shines a light on a piece of history not previously given the time of day. No - "Summer" is one of the best Big Finish historicals because it is so outrageously funny. I mean, of course the Doctor Who story where Isaac Newton deduces the whole future history of Earth from a few random coins in the Doctor's pocket was going to be funny. But just what makes it quite so funny is just how paranoid and dangerous Newton really is, and David Warner treads the line between both with superb skill. His interplay with Peter Davison is wonderful, and, while the ending feels a little bit of a cop-out, it's still a funny one-off episode that works really well as basically an extended joke.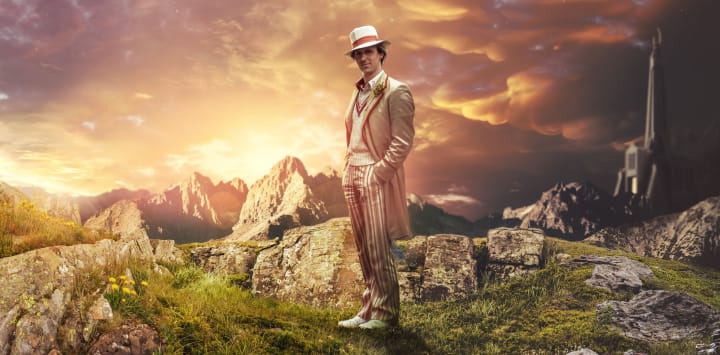 While the first two episodes were light-hearted fare from Mike Maddox, the purely Paul Cornell penned second half takes things in a very different direction. "Autumn" sees the Doctor and Nyssa taking some time out in the village of Stockbridge (as seen in the Doctor Who Magazine comic strips), and find themselves pushed emotionally in ways they didn't expect, and, to be honest, neither did the listener. It's no secret that Peter Davison preferred Nyssa out of all of his companions, and this story provides the perfect evidence for that argument. While it may ostensibly be about Nyssa falling in love and the Doctor becoming frustrated with the attitudes of a county cricket team, there's a deeper thread here: about how the Doctor and Nyssa's relationship goes beyond best friends, and how maybe one of them is ready to give it up easier than the other. It certainly adds a layer of subtext to their final scene together in "Terminus", and Sarah Sutton gives one of her strongest ever performances as Nyssa, especially in the scenes she shares with Jamie Sandford as Nyssa's beau Andrew. And, finally, we come to "Winter". Now, a lot has been said about this story in online circles, especially regarding its placement, and I don't want to spoil it for anyone who hasn't heard it. Suffice to say, however, that this is a story perfect for fans of this era, as it brings together some of the best things from this time in the show's history for a huge, massive celebration. To say any more would be a huge spoiler for the story, but believe me, fans of the Fifth Doctor will really love this episode. It ties together all the different themes that have run throughout this collection, as well as things that have been part of the show's history since 1981. Peter and Sarah are on fine form here, especially Davison, who is given the chance to expand on one of his favourite stories from his time on the show. In production terms, John Ainsworth and David Darlington direct and sound design all four episodes respectively, and both bring a huge amount of experience to this release. Both are clearly aware of how powerful this story is as a piece of drama, and produce something with few frills, just focusing on the fantastic scripts as written. Together, they help to make this release something very special.
Overall, "Circular Time" remains one of the strongest anthology releases Big Finish has produced, and one of the standout Fifth Doctor and Nyssa stories in any medium. While they may be short pieces, they are very sweet, and give us a chance to experience Doctor Who we all know and love in an new and original way. It's honestly hard to find fault with this release, and it is hard to say it is anything other than perfect - something I don't like to do too often, as it devalues the word I feel. But, in the case of "Circular Time", I think it is entirely appropriate. This is perfect.
You can purchase "Circular Time" as a digital download here: https://www.bigfinish.com/releases/v/doctor-who-circular-time-257
All pictures copyright to the BBC/Big Finish Productions/Doctor Who Magazine. Thank you very much for reading.
review
About the author
25. Fan of Doctor Who, Blake's 7, The Prisoner and more old-fashioned TV. Reviewer, wannabe writer and general twit.
Reader insights
Nice work
Very well written. Keep up the good work!
Top insights
Expert insights and opinions

Arguments were carefully researched and presented

Eye opening

Niche topic & fresh perspectives
Add your insights