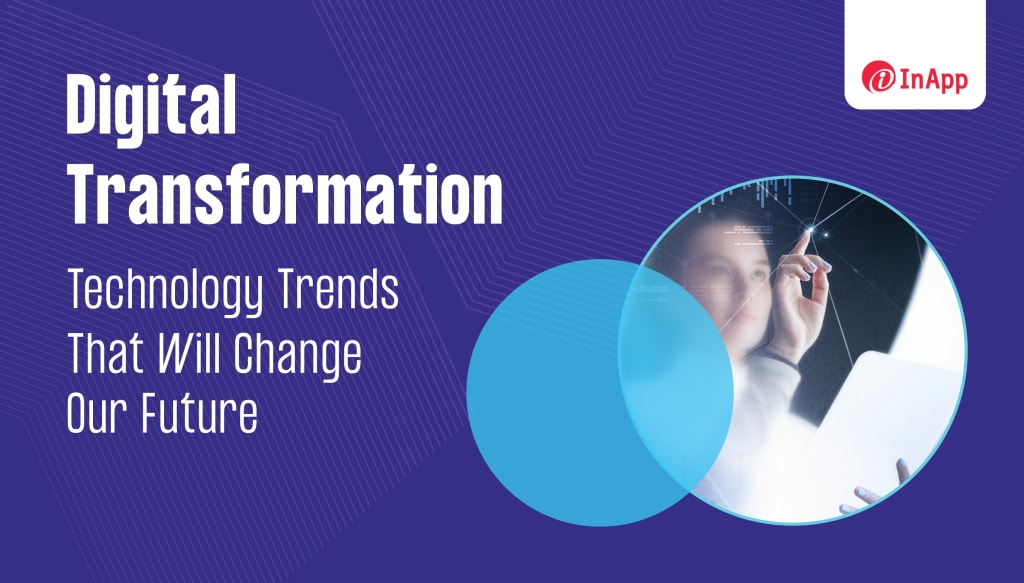 Companies looking at digital transformation want to future-proof their technology landscape by implementing a modern digital backbone. But it requires more than just technology. It also serves as a business transformation — a way to rethink how an organization uses technology to fundamentally improve business performance.
Digital transformation should affect all areas of an organization, changing the way it operates and the way it offers value to its customers.
Here are the technology trends that will change our future

Artificial Intelligence and Machine Learning
Artificial intelligence (AI) and machine learning (ML) will continue to hold a place at the forefront of the technology sector. Rapid changes in the field hold great promise for even more significant breakthroughs. Various factors such as the growth of data-based AI, advancements in deep learning, and the push for robotic autonomy to stay competitive in a global market are expected to drive the adoption of AI and ML solutions and services.
The Internet of Things (IoT)
Smaller, more reliable, and more intelligent sensors are now available for virtually all types of assets and operations — including computers, vehicles, smartphones, appliances, building automation systems, and production equipment. These "smart" devices are constantly gathering and transmitting data, further fueling the growth in Big Data and AI. But the real power of this disruptive technology lies in analytics that provides a new level of business intelligence, offering insights to improve business and find new revenue streams.
Big Data
Big Data refers to the exponential growth in the amount of data being created in our world. Data-centric solutions to unearth hidden correlations and patterns — enabling cost savings, streamlined processes, improved efficiency, and untapped profits. Modern software tools support data collection and provide analysis in real-time — so companies can react faster and use that data efficiently to make improvements in operations.
Blockchain
Blockchain technology stores transactional records (i.e., the block) of the public in several databases (i.e., the chain) in a network connected through peer-to-peer nodes. Every transaction in this ledger is authorized by the digital signature of the owner, which authenticates the transaction and safeguards it from tampering. That capability can offer benefits like cost savings and improved security to companies in a wide range of industries.
Cloud Computing
Cloud computing services enable organizations to use a virtual IT structure and software that's independent of an operating system. It provides a wide range of services like on-demand storage, computing services, and application development platforms. Companies are attracted by the lower costs and increased flexibility of cloud computing services. As most services follow a pay-as-you-go model, it's easy to scale up or down as needs change.
Custom Software
Custom software development services provide tailored software solutions, which can cut project costs and maximize return on investment. A custom solution fits your business requirements perfectly as it's designed to meet all your current and future business requirements. Custom software can enable companies to benefit — and profit — from new technological capabilities.
Augmented Analytics
Augmented analytics, often the result of AI technology, offers insights from enormously complex and varied streams of data. Technology that captures and stores data from different sources will empower users to deliver and act on meaningful analytics throughout the enterprise. The result is improved trend analysis, forecasting, and business performance management.
How Digital Transformation Can Improve Business Functions
What do all of these technologies have in common? They can significantly improve business functions including…
Decreased operating costs: Digital transformation decreases operating costs by reducing the time needed for workflows, eliminating manual tasks, and incorporating new functionalities.
Increased revenue: Digital innovation can improve the sales process, increasing market research and finding new customers for businesses of all sizes.
Mining customer data: Customer data can provide a wealth of business information, revealing new possibilities and insight once that data is centralized and analyzed.
Streamlined workflows: Digital innovation can improve collaboration, remove or reduce bottlenecks in processes, and speed up workflows.
Improved customer satisfaction: Service operations can be streamlined and improved, strengthening the relationship with customers.
Contact InApp to learn more about how digital transformation can boost your technology initiative.
About the Creator
We are a custom software development company focused on providing world-class business solutions and delivering exceptional value to customers.
Customers: Startups - Fortune 500
Reader insights
Be the first to share your insights about this piece.
Add your insights