David Warner Tribute
A tribute to the legendary stage and screen actor, noted for roles in Titanic, Time Bandits, The Omen, Tron, Star Trek and Doctor Who.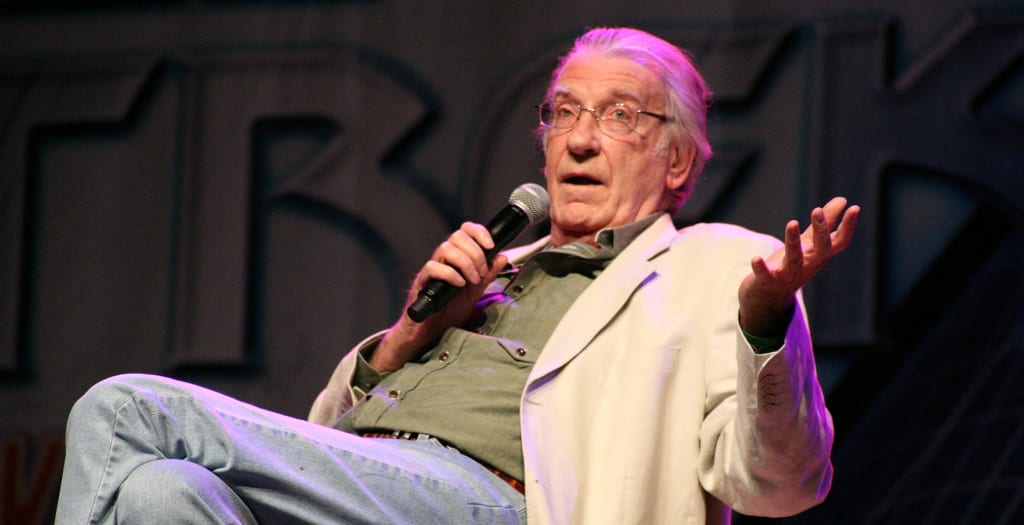 David Warner, who has passed away, aged 80.
Actor David Warner, known for roles on stage, radio, television and film has passed away aged 80. If you are a fan of any of these mediums, you will have heard of Warner, or seen some of his work: by many in the industry, he was regarded as one of the very best, and held in the same acclaim as actors like Ian McShain, Derek Jacobi, and the late John Hurt. Having starred in a number of high-profile roles in popular films and TV shows, as well having won an Emmy in 1981 and enjoyed a long association with the prestigious Royal Shakespeare Company, Warner has left a lasting legacy, and many fans of his work. His captivating presence on stage and screen made him popular with audiences, and his easy-going demeanour and playful attitude made him popular with actors too. He remains one of this country's finest actors, and, in the post below, I hope I can sum up the words to accurately and fairly pay tribute to one of the greatest actors of our generation.
David Hattersley Warner was born on the 29th July 1941 in Manchester, into a chaotic household. He has described his upbringing as 'messy' and 'dysfunctional', with acting proving an escape for him. It was a teacher of his at school that provoked his interest in drama, choosing it over becoming, in his words, a 'juvenile delinquent'. He eventually got into RADA (the Royal Academy of Dramatic Art) after attending Feldon School in Lemmington Spa. His year group included acclaimed actors like John Hurt, Ian McShain, Jacqueline Pearce and Paul Darrow, and, soon after leaving drama school, was in demand: his first major role was in 1963's "Tom Jones", directed by Tony Richardson. He was also becoming a major part of the Royal Shakespeare Company: parts in "Henry VI" and "A Midsummer Night's Dream" soon translated into the leading role in Peter Hall's legendary 1965 staging of "Hamlet". In contrast to the traditional theatrical performances of the lead character which Warner found dull and staged, he played up to the anti-establishment movement of the 1960s; even down to his costume, which painted the prince of Denmark as a student rebel, in his red scarf, Aran jumper and glasses. This portrayal of Hamlet aimed to open up Shakespeare to a generation who felt it didn't speak to them, and Warner's take on the central character was the prime example of this approach. And it worked: younger audiences flocked to watch him, believing that he spoke to them personally. Greats of the theatre, both in front of and behind the curtain, have hailed this as one of the greatest modern Shakespeare performances: on a par with Laurence Olivier's take on Richard III, hump and all. However, Warner would soon find himself in demand in the cinema, and, coupled with a bout of stage fright after a production of "I, Claudius" in 1973, wouldn't return to the stage until 2001, taking on the role of Andrew Undershaft in "Major Barbara in New York". His final stage roles included more Shakespeare: the mad King Lear, and Falstaff in "Henry IV, Part Two", in yet another critically acclaimed performance that remained audiences of his power live on stage, as well as his ability to turn his hand to a wide variety of parts.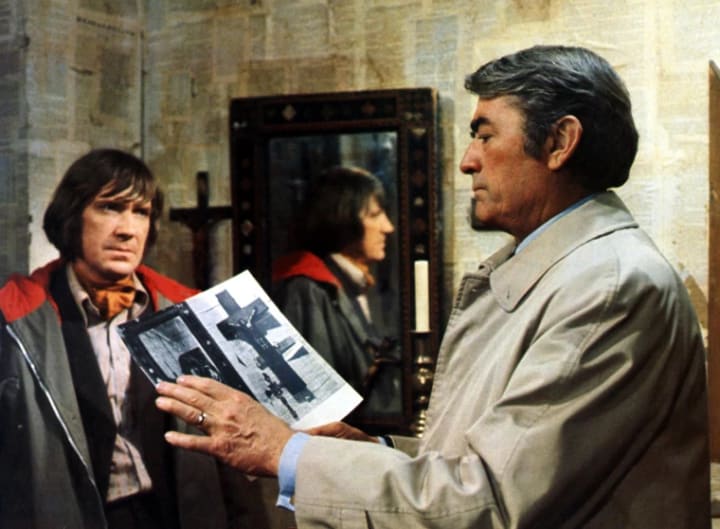 As mentioned above, Warner soon found himself in demand on the silver screen, and became a reliable presence that often elevated productions above their original ambitions. His most famous role, and the one that seems to have come up time and time again in obituaries is James Cameron's 1997 multi-billion dollar grossing epic "Titanic", in which he played the role of Spicer Lovejoy, a bodyguard and valet who helps to make life difficult for our heroes, in the form of Kate Winslet and Leonardo DiCaprio. However, this was a relatively minor role for Warner, who's career seemed never to end, with a list of films that nearly matched his RADA classmate John Hurt. Perhaps his most acclaimed part was alongside Vanessa Redgrave in 1966's "Morgan: A Suitable Case for Treatment", for which he was nominated for a Leading Actor BAFTA award. His character, Morgan Delt, was a daydreamer who, across the film, descends into madness, and showcased Warner's ability to move from the slightly surreal to the volatile with ease. The film was a commentary on class, conformity and rebellion, and sealed Warner's reputation for slightly anarchic, radical parts and performances. Another of his most acclaimed roles came in 1976's "The Omen", alongside Gregory Peck, in the role of photographer Keith Jennings. In one of the most notorious sequences in the film, Jennings is decapitated by a falling pane of glass. Warner kept the fake head that was used in the sequence for many years, and joked that he 'lost it in a divorce' when asked what happened to the head in an interview. He soon found himself in demand as a villain: two notable examples of this were 1981's "Time Bandits" and 1982's "Tron": both showcasing his power and range as an actor, and his willingness to take on not just 'high-value' drama, but blockbuster science fiction and pulp horror as well. In 1987, Warner moved to Hollywood, and found himself more in demand than ever: this included multiple roles in the Star Trek franchise and a role in the second Teenage Mutant Ninja Turtles film, "The Secret of the Ooze". This was a role he took on so he could impress his son's friends, who he felt wouldn't be as impressed with Chekhov and Shakespeare as with the Ninja Turtles. It was this kind of self-effacing humour, and his down-to-Earth attitude about his work that made him so popular with actors, and kept him in work right into the 2010s. His final feature film appearance was in 2018's "Mary Poppins Returns", the sequel to the 1964 acclaimed children's film, as retired navel officer Admiral Boom, and once again introduced the actor to a whole new generation of fans.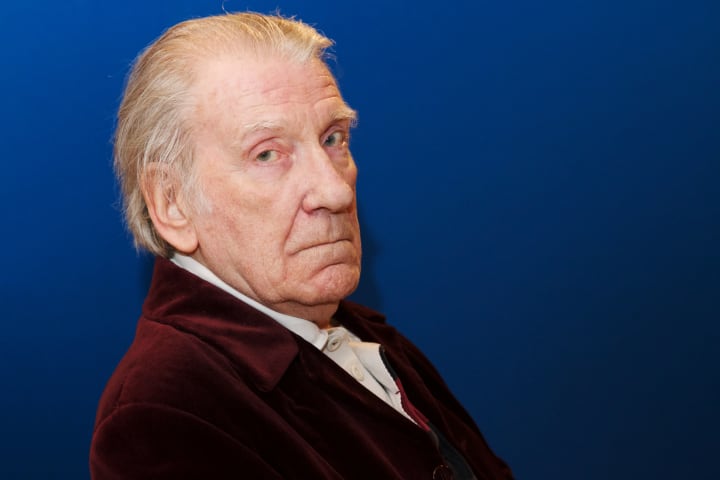 And, despite his huge list of stage and film credits, he still found time to make his impact on the small screen and on audio. Early roles in police drama Z-Cars and Armchair Theatre soon parleyed into larger parts, including the role that won him an Emmy: 1981's Masada. This acclaimed mini-series saw him playing the role of Pomponius Falco, a political opportunist who shows a barbaric attitude to slaves. During this period, Warner was engaged in work on both sides of the Atlantic: after appearing in the BBC's Television Shakespeare series in 1985, he moved mostly into American television, with roles in Murder, She Wrote, Babylon 5, Twin Peaks and the two-part Star Trek: The Next Generation episodes "Chain of Command". There were roles in animated shows like Batman, Spider-Man, Iron Man and Men in Black: The Series, which broadened his appeal with younger audiences, as did a live action appearance in Lois & Clark: The New Adventures of Superman. The mid 00s saw Warner return to UK TV screens, with roles in Midsomer Murders, Ripper Street, Penny Dreadful, Marple, and, perhaps most memorably, Inside No. 9 and Doctor Who. His appearance in Steve Pemberton and Reece Shearsmith's dark comedy anthology series was commended for being effortlessly batty, and has been praised as one of the best guest turn in the series. His appearances in Doctor Who, meanwhile, have been lauded as some of the best in the near 60 year history of the show. First appearing as the villainous Lord Azlok in the animated serial "Dreamland" with David Tennant, he got the chance to appear on screen proper in 2013, in the episode "Cold War". His turn as kindly Soviet Professor Grisenko was a highlight of this story, and his scene-stealing moment singing Ultravox's "Vienna" (Griesenko being a big fan of New Romantic acts) is worth seeking out for its sheer absurdity. However, these weren't to be Warner's only brush with Doctor Who... While never being remembered as much in tributes, his audio work once again showcased his ability to turn his hand to many different types of roles. Alongside appearances in BBC Radio 4 comedy Nebulous and a 2005 adaptation of The Club of Queer Trades, Warner took over from the late Nicholas Courtney in Bafflegab Productions' The Scarifyers series in 2011, alongside Archers veteran Terry Molloy. However, it would be Big Finish Productions that would produce the largest body of radio work with Warner: he took on David McCallum's role of Steel in the company's revival of Sapphire & Steel, was cast as one of the leads in their original series Shilling & Sixpence Investigate alongside Celia Imrie (a second series of which will be released in November), and as Sherlock Holmes' brother Mycroft in both Bernice Summerfield and Big Finish's huge crossover release "The Worlds of Big Finish". But it was to be his appearances in their Doctor Who range that would garner the most attention: he took on a large number of roles, from leading villains to more minor scientists and mad old men. In fact, he once loudly demanded creative director Nicholas Briggs should employ him more because he enjoyed doing them so much. One role, however, would shine above all the rest, when, in 2003, Warner was cast as the Doctor himself in "Sympathy for the Devil", as part of the Unbound range of plays. A series of what if stories taking an alternate look at Doctor Who history, Warner ended up playing a version of the Doctor who was exiled to Earth in the 1990s rather than the 1970s. A sequel followed, "Masters of War", then Warner returned in The New Adventures of Bernice Summerfield range in 2016. Playing the Doctor as a grumpy, slightly tipsy Father Christmas, Warner was easily the standout Doctor created for the range back in 2003, and it is no surprise that he continued to return to the role. The next box-set in the series is due to be released in September, and, together with Shilling and Sixpence 2, will mark Warner's final acting work. I imagine they will be a fine tribute to a peerless actor.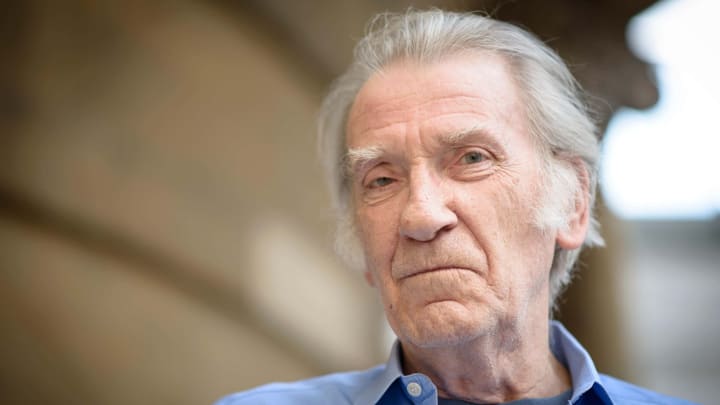 David Warner was a legend. A truly standout actor, with a fine body of work that showcased his ability to captivate an audience with raw emotion and fiery menace remains practically unparalleled by any one else. He could turn his hand to any character: while many will know him for his many villainous roles, I hope he's remembered for a huge variety of other parts too, some of which I have touched on above. One of the finest actors this country has ever produced, David Warner will cast a long shadow over the acting world. Personally speaking, while I never got to meet Warner, he was an actor I have always admired, and tried to emulate in my performances. He was an actor I would love to have written for too, and my submission for 2019's Bernice Summerfield writers opportunity featured his version of the Doctor - while I didn't get picked, it was still a delight to write for his version of the character. So, thank you David Warner for everything. You will be much missed, and your legacy will live long. Rest in peace, and my thoughts are with his partner Lisa Bowerman, his son Sam and his friends and family. And I'll leave you with some funny words of advice Warner had for young actors, that was very typical of his self-effacing humour:
"Don't run with scissors".
David Warner - 1941-2022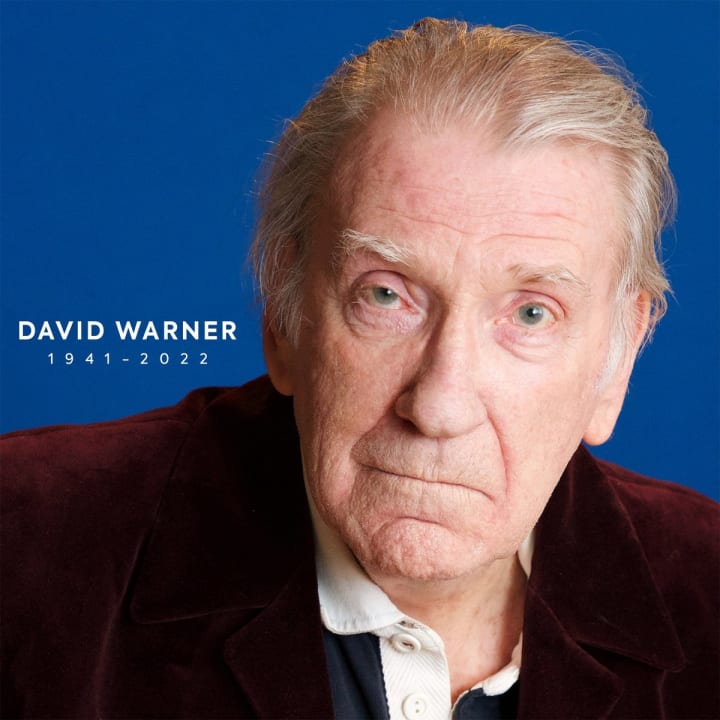 All pictures copyright to their respective owners. Thank you very much for reading.
About the Creator
25. Fan of Doctor Who, Blake's 7, The Prisoner and more old-fashioned TV. Reviewer, wannabe writer and general twit.
Reader insights
Nice work
Very well written. Keep up the good work!
Top insight
Heartfelt and relatable

The story invoked strong personal emotions
Add your insights