Dammit, Gem!
Third Place in Gemini Season Challenge
"One man cannot summon the future." - Spock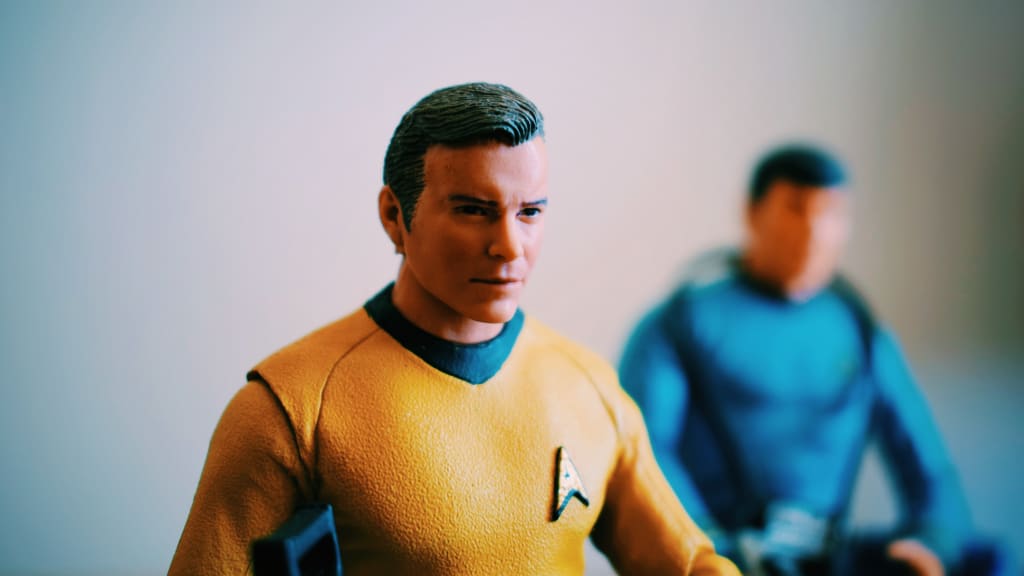 Photo by Stephan Cosma on Unsplash.
3 birthdays ,
+ 1 Father's Day,
+/- (possibly a graduation) ,
+ 1 anniversary (definitely)
-------------------------------------------
= 1 crazy-filled month.
June overflows with several Gemini birthdays and other milestone dates for my family. When we're not busy gift-giving, we're talking about space travel or science fiction. These two topics go hand 'n' hand, like people square dancing and singing along to a fast-paced announcer.
A little doe-see-doe –
First with Star Trek, "Dammit, Jim!"
Then onto Star Wars, "Luke, I am your father!"
Switch off to Buck Rodgers, "Lucky Buck is back!"
And finish up with Battle Star Galactica, "Virtual Six: It is what makes you human."
Exchange one, pass two, round 'n' round … gibber, gibber, gibberish.
Begin again with Flash Gordon, "Flash! I love you, but we only have 14 hours to save the Earth!!"
Onto the shuttles Enterprise, Columbia, and Challenger …
Then change your partner to Science Fiction Theatre, "Oh, good, ... it can happen in any city to any person."
Candles blown, presents passed, space this, mission that, and … chatter, chatter, chatter.
Again Columbia, Challenger, Discovery, Atlantis, Endeavor …
Back to Lost in Space, "Danger, Will Robinson! Danger ..."
And finally … The Twilight Zone, "You are about to enter another dimension."
In fact, it's safe to say that all-things-space talk is a twelve-month – nearly every day – kinda madness. Honestly, it's our obsession.
First the Air Force, then NASA – one family member's space memorabilia is a fixture proudly hanging everywhere in our house. My mother, and her three siblings, spent their formative and early adult years living on and off at home from the fifties through the eighties. Post-WWII life meant living with ease: the microwave, the two-car family, the fast-food drive-thru, Tupperware, nylon clothing, the boxy TV – all visible indicators displaying an overflowing hope for a promising future.
Past, present, or future, three Geminis means six people – considering Gemini translates to twins, in Latin. Doing the math means six personalities to understand. e-Thay ore-may e-thay errier-may, in Pig Latin. Translation: The more the merrier! So, as a tribute to my family's love of Geminis, below is a short June forecast for this fun-loving sign.
Gemini's All-Star Stats----------------
Dates: May 21 - June 21
Ruling Planet: Mercury
Mercury's position is the first planet in the solar system. Because it's the smallest planet and closest to the Sun, it's able to orbit several times faster and more often than any of the other planets. This allows Geminis to be quick-witted with come-backs, whip-smart about remembering facts, and most knowledge about many subjects.
Astrological Sign: #3
The number three denotes the third sign of the zodiac in Western astrology. Generally, horoscopes articles start with Aries, then Taurus, then Gemini, and so on.
Element: Air
Air is one of the four elements. Air is easily adaptable and does not remain in one spot too long. So, it's safe to say, Geminis are free spirits. They like to roam like a tumbleweed through the desert. By nature, they are warm and fuzzy individuals and are givers when surrounded by many friends or new lovers.
Mutable
Mutability means that Geminis are easily adaptable – someone who can easily adjust to life's changing circumstances. "Pick Up and Go" can easily be their mantra.
Positive
As a positive sign, they are seen celebrating and being the center of attention. With a great attitude and an enchanting smile, they are always willing to chat up a stranger and make a new friend.
Gemini's Personality Traits----------------
The Good: Flexible with change, fun and sociable, knowledgeable and talkative.
The Bad: Slow at decision-making, quick with changing their mind, potentially irresponsible.
The Ugly: In your business, her business, his business, and so on. Needs improvement with $.
Gemini's Road Ahead----------------
Today: Prepare for stormy weather. There will be several disputes.
Tomorrow: Stop pleasing others. Don't tell them what they want to hear. Stand tall, stand proud, and celebrate everything unique to you.
Weekly: It's time to go on an adventure. Put yourself out there, Gem, and meet new people. Beware of workplace drama.
Monthly: The month starts out slow with Mercury retrograde then warms up when you meet someone new out there and hook a big fish. Pssssst … please, s-t-o-p gossiping at work.
Yearly: Bring on 2021. Vaccinate, so that you can dive deep into all 2021 has to offer: career, love, friendship, and cookies – yes, cookies!
Gemini's Romantic Future----------------
Today: Go ahead, ask them out if someone is clueless. Your back 'n' forth banter should be obvious enough, but some people are nervous when you're close.
Tomorrow: Yes, the attraction is mutual. No, you're not going crazy.
Weekly: This week starts with the trine between Sun and Pluto moving you closer and closer towards the person you want. By the weekend, you're looking flirty and fun and on the path to someone who's a better fit for you.
Monthly: Your twin wants this, you want that. Decide already, stop confusing people with misleading texts. Slide into their DM and move on with it, already.
Yearly: 2021 is meant to be sociable, so connect on Facetime or IRL.
Gemini's Financial Predictions----------------
Weekly: Start a business, find a new job, create multiple $treams of income.
Monthly: Seed money for your ventures might require asking for a loan from your family or even dipping into your savings or 401k. :(
Yearly: Whether baking cookies for charity, starting a dog grooming business, or rising up the career ladder, Gem – the future looks shiny.
Gemini's Celebrity Twin Flame----------------
Aquarius and Sagittarius are both Gemini's twin flames. These three signs value independence and freedom. Gemini is always up for an adventure, which makes these signs open for long-lasting fun. Gems may be on and off again, especially when they fly into town, but like a sailor – there's a girl at every port. Famous Aquarians: Harry Styles, Kerry Washington. Famous Sagittarians: Miley Cyrus, Jay-Z. Pick one, or pick many – they are all a match for you, Gem.
Gemini's Zodiac Compatibility----------------
Aries: Ram loves your playful nature, Gem. Prepare for an ongoing tryst this summer.
Taurus: Tame the bull, Gem. They're not your cuppa, unless you enjoy non-stop bickering.
Gemini: Two sets of twins? Yes, four beauties are something most people dream about at night.
Cancer: Sweet Crab, I wish this could work. Gem, prepare for emotional storms.
Leo: No cowardly lion here when you're around, Gem. Compatibility is their middle name.
Virgo: Look elsewhere, the virgin is not your friend. Perfectionism isn't your thing.
Libra: This one's a slow burn, are you ready for fire?
Scorpio: Scorp can seduce you with just one look, for one night only.
Sagittarius: Sag is most comfy with you in their arms, so say "Yes" when they ask.
Capricorn: You are less likely to hook a Cap and keep happy … so, onto greener pastures.
Aquarius: Lions and tigers and bears and adventure! Don't pass up this one. They are for you.
Pisces: Pisces is not a good match. Look for better-fitting options elsewhere.
A Final Thought----------------
Ultimately Gem, the future is looking bright for you in many ways – so keep plugging forward. Let nothing stand in the way and keep up with your signature networking habits. Look for positive vibes ahead on the sweet road to success.
In closing my three Gems, …
Orion the Green Girl, Lt. Uhura, Spock, Capt. Kirk, Princess Leia, Luke Skywalker, Chewy, and all of your fans are here to cheer you on in life. Jump in the driver's seat and set your flux capacitor to the future. Get ready, keep reaching for the stars and brace yourself for greatness.
*** Like reading my entries on Vocal? Please consider leaving me a tip, so that ideas can come more easily to me. I love the idea of bringing you enjoyment. ****