Cops, Mystics, and Steampunk
A Review Of The Precinct: A Steampunk Adventure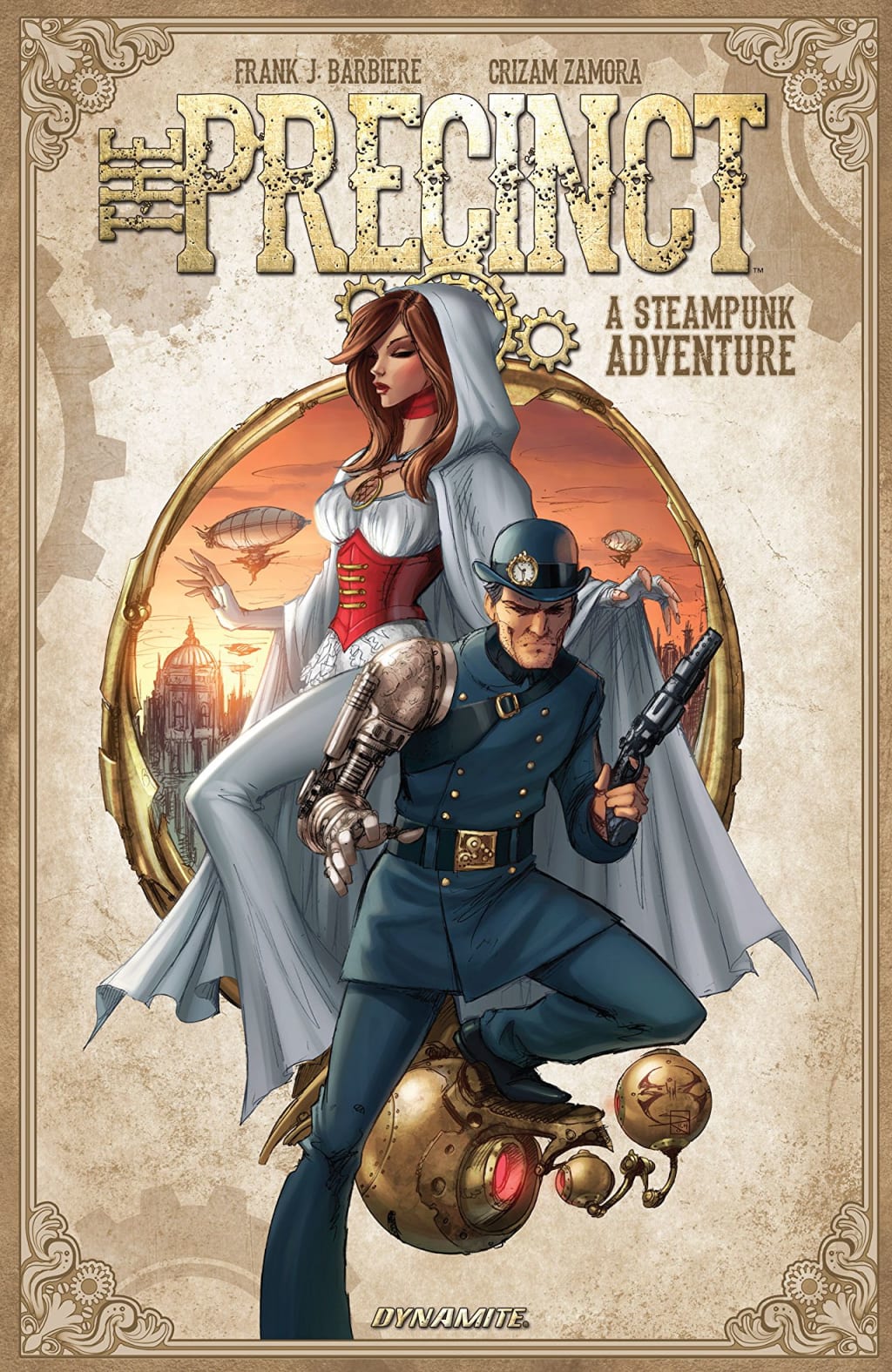 One is often told not to judge a book by its cover. Yet when it comes to The Precinct, however, that was precisely what caught my attention. Perhaps that it isn't surprising given it is a graphic novel and that it was the combination of its artwork of a late nineteenth-century policeman with a mechanical arm with a woman wearing a vaguely Victorian yet mystic outfit along with the book being given the subtitle "A Steampunk Adventure." Intrigued and one library checking out later, the results were definitely fun, to say the least.
The Precinct definitely lives up to its subtitle. Set in a sprawling metropolis known as The Great City, the story (originally published as a five-issue miniseries by Dynamite) follows two very different characters: police officer Mortimer Hill (the policeman with the mechanical arm) and Josephine Winters, who is an acolyte of the Alchemy Academy. The two of them represent very different arms of the city's society with one being a steam powered mechanical technology that gives the story its "steampunk" with all the aesthetics from airships to goggles and Victorian inspired wear. The other side is an older, mystical side that stands in contrast to the new technological order, an ancient tradition that is losing influence in this new age and is perhaps threatened by it.
Writer Frank J. Barbiere finds a nice balance between world-building exposition, plot, and action as these two representatives are thrown together by a series of strange events. Barbiere doesn't fall into the trap that some steampunk writers fall into of presenting an utterly utopian society and instead shows us the dark underbelly through the eyes of Hill. Indeed his decision to have a mystical element to it helps it to stand out as Jo represents at once tradition but also a youthful, optimistic vision of this world. Together, we're given a portrait of a world where things are on a collision course and a thriller plot which ultimately brings together all these elements with a threat to the orders new and old with perhaps something of an allegory for the world we live in now. Yet that also means that it is a tad predictable at times, but that predictability is made up for by the sheer enthusiasm of the storytelling and the quality of its characters, perhaps making it something of a victory of style over substance. Whatever the case, Barbiere writes a compelling thriller set in an intriguing world.
Which is brought to life by artist Crizam Zamora. Zamora's artwork is solid throughout as the characters and setting, based on a mix of elements from different genres, is explored. Steampunk fans will revel in all of the elements of that genre in play from gears and cogs to airships and Victoriana on imaginative display. The Alchemy Academy, steeped in tradition, allows for a nice visual contrast which Zamora's uses nicely to highlight the differences between them. Even better in both cases, Zamora manages to avoid delving too far into the cliches associated with either steampunk or mystical genres and this is a better work for it. Credit as well to Dinei Ribeiro as colorist whose color choices are never garish, even when bright colors get picked and always serve the tale well.
Thanks to the combined efforts of Barbiere, Zamora, and Ribeiro is that The Precinct lives up to its subtitle of being "A Steampunk Adventure." It's a fast-paced, nicely told thriller set in an intriguing world with interesting characters that are brought to life rather nicely thanks to its visuals. For those with an interest in steampunk, it's well worth tracking down.
comics
steampunk
review
literature
Matthew Kresal was born and raised in North Alabama though he never developed a Southern accent. His essays have been featured in numerous books and his first novel Our Man on the Hill was published by Sea Lion Press in 2021.
Receive stories by Matthew Kresal in

your feed