Classic Movie Review: 'Sideways'
Sideways is one of my favorite romances. Weird, unconventional and entirely unforgettable.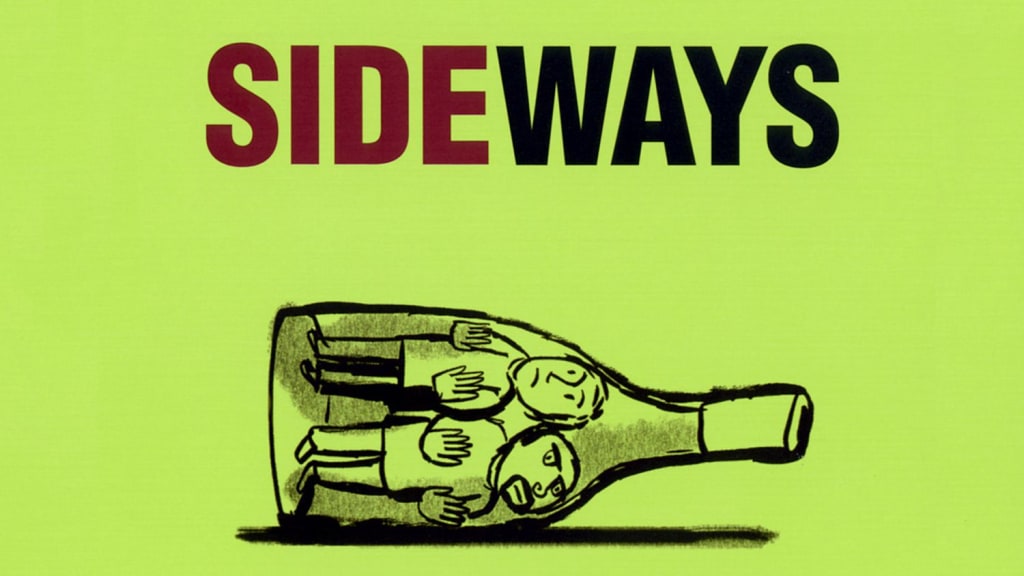 Sideways (2004)
Directed by Alexander Payne
Written by Alexander Payne, Jim Taylor
Starring Paul Giamatti, Virginia Madsen, Thomas Haden Church, Sandra Oh
Release Date October 22nd, 2004
Published February 14th, 2023
Wannabe novelist Miles (Paul Giamatti) is sweating the fate of his first novel as he heads off for a week long bachelor send off for his friend Jack (Thomas Haden Church), though to hear Jack tell it, with an earnest yet unwelcome amount of confidence, Miles' novel will be on store shelves in no time. Jack has always done little things such as this that make Miles uncomfortable by getting his hopes up but as Sideways progresses it's clear that Miles will put up with it, Jack seems to be his only friend.
Divorced for two years, Miles cannot get over his last relationship and has more and more come to rely on his love of great wine to get him through a dreary week as an 8th grade English teacher. Is Miles an alcoholic? He would say no but the evidence seems to say otherwise. Miles' drinking isn't really the subject of Sideways but rather a sad subtext. Co-writer and director Alexander Payne wants you to consider Miles' state while he soft serves Miles' reawakening to the potential of life.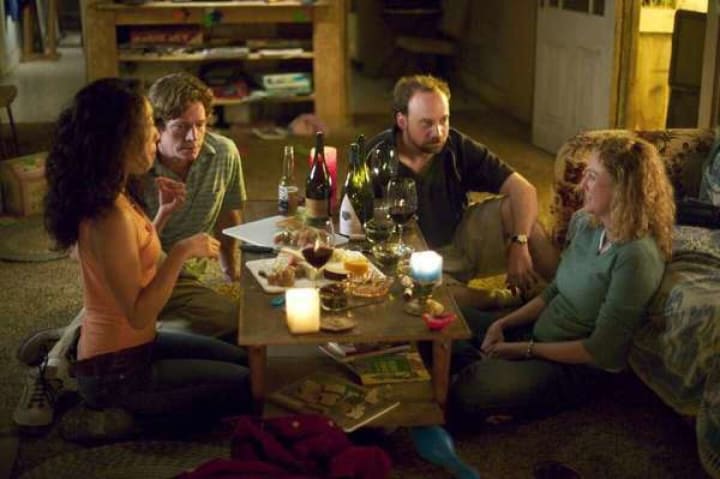 The text of Sideways, the surface level story that drives the film, is Miles and Jack's week long trip to California wine country in Solvang, California. On the trip, Miles thinks that they are going to drink wine, play golf and get back to L.A in time for the rehearsal dinner before Jack's wedding. Jack, on other hand, makes one thing clear; he's getting laid on this trip one last time before he gets married.
There is an element of Sideways that plays like one of the American Pie movies but for the mid-life crisis crowd. Jack is an overgrown child, a slave to his sex drive, and the needs of the moment in front of him. Miles is lower key but similarly is a slave to his desires. In the way he allows himself to be dragged into Jack's world; Miles demonstrates that he isn't much more mature than the friend he constantly looks down upon.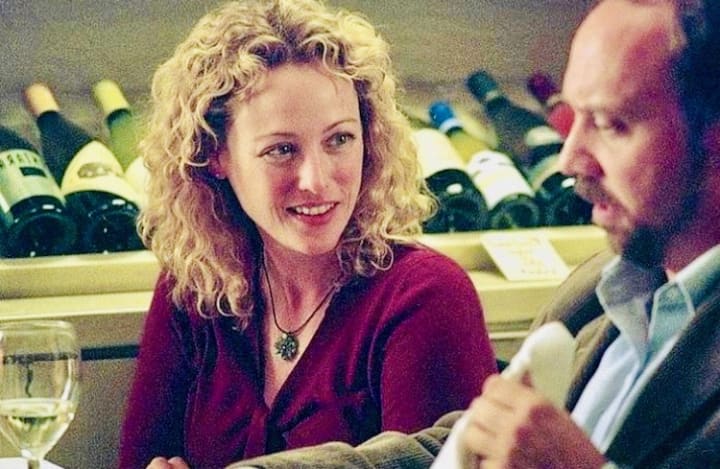 On their first night in Solvang, Miles and Jack meet Maia (Virginia Madsen), a woman that Miles had spent a little time with on previous trips but she was married then. She's not married anymore and when Jack makes the acquaintance of a local girl named Stephanie (Sandra Oh), who happens to be friends with Maia, Jack's plans to get himself and Miles laid kick in, even as Giamatti and Madsen's maturity plays heavy against such childish notions.
This brings us to arguably, the most famous scene in Sideways, easily the scene that won Virginia Madsen an Academy Award nomination for Best Actress and should have one Best Actor for Giamatti. As Miles and Maia chat about wine they each reveal themselves in elegantly crafted speeches; Miles revealing parallels between himself and his favorite wine, how this particular grape used in Pinot Noir is thin skinned, temperamental and can only be cultivated by the most patient of growers.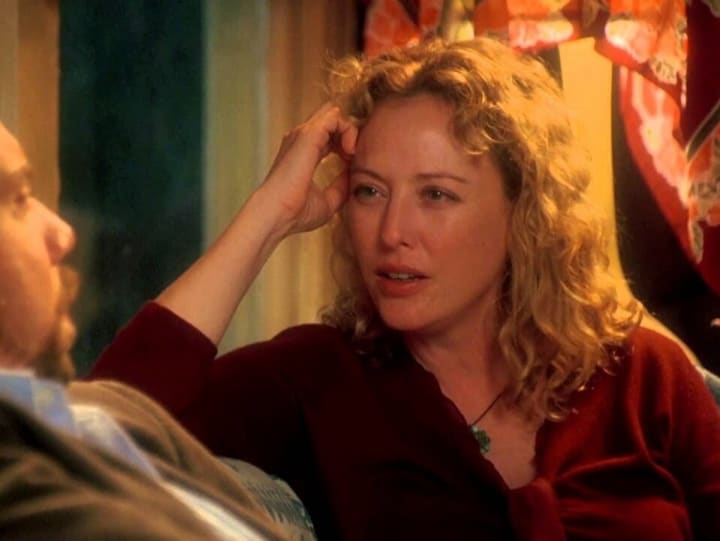 As Miles continues the metaphor turns to lament as Miles describes the taste of a good Pinot in the same way one might have described Miles if he ever reached his potential, haunting and brilliant, but only under just the right circumstance. The side references Miles makes to Cabernet and how it can thrive anywhere and that it is 'prosaic,' is an inescapable, and quite apt description of Jack.
Yes, the scene is a little too self aware but it works because Giamatti is so sympathetic in this moment. Then as the scene turns to Virginia Madsen and she describes the life of wine with this look of warmth and great beauty you quickly realize that this is the woman who could coax Miles to his full potential. The scene ends in the only way it can, as early as it is in the movie; in awkwardness as the shy and fumbling Miles blows the moment only to even more awkwardly attempt recapture it.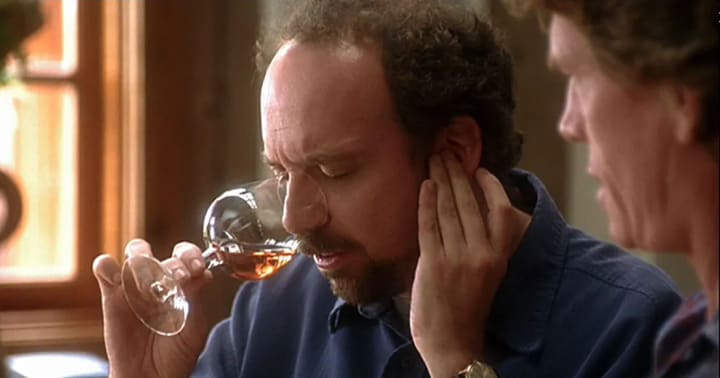 These are wonderfully human moments that draw us in and glue us to our seat for the rest of the ride that is Sideways. It's a film about characters that do some awful things but are never caricatures, never merely types of characters. Giamatti especially delivers a performance of deep pathos, a sympathetic portrayal of a pathetic man striving to no longer be pathetic, failing more often than he succeeds.
Wine is the life blood of Sideways and Miles' love of wine is his one respite, an area of expertise that he can reasonably be proud of and yet offers another layer to his character, pomposity. The oenophile Miles is arrogant and snobbish and yet his expertise in the realm of wine also gives this otherwise pathetic character an air of dignity and sophistication that no other hobby could bestow.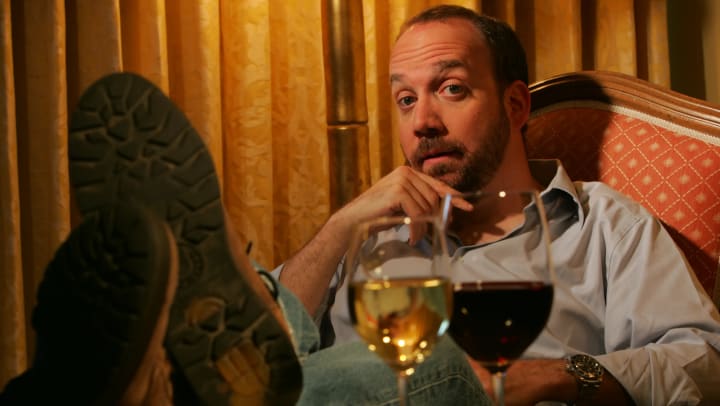 Did you know that the success of Sideways did such damage to sales of some brands of Merlot that industry insiders wondered if Merlot would survive? It's just one throwaway scene, Miles' adamant and unnecessarily angry refusal to drink Merlot, and yet the impact was felt and is still being felt in some ways, nearly 20 years later, among those who produce Merlot and champion it.
Sideways is a near perfect film. A brilliantly rich character study and a very funny, often surprisingly raunchy comedy. Paul Giamatti and Thomas Haden Church have a friendly and yet adversarial relationship that reveals both men in wonderful ways. It's clear how these two men are friends, they seem to complete each other, two halves of a whole person, a deeply flawed man, one desperately striving to be saved by someone.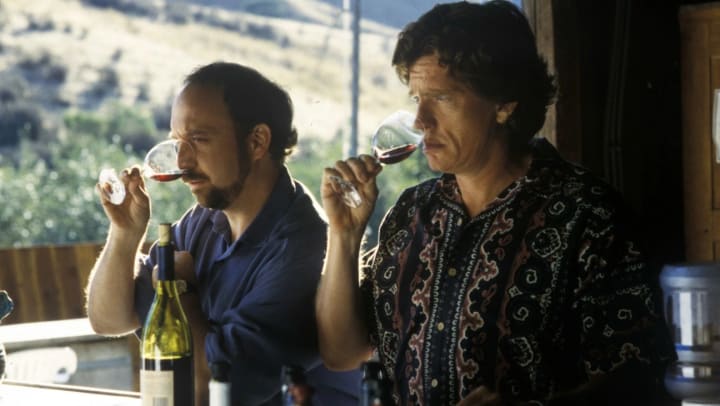 Sideways is director Alexander Payne's one true masterpiece. Though he has made a number of very good movies, Sideways is the one that people really remember. It's a distinctively adult comedy, a film unafraid of delving deeply into the uncomfortable, cringe-worthy efforts middle aged men and women must make to connect with each other.
As a middle aged man myself, I relate way too much to Miles and Jack and long for the beauty and benevolence of a Virginia Madsen of my own. But Madsen isn't a creature of fantasy. Her performance is beautifully organic. Madsen gives a life and depth to her character that likely wasn't in the script until she came to embody the character. Great actors can do that.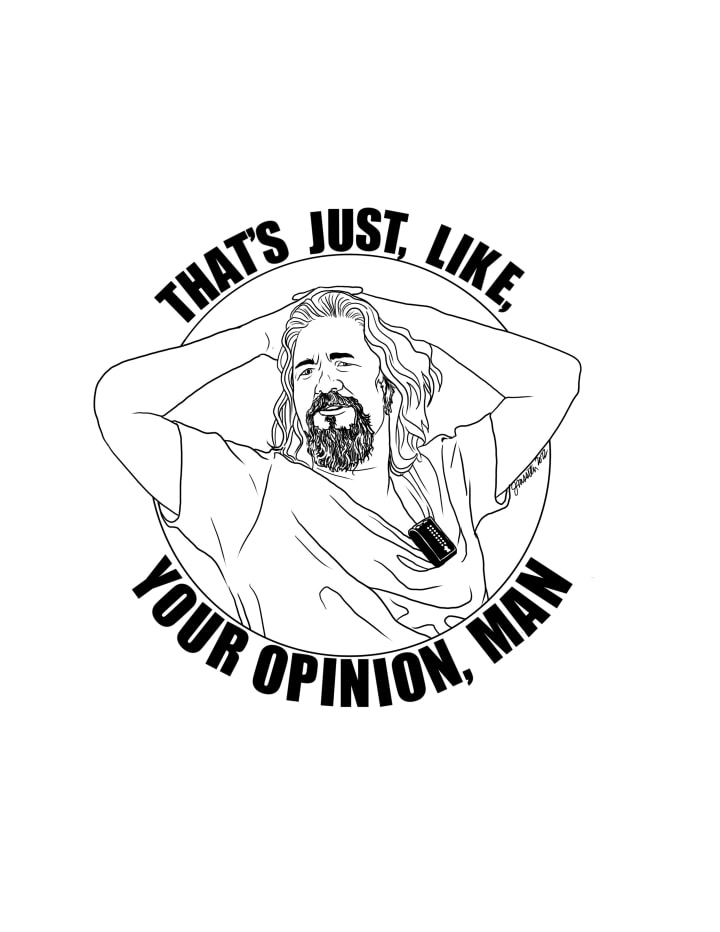 Find my archive of more than 20 years and nearly 2000 movie reviews at SeanattheMovies.blogspot.com. Find my modern review archive on my Vocal Profile, linked here. Follow me on Twitter at PodcastSean. Follow the archive blog on Twitter at SeanattheMovies. Listen to me talk about movies on the Everyone's a Critic Movie Review Podcast. If you've enjoyed what you have read consider subscribing to my work here on Vocal. If you'd like to support my writing, you can do so by making a monthly pledge or by leaving a one-time tip. Thanks!
About the Creator
Hello, my name is Sean Patrick He/Him, and I am a film critic and podcast host for Everyone's a Critic Movie Review Podcast. I am a voting member of the Broadcast Film Critics Association, the group behind the annual Critics Choice Awards.
Reader insights
Nice work
Very well written. Keep up the good work!
Top insights
Excellent storytelling

Original narrative & well developed characters

Expert insights and opinions

Arguments were carefully researched and presented

Eye opening

Niche topic & fresh perspectives
Heartfelt and relatable

The story invoked strong personal emotions
Add your insights