Classic Movie Review: John Huston's 'Moulin Rouge' 1952
The Film Foundation brings John Huston's Moulin Rouge back to life.
Moulin Rouge (1952)
Directed by John Huston
Written by Pierre La Mure, Anthony Veiller, John Histon
Starring Jose Ferrer, Zsa Zsa Gabor
Release Date December 23rd 1952
Published November 16th, 2022
Film Foundation Restoration Screening November 14th, 2022
Four films share the title Moulin Rouge in the past 90 years of cinema. The most famous, perhaps due to recency bias, is Baz Luhrmann's lavish 2001 musical starring Ewan McGregor. The previous movie titled Moulin Rouge was released in 1952 and was directed by the beloved and venerated director John Huston. Though known for his gritty thrillers like The Treasure of the Sierra Madre or the detective noir The Maltese Falcon, Huston was a true iconoclast who indulged any number of interests, including deep romanticism marked by longing and sadness.
That longing, sadness and romanticism is certainly on display in Huston's take on Moulin Rouge. While other stories surrounding the legendary 19th century French dance hall center on the bohemian revolutionary art and culture for which the Moulin Rouge became a symbol, Huston's Moulin Rouge falls upon the tragic story of artist Henri Toulouse Lautrec (Jose Ferrer), a man whose fame came about after his time at the Moulin Rouge and because of the work he did promoting the Moulin Rouge with incredible posters he painted in exchange for being able to drink for free.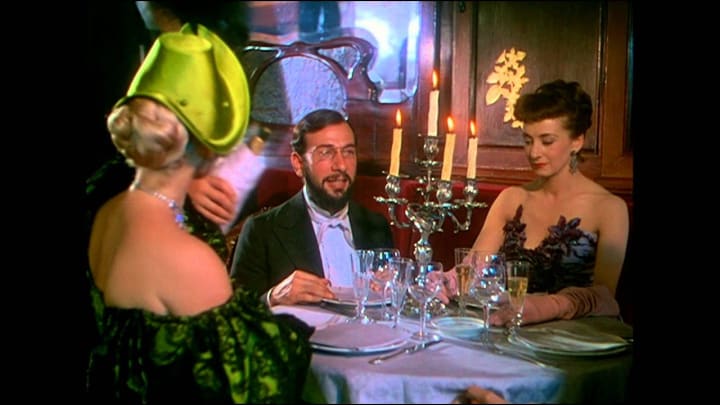 In a flashback we see young Toulouse Lautrec as a notably spry teenager. Though known for his short stature, Lautrec was not born with dwarfism. An accident occurred that left Lautrec with a pair of broken legs that did not heal correctly causing his growth to be stunted. The injury and a series of romantic failures, briefly depicted in the movie, led to heavy drinking and a general avoidance of close relationships in favor professional friendships, rivalries and drinking buddies.
The sad story then follows Lautrec into a brief relationship with an explosive and unpredictable sex worker, Marie Charlet (Colette Marchand). It's a relationship of convenience as Lautrec rescues Marie from being arrested and she comes to stay at his home. She tries to entice him into bed but he rejects her, not wanting to be her customer. The push and pull of emotions between Lautrec and Marie makes up the middle portion of Moulin Rouge and it will resonate with anyone who has loved someone who did not love them back.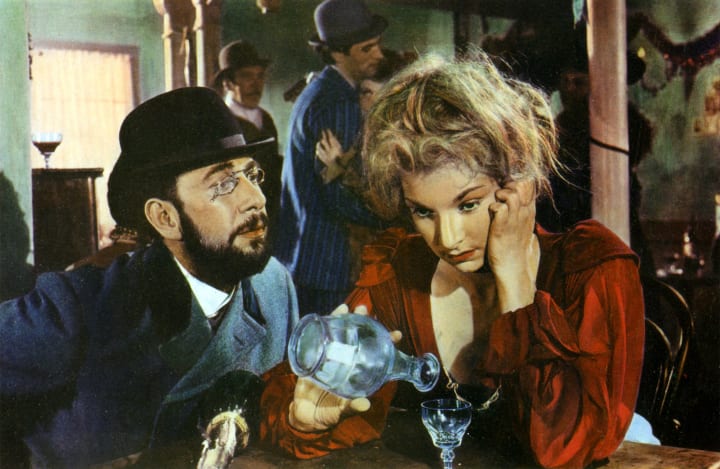 Lautrec's soulful longing is undercut by his unsympathetic rage and cutting remarks toward Marie. The two fight and makeup with similar intensity but the relationship never progresses to the kind of intimacy that Lautrec desires but cannot fully express. Jose Ferrer's ferocious performance never states the obvious about Lautrec, how his low self-esteem and self worth caused him to believe he was unworthy of love. It's all brought forth by Ferrer in his fiery eyes and thin skinned reaction to any minor slight.
Late in the second act we do see some growth from Lautrec. He finds success with his poster tributes to the Moulin Rouge and seems to begin a relationship with an independent young woman named Myriamme (Suzanne Flon). Sadly, his self-loathing short circuits any possible romantic relationship and Lautrec slowly destroys their relationship with his cruel remarks. Ferrer is remarkable in these scenes as he capably moves from intelligent and charming to cutting and cruel with minor shifts in his tone and a dismissive, angry gaze.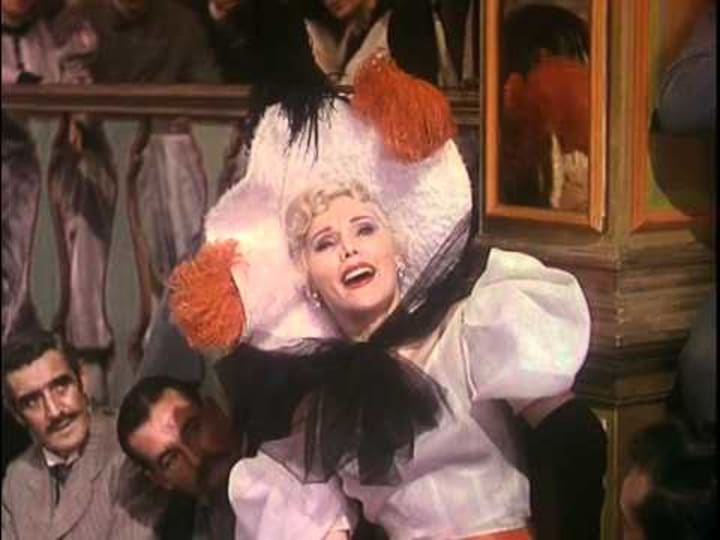 This leads to the final act, one final tragedy to complete the sad life of Henri Toulouse Lautrec. It's a terribly sad end for such a talented artist who seemed to suffer his entire life. Here, Huston gives Lautrec a graceful exit. Through the haze of injury and disease, Lautrec finds comfort in his memories of the Moulin Rouge, the Moulin Rouge long since past. The dancers, singers, bohemians, and weirdos that formed the only community where Lautrec felt at home, slowly come to hazy life just as Lautrec's life is coming to an end.
The ending of Moulin Rouge should be remembered among the best work of both Jose Ferrer and director John Huston. It's a beautiful captured in a bravura set piece. I adore the ending of Moulin Rouge, it's undoubtedly the best part of an already very good movie. The ending lifts Moulin Rouge to classic status and the restoration of Moulin Rouge shines in this moment, giving it back the lively color and clarity that had been lost to time since the film debuted 70 years ago.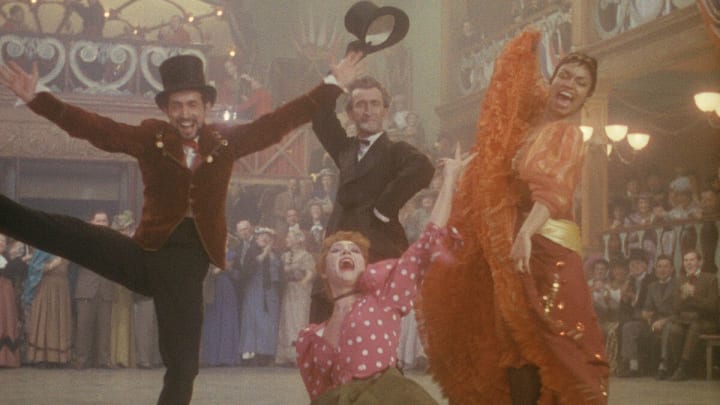 Reading back, I can see that I have made Moulin Rouge appear very sad. It is sad but it is also joyous and poignant at many moments. Scenes set at the Moulin Rouge bubble with life. The songs are spectacular, the dancing and comedy of the performers is charming, and the use of Lautrec's famed illustrations, done on the tablecloths at the Moulin Rouge, just as the real Toulouse-Lautrec drew them, is gorgeous. The restoration only highlights the beauty of Moulin Rouge in Huston's direction, the cinematography of Oswald Morris and the incredible, authentic production design of Marcel Vertes, uncredited for his work in 1952 and restored to his credit today.
It might seem like a strange compliment, but Moulin Rouge looks like a film from the 1970s, not the 1950s. Watching it, I was struck by how much it reminded me of the look of 1970s film stock. I can't explain it, I don't have the technological vernacular to explain it properly, but if you've watched a movie from the 70s and a movie from the 1950s, the difference between the Technicolor of the 50s and the more naturalistic colors of the 70s is distinct and somehow, the restoration of Moulin Rouge looks more like the 70s than the 50s. That's an incredible achievement in restoration. For a far more knowledgeable explanation follow this link to FilmColors.org.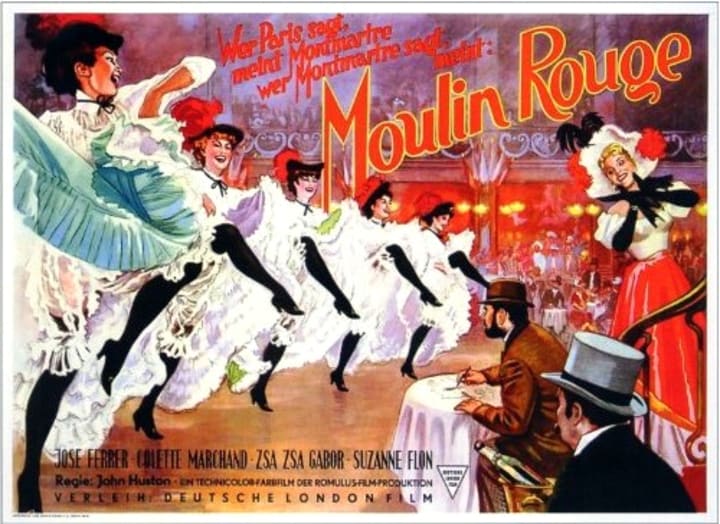 From the Film Foundation website...
"MOULIN ROUGE was restored using the 35mm original nitrate 3–strip Technicolor negative. 4K scanning, color grading, and digital image restoration were completed by Cineric, Inc., in New York, and the audio restoration was done by Chace Audio in Burbank. Special thanks to Grover Crisp for his consultation on this restoration."
"Restored by The Film Foundation in collaboration with Park Circus, Romulus Films and MGM with additional funding provided by the Franco-American Cultural Fund, a unique partnership between the Directors Guild of America (DGA), the Motion Picture Association of America (MPAA), Société des Auteurs, Compositeurs et Editeurs de Musique (SACEM), and the Writers Guild of America, West (WGAW)."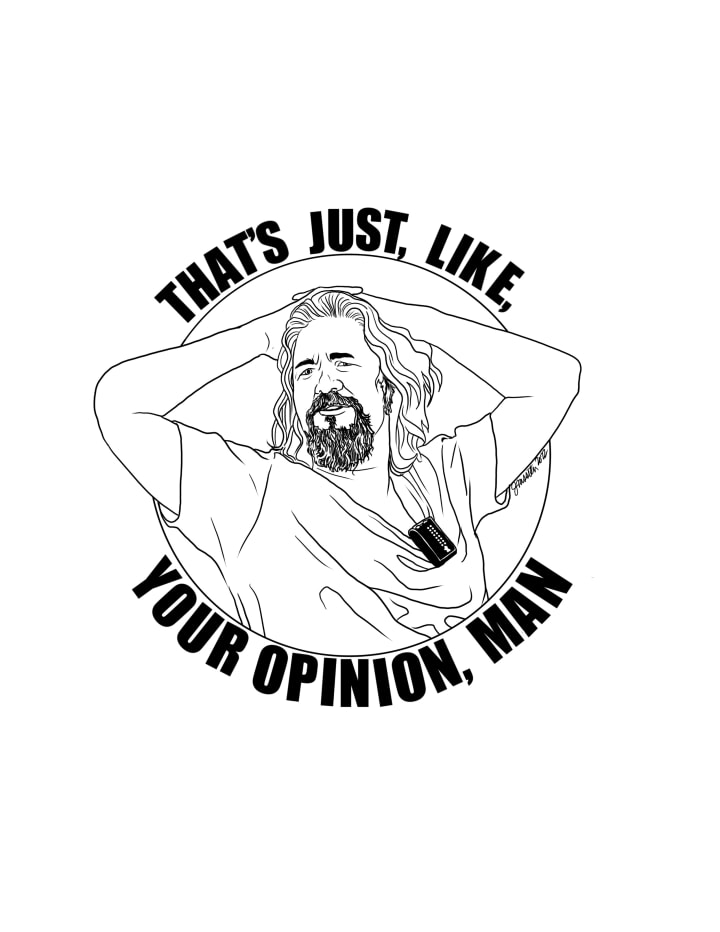 Find my archive of more than 20 years and nearly 2000 movie reviews at SeanattheMovies.blogspot.com. Follow me on Twitter at PodcastSean. Follow the archive blog at SeanattheMovies on Twitter. Listen to me talk about movies on the Everyone's a Critic Movie Review Podcast. If you have enjoyed what you have read consider subscribing to my work here on Vocal. If you'd like to support my writing you can make a monthly pledge or leave a one-time Tip. Thanks!
movie
About the author
Hello, my name is Sean Patrick He/Him, and I am a film critic and podcast host for Everyone's a Critic Movie Review Podcast. I am a voting member of the Broadcast Film Critics Association, the group behind the annual Critics Choice Awards.
Reader insights
Be the first to share your insights about this piece.
Add your insights