Classic Movie Review: 'Invaders from Mars' is a Completely Delightful in 4K Restoration
I love Invaders from Mars soooo much. Please see it for yourself.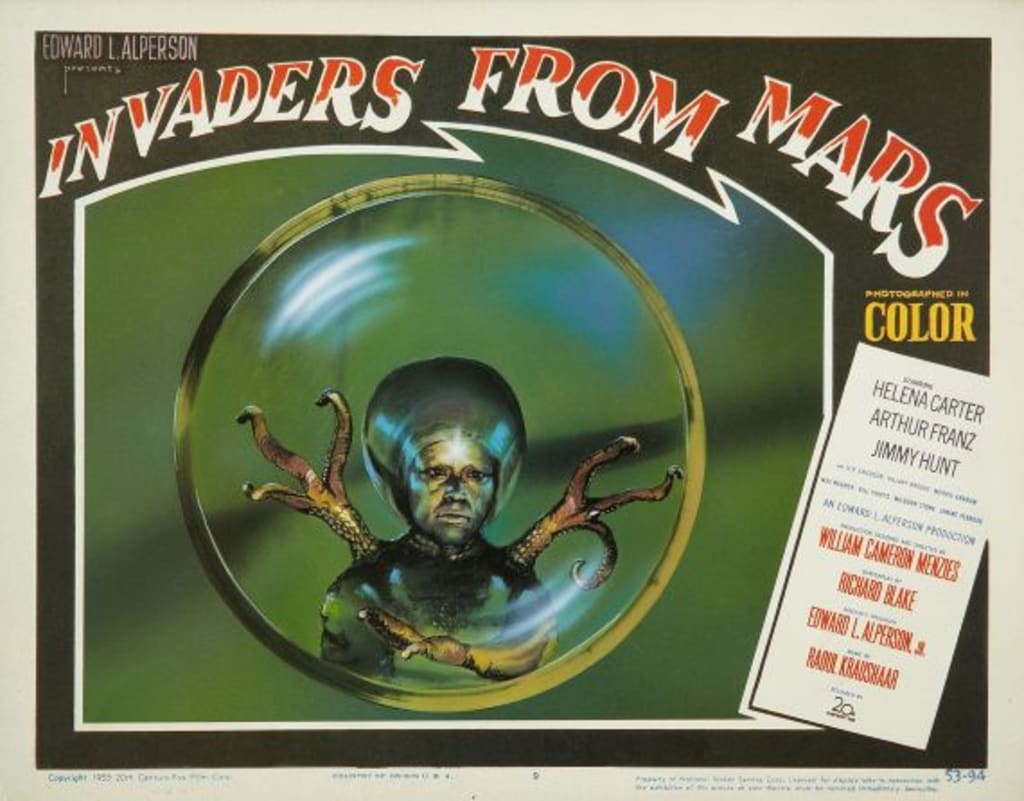 Invaders from Mars (1953)
Directed by William Cameron Menzies
Written by William Cameron Menzies
Starring Jimmy Hunt, Helena Carter, Arthur Franz
Release Date April 9th, 1953
Published January 20th, 2023
A young boy awakens the middle of the night to see a bright green flying saucer. It's the kind of thing that has fired the imagination of sci-fi writers and directors for years and it's the opening scene of the 1953 film, Invaders from Mars. Children in movies like this are not to be believed until it is too late. This time, things are a little bit different. Having been shaken by his son's story, George MacLean (Leif Erickson) decides to go and see for himself what his son thinks he saw. When he doesn't return home, George's wife calls the cops. Then the cops disappear.
The George MacLean that comes back from this brief disappearance is not the same. Gone is the jovial, thoughtful and loving father. Returned is a cruel, abusive, and bitter man. The cops also come back but not the same as they were. They have a conspiratorial conversation with George that unsettles both his wife and his son. Actor Leif Erickson does a wonderful job in this scene of giving us a completely different version of the man we just met. The haunted eyes and desperate shift in nature echoes from his every expression.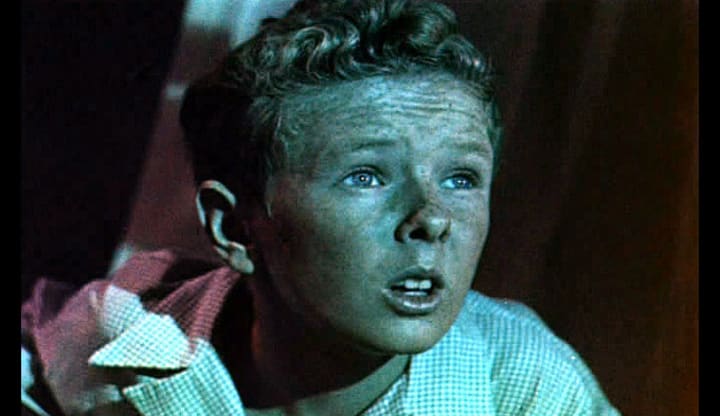 Rather ingeniously given when the movie is made, Invaders from Mars communicates its sci-fi horror story using a very simple visual device, sand. Behind the home of our main character, David MacLean (Jimmy Hunt), is a sandy beach where the aliens he saw have landed and buried their ship. Through visual cues we know that the aliens have made the sand into a trap. The sand captures anyone who gets too close. When they come out of the sand, they are not the same. They have a mark on the back of their necks, a bloody X shape.
The sparse sets and stock footage and photos of Invaders from Mars are exceptionally well integrated. It's quite clear that writer-director William Cameron Menzie cared about making a good movie despite the limitations of his budget. It's exciting to watch as so many other directors of similar 1950s science fiction didn't take nearly as much care in their integration of such things. Shaggy backdrops, shoddy early forms of green screen, and other such things are cheesy hallmarks of the era, charming in their way. That said, it's nice to see a director take such great care in one of these B-pictures.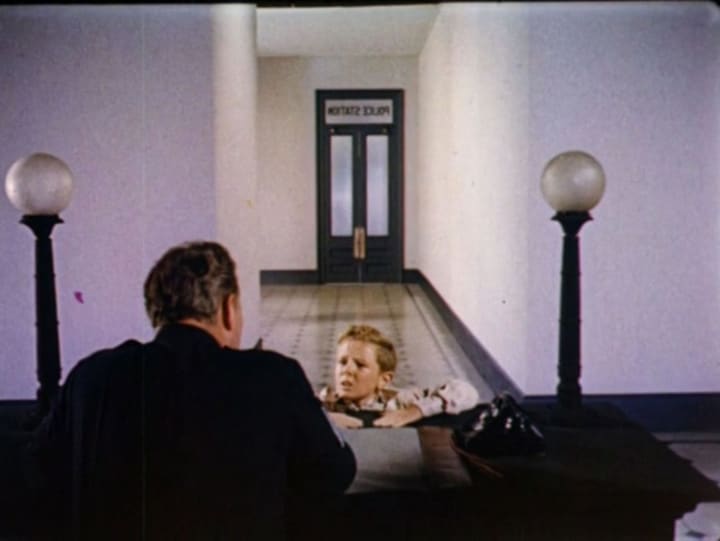 The repeated motifs of Invaders from Mars include blank walls in every interior scene, spotlights, everywhere operated by army men, and stock footage, lots of military stock footage. It's all exceptionally well-integrated however, giving the film a strong verisimilitude for something so seemingly cheap. I adore this. Lengthy shots of rolling tanks are matched with sound design that makes you believe those tanks are in the same vicinity as our main characters. It's so good.
Balloons on a wall create an alien universe beneath the sand. It's extraordinary. So simple, so smart, and yet it is so 1950s. If you saw this today it would look silly but in Invaders from Mars, it has an eerie quality to it. Then we see our Martian antagonists and I tell you, dear reader, it's glorious. A pair of giants, one a former wrestler and the other purported to be the tallest man alive at the time the film was made, tower over our protagonists in costumes of such creation that you simply can't help but fall immediately in love with the aesthetic. It's so comical. That may not have been the intent, but it created such a charge of nostalgia and fun for me that Invaders from Mars instantly became an all time favorite for me.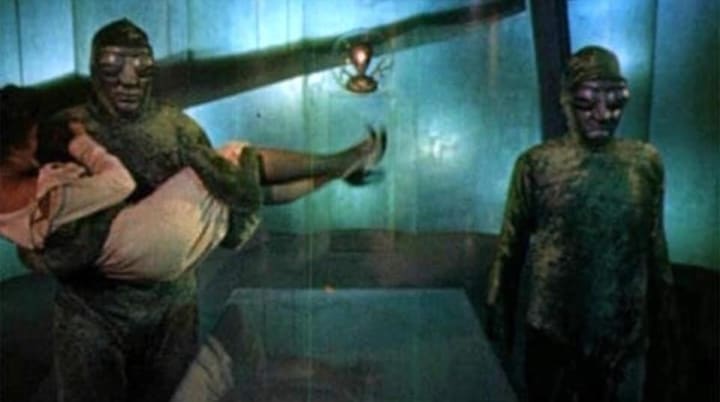 Crushed velvet green pajamas, green face paint, and bubble like goggles painted green create our Martians in Invades from Mars and I love it so very much. You can see the zippers on the backs of the costume, the seams are showing everywhere. It's beautiful, it's so poignantly cheesy, it's irresistible in that classically 1950s fashion. The off the charts kitsch is enhanced by the exceptional production design. William Cameron Menzies began his career in production design and you can see that in his wonderfully designed sets that both hide the deficiencies of budget and enhance the wonderful atmosphere of Invaders from Mars.
My favorite bit of production design however, surrounds our main Martian antagonist. Credited as 'Martian in Glass Globe,' little person actor, Luce Potter, one of the Munchkins from The Wizard of Oz, plays the silent Martian leader. Menzies uses Potter's wonderfully expressive face to communicate all that she needs to communicate. A terrific moment has our young hero, David, eager to fight the Martian leader, pounding on her glass bubble. Through the use of mirrors, you can only see Potter from the shoulders up. Below her, you see David in full and it's a crafty and striking visual.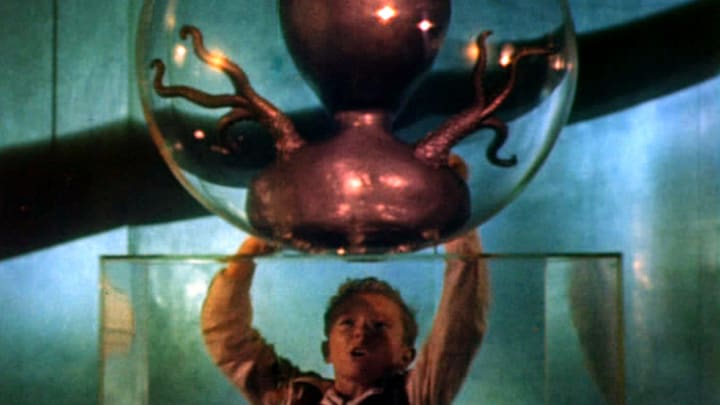 Potter's costume is silver face paint, a giant metallic bulb on her head, and what look like branches for arms protruding from her back. The design is both sleek and high class cheese. Seeing it the first time I burst out in a gale of delight. It was a state of delight that never let up until the film's admittedly confounding ending. For reasons that I cannot begin to explain, the movie appears to start over as if it was all a dream in David's head. Then the flying saucer restarts everything. It's wild and weird but it does't take anything away from how much I adore Invaders from Mars. Thankfully, the makers of this restoration of Invaders from Mars have included the far better, European ending of Invaders from Mars as an extra on the new 4K restoration. I will leave you to see the better ending for yourself.
If the title, Invaders from Mars, is familiar to you, that's likely because the brilliant director Tobe Hooper made his own version of Invaders from Mars in 1986. I've not seen the remake but I love Tobe Hooper and I can imagine he tried to be as faithful to the spirit of the original as possible. That said, the remake was produced by schlockmeisters Golan and Globus of Cannon Films fame so, that makes me not want to see it. I don't want anything to take away from this wonderful experience of the 1953 original.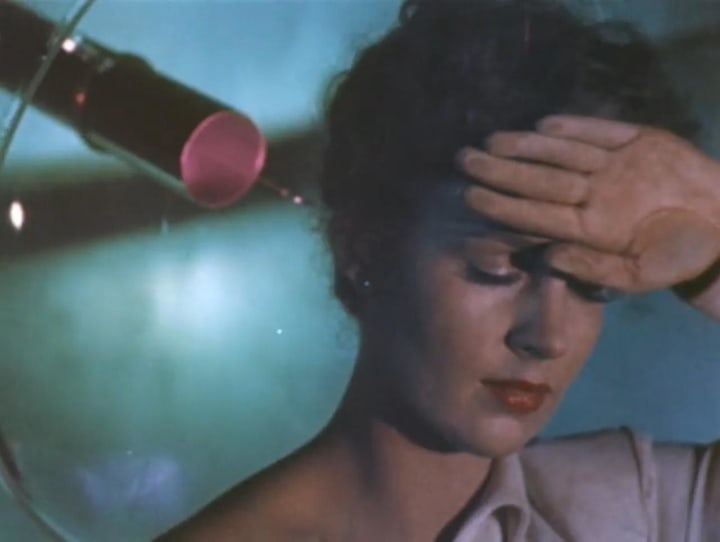 Invaders from Mars is back with a 70th anniversary DVD release from Ignite Films. It features a full 4K Restoration of the film and a number of special documentaries including a terrific piece called Terror from the Sky which features filmmakers like Joe Dante sharing their enthusiasm for Invaders from Mars. It's filled with infectious glee and inspirational stories and anecdotes for anyone who has ever dreamed of making a movie. Invaders from Mars demonstrates the ingenuity of William Cameron Menzies, a man who could make the most of his limitations and create something that has lasted for 70 years, lingering in the imagination of fans all the while.
If you love moves, you must own Invaders from Mars. It's just a dream, a delight, an endlessly charming bit of inspired 1950s low budget filmmaking. Ignite Films has done a great service to film fans by preserving this wonderful film for future generations. This is a movie that deserves to have a place in American film history. It's an example film form and ingenuity that filmmakers today could learn from. Menzies may have been limited by the low opinion of the genre and the lack of a budget, but it did not stop him from crafting a movie that, though quite silly, is also a fantastic example of how to direct a low budget movie. Menzies uses the tools of production and sound design to add stunning dimension to his low budget sci-fi movie and I love it so much.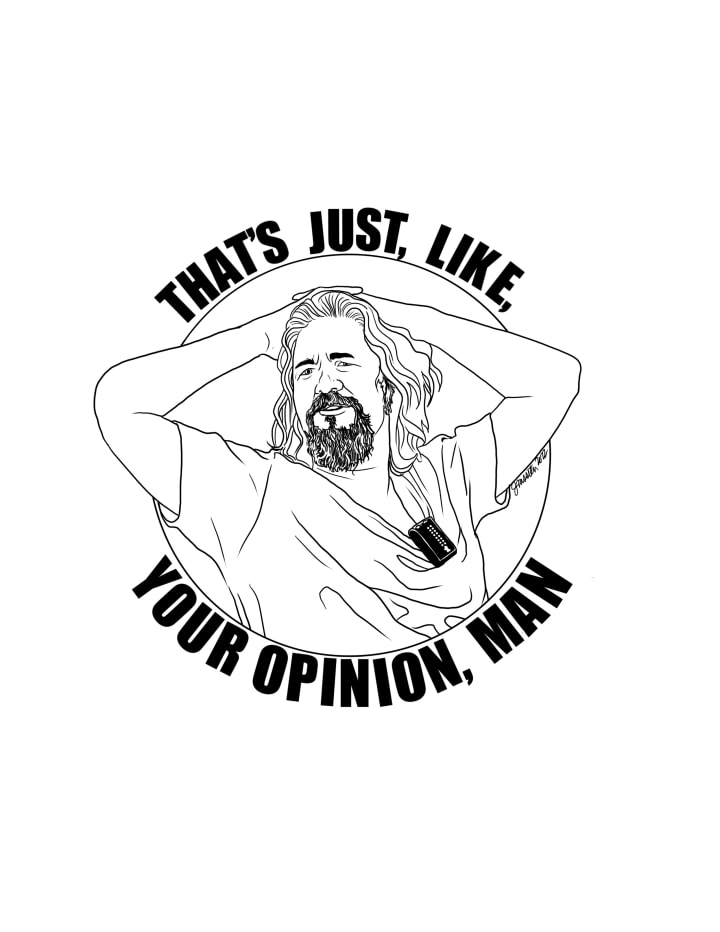 Find my archive of more than 20 years and nearly 2000 movie reviews at SeanattheMovies.blogspot.com. Find my modern review archive on my Vocal Profile, linked here. Follow me on Twitter at PodcastSean. Follow the archive blog on Twitter at SeanattheMovies. Listen to me talk about movies on the Everyone's a Critic Movie Review Podcast. If you have enjoyed what you have read, consider subscribing to my writing here on Vocal. If you would like to support my writing, you can do so by making a monthly pledge or by leaving a one-time tip. Thanks!
About the Creator
Hello, my name is Sean Patrick He/Him, and I am a film critic and podcast host for Everyone's a Critic Movie Review Podcast. I am a voting member of the Broadcast Film Critics Association, the group behind the annual Critics Choice Awards.
Reader insights
Nice work
Very well written. Keep up the good work!
Top insights
Excellent storytelling

Original narrative & well developed characters

Expert insights and opinions

Arguments were carefully researched and presented

Heartfelt and relatable

The story invoked strong personal emotions
On-point and relevant

Writing reflected the title & theme
Add your insights