Movie Review: 'Out of Exile' is a Solid Action Flick for Fans of the Genre
Out of Exile may seem a little too familiar but the direction and performances lift it about the familiar genre tropes.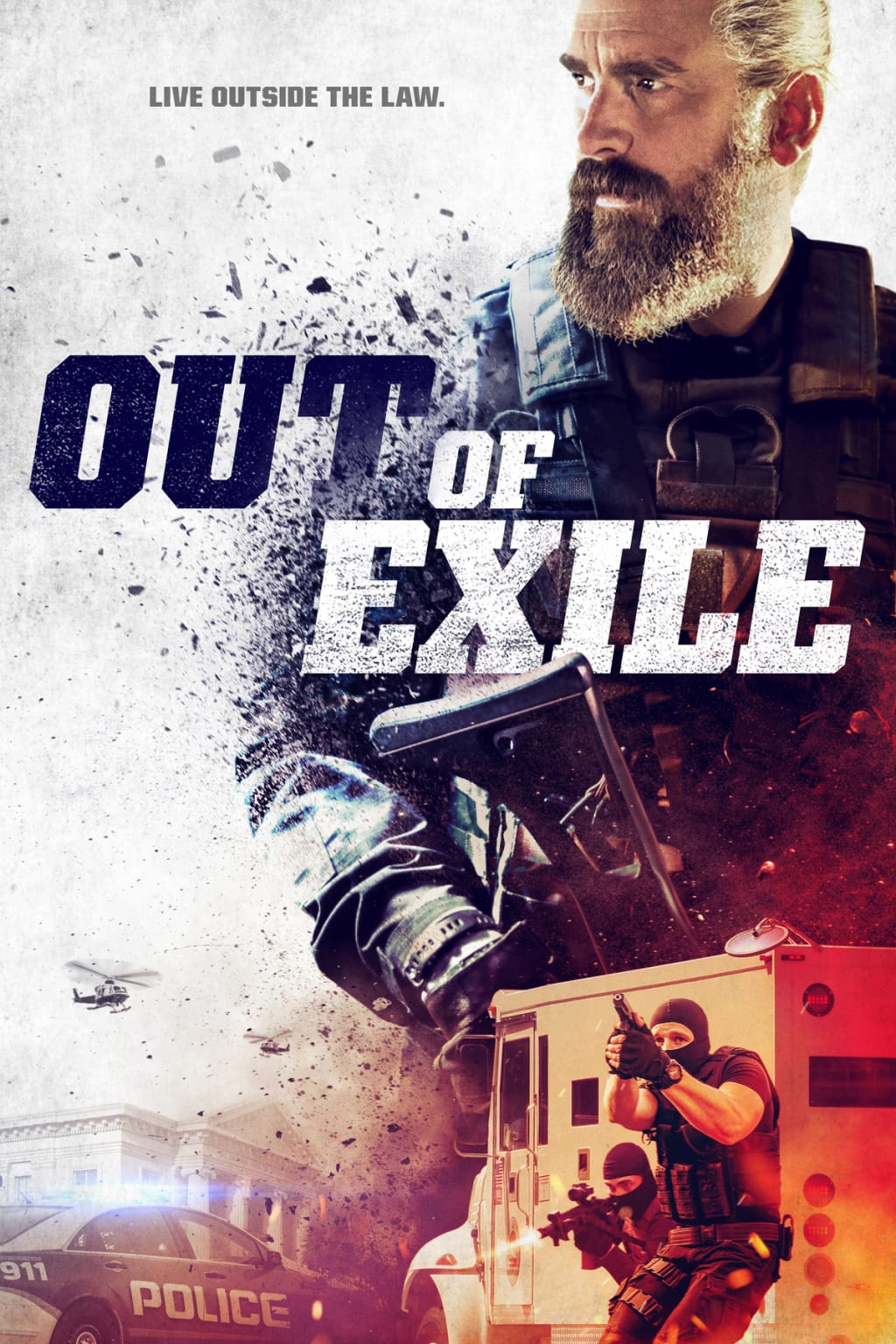 Out of Exile (2023)
Directed by Kyle Kauwika Harris
Written by Kyle Kauwika Harris
Starring Adam Hampton, Ryan Merriman, Peter Greene
Release Date January 20th, 2023
Published January 19th, 2023
Out of Exile may not look like much but it's a really solid action movie. Yes, it features a crime story that you've seen before. It's undoubtedly derivative. That said, writer-director Kyle Kauwika Harris infuses the film with a strong personality and perspective. The violence of Out of Exile has a strong purpose. When someone gets shot it means something in this story. A lot of low budget action movies make the mistake of being gratuitous, characters tend to survive gunshot wounds with an almost supernatural level of good luck. That's not so of Out of Exile.
Out of Exile stars Adam Hampton as Gabriel. Gabriel is fresh out of prison and in need of work. Having come from a long line of criminals, Gabriel's fate is seemingly sealed and a return to crime is almost immediate. With little waiting around, the movie jumps right into a heist that goes wrong very quickly. Gabriel, along with his brother, Wesley (Kyle Jacob Henry), and their partner, Chava (Oliver Rayon), are hitting an armored car. In the midst of the heist the guard carrying the money gets shot and killed. They get away with the money but the killing drives a wedge between the brothers that threatens everything.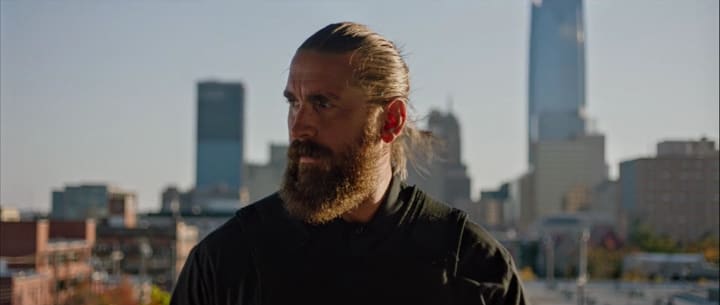 Running parallel to the crime story is the story of Gabriel's estranged daughter, Dawn (Hayley McFarland). Working as a waitress at a diner and not wanting any of her father's money or time, Dawn is attempting to escape an abusive relationship. Naturally, a man of violence such as Gabriel is not going to leave his daughter to such peril. That plot has an important role to play late in Out of Exile and I won't spoil it. Again, it's not something you haven't seen before, it's just well done enough here to make it better than many other, similar movies.
Also running alongside the main crime is the investigation of that crime. Ryan Merriman, known for his TV work and roles in Final Destination 3 and The Ring 2, plays FBI Agent Brett Solomon. He's in charge of the investigation and I really enjoyed his scenes, even as typical as they appear. Merriman's scenes move quickly, carry a strong logic, and inform the main plot well. The big break in the case is both simple and integral and I enjoyed how the movie doesn't waste much time but also doesn't create holes in logic in the rush to get through the plot.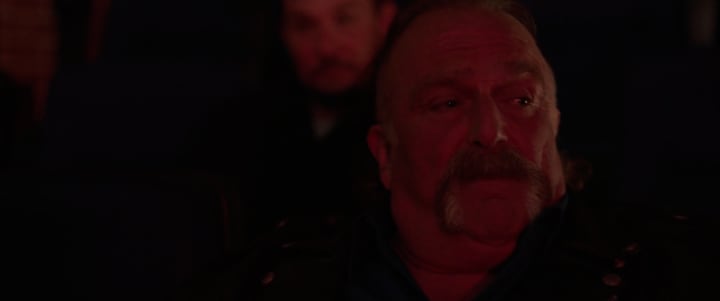 Just a quick aside, as a wrestling fan, I was very happy to see Wrestling legend Jake 'The Snake' Roberts in Out of Exile. He plays an FBI informant and seeing Jake healthy and picking up a paycheck is great to see. Jake has been so close to death so many times in his life, it's just great to see him anywhere these days. His story of life saving redemption is well told in the 2015 documentary The Resurrection of Jake the Snake, a must watch for wrestling fans and for fans of inspiring stories.
Okay, wrapping up on Out of Exile. I enjoyed it. The violence has impact the performances are solid. I want to especially highlight the work of long time character actor, Peter Greene. Greene plays a small time kingpin who plans the jobs that Gabriel's crew work. Greene oozes confident sleaze so well that he's been playing this character for the past 30 years. And yet, he still feels fresh to me. Greene is an old pro and he's not phoning it in here. Like the rest of the cast, his actions have purpose and his violence has meaning.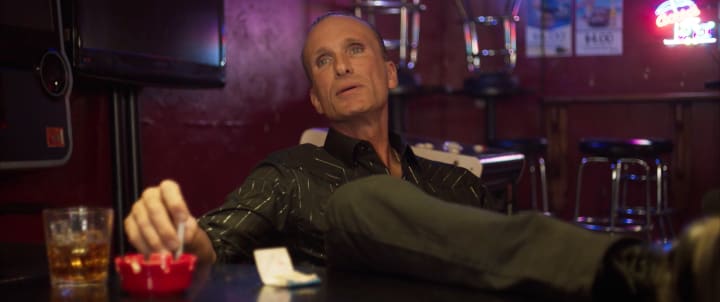 Find my archive of more than 20 years and nearly 2000 movie reviews at SeanattheMovies.blogspot.com. Find my modern review archive on my Vocal Profile linked here. Follow me on Twitter at PodcastSean. Follow the archive blog on Twitter at SeanattheMovies. Listen tom me talk about movies on the Everyone's a Critic Movie Review Podcast. If you have enjoyed what you have read, consider subscribing to my work here on Vocal. If you'd really like to support my work, you can do so by making a monthly pledge or by leaving a one-time tip. Thanks! .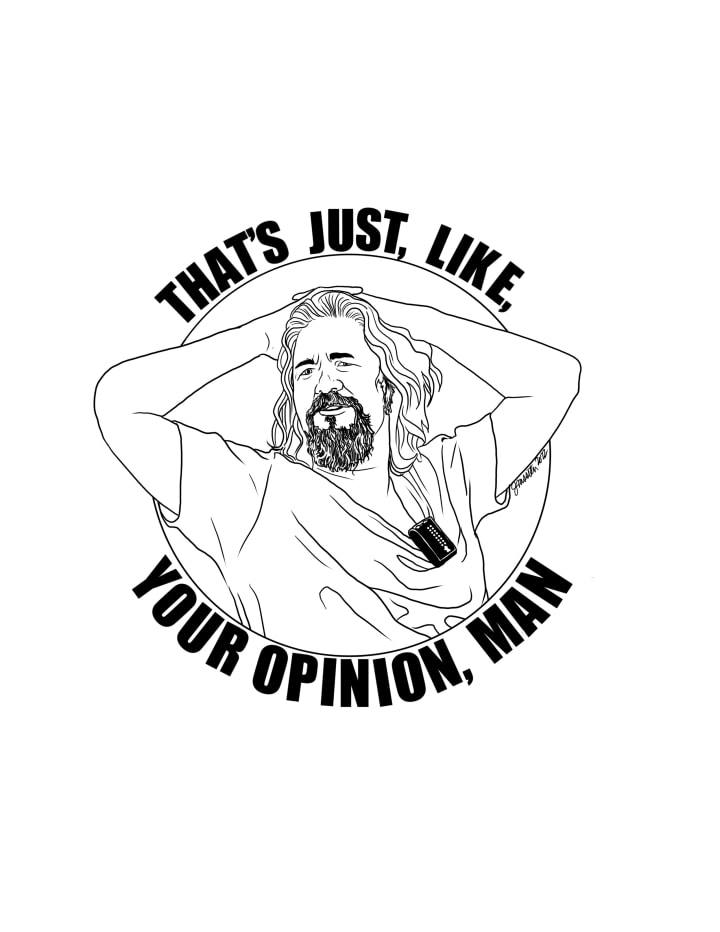 About the Creator
Hello, my name is Sean Patrick He/Him, and I am a film critic and podcast host for Everyone's a Critic Movie Review Podcast. I am a voting member of the Broadcast Film Critics Association, the group behind the annual Critics Choice Awards.
Reader insights
Be the first to share your insights about this piece.
Add your insights