Classic Movie Review: "Dr Strangelove" (1964)
5/5 - it's one of my all-time favourite movies...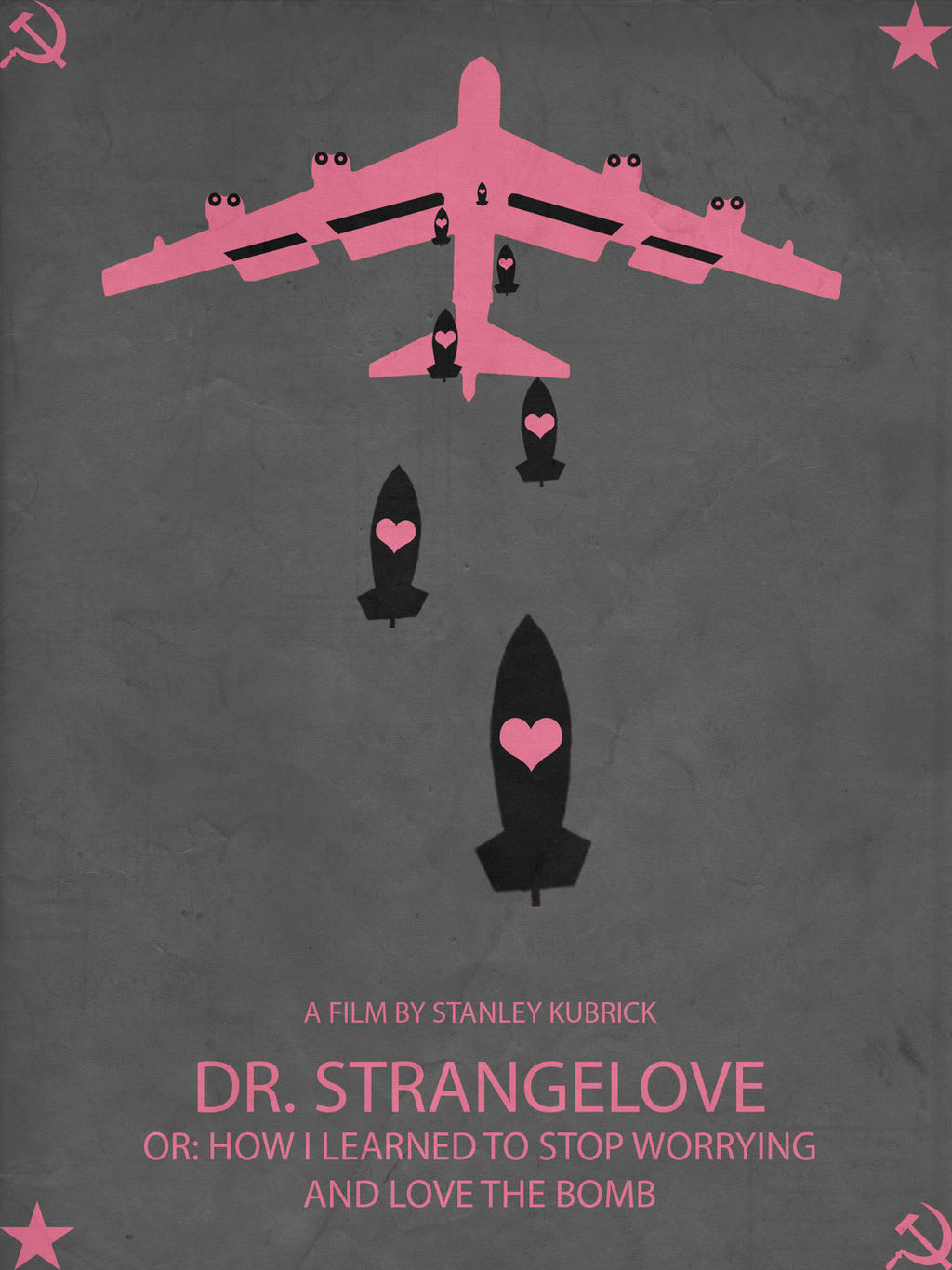 From: DeviantArt
If I had to tell you how many times I have watched this movie I probably would not be able to - honestly, you cannot just watch this movie once and be over and done with it. There's just too much to pay attention to. It's probably somewhere in the double digits. Recently, I made my older brother watch it and he found it hilarious. In all honesty, this is my favourite Stanley Kubrick movie ever. It is a brilliant political satire and pokes fun of the war eras and their pathetic want to remain relevant and yet as secretive as possible. As a black comedy, it is awesome. The performance given by Peter Sellers is just incredible and the writing is pricelessly funny. There are so many memorable parts of this movie and yet, altogether it makes the perfect watch if you want to see some of Kubrick's most intelligent and culturally relevant work. This would make the top of my list of best Stanley Kubrick movies every single day of the week without a shadow of a doubt.
In 1989, the Library of Congress selected Dr Strangelove as a film of great cultural importance, putting it in the Film Registry. Honestly, the fact that it took that long for it to get selected from 1964 makes me uneasy. It is clearly the best war comedy ever made and satirises the nuclear conflict in a way where we still do not know how Kubrick didn't get put on any of those weird blacklists.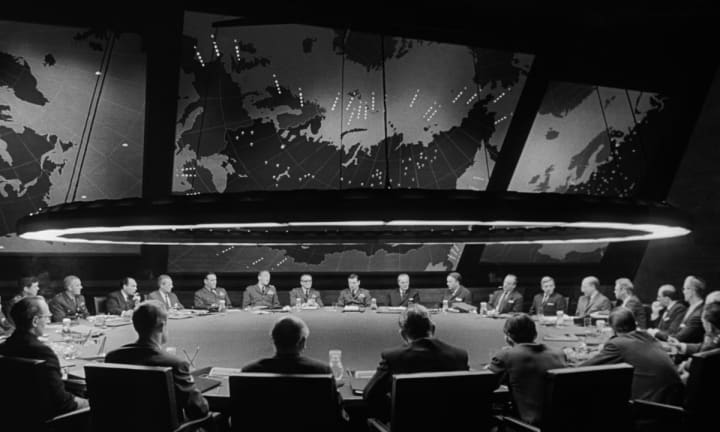 Obviously one of the best things about this film is its cinematography but honestly not a lot compares to the simplicity of the scripting. The phone call between the USA and Russia is absolutely hilarious and completely uneventful, showing the boredom and emptiness of politics whilst also making us laugh at the very prospect of the USA trying to convince Russia that they enjoy talking on the phone to them. The simplicity of the jokes is also hilarious, the repetitive nature of the instructions on the plane and the fact that even though it has been repeated so many times and they still end up f***ing it up is part of Kubrick's brilliant touch. He creates a film so entirely simple, but shows just how stupid these people are by exposing the world to their inability to actually do their jobs with any proficiency at all.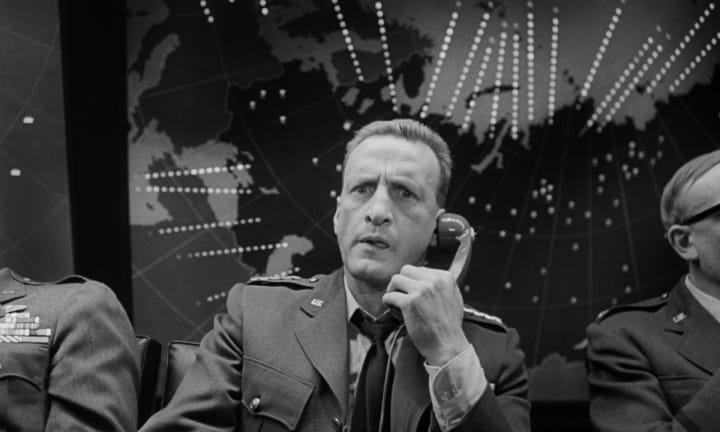 You can't fight in here, this is the war room!
I mean, there's nothing quite like the shady irony that sneaks around this film, imprinting the war ages with its sarcasm, humour and hardcore satire wherever it goes. Another one of my favourite parts is where they have to open the emergency survival kit and most of it is just random medications and drugs. Then obviously you have the symbolic stuff for the humour: the Russian phrase book and the Bible are both hilarious as it already insinuates that the people on that plane will be caught by the enemy and may require not only to speak Russian, but also to say their prayers. This possibly means that the USA is indirectly saying 'we are not even going to try and rescue you...' and I found that bloody funny as you can probably tell.
The other thing is what is said at the end: 'shoot, a fella could have a pretty good weekend in Vegas with all that stuff...' which means that the survival kit is just a mixture of drugs and other random stuff - most of which would be taken on a weekend bender to Vegas. This is the US Army to Kubrick people...a mess.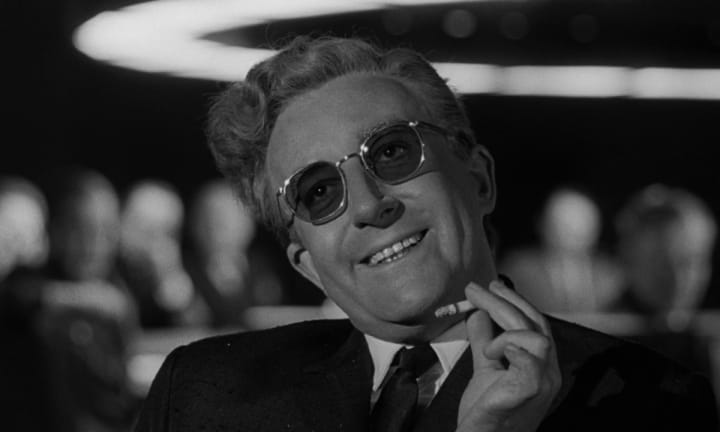 Not to mention that whole conversation about the water and whether Communists drink it or not. It's a conspiracy theory game that is made fun of almost consistently by the very man who may have been slated for just making fun of the army. They don't like it when the jokes are about them, but are always more than happy to make jokes at the expenses of others. The very idea of making fun of right-wing conspiracy theorists actually just makes me keel over with laughter and that's way before Stanley Kubrick puts this scene in the movie and then goes on to make Peter Sellers play three of the main characters during the film.
All in all, if you haven't seen this film already then go and watch it. You won't regret a thing. I promise.
Reader insights
Be the first to share your insights about this piece.
Add your insights