'Christmas in the Clouds' - A Movie Review
'Christmas in the Clouds' is a story about character growth, making friendships, and a clever mix-up.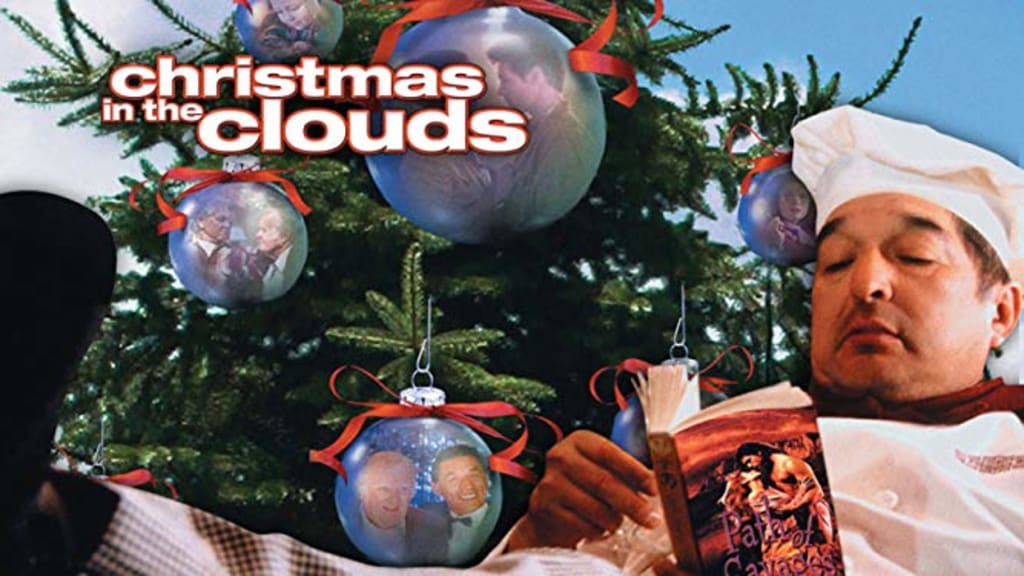 Wait, let me get this straight. You're telling me that's not the critic for the hotel? Oh no, I'm in trouble.
Christmas in the Clouds is a 2001 film directed and written by Kate Montgomery. A hotel is in the midst of preparing for a critic's arrival. In a case of mistaken identity, a holiday mix-up causes arguments, comedy, and a dramatic snowstorm.
I remember watching Christmas in the Clouds years ago when I was a kid. Rewatching movies is a valuable experience, and I am so glad I found this movie again. Now that I had the opportunity to rewatch this heartfelt movie I have a new positive outlook. Christmas in the Clouds is a story about character growth, making friendships, and forgiveness.
One of my favorite parts about this movie was the essence of the characters. There is not just one story going on. Whether their scenes are big or small, every character has an important impact on the story.
Anxious about an unknown critic coming to stay at his hotel, Ray (Timothy Vahle) winds up in a romance with Tina (Mariana Tosca) who believes Ray to be her pen pal but is actually Ray's dad, Joe. Vahle and Tosca were great, especially in one scene involving a heated argument.
I was so excited to see that M. Emmett Walsh was in this movie. Walsh is one of my favorite character actors ever since I saw him in Christmas with the Kranks. He adds a comedic touch and emotional levity as the critic who comes to stay at the hotel. From seeing a mouse in his room, having a cold shower, to getting stuck in a snowstorm his scenes are the best!
Sam Vlahos, Graham Greene, Shiela Tousey, Rosalind Ayres, Rita Coolidge, Lois Red Elk, Jonathan Joss, and Shirley Cheechoo lent their comedic timing into a well-made film. They developed genuine relationships with one another. I became invested in the characters, especially their interactions.
I loved the scene with Earl (Greene), the vegetarian chef, who didn't approve of customers eating meat. And the scenes involving Mabel (Ayres) and Katie (Kaesi Belen Soto) were endearing. It just goes to show that no matter the age difference, you can make a friendship with anyone.
The dialogue for Christmas in the Clouds was spectacular. I was impressed with the argument between Ray and Tina. They are talking about two different things, getting flustered, and sending out the wrong message. I applaud them for a well-written movie that brought an important message about thinking twice about people's identity.
The location of the film was a beautiful snowy mountain area in Utah with incredible views. I was blown away by the cinematography, specifically in scenes with snowy trees and fog surrounding the hotel. The hotel rooms look so comfy that I wanted to go and stay in one of the rooms.
Native American ethnicity was a huge part of this film. It's important to learn about different cultures. Everything about this movie was genuine and I felt as if I learned something about their customs, family dynamics, and singing holiday songs in their native language. Nowadays we should see more ethnic based films like this.
I was impressed with Kate Montgomery's close-heart debut direction of characters, engaging dialogue, and the message of the film. It's an endearing Christmas story that has the right flow between comedy and drama, interweaving stories together. I believe that this film is a great example for those who would like to become screenwriters.
If you are searching for a holiday movie, I recommend Christmas in the Clouds. It's a character-driven romantic comedy, with well-written dialogue and a clever mix-up.