Captain America's Influence on Society Today
Chris Evans Captain America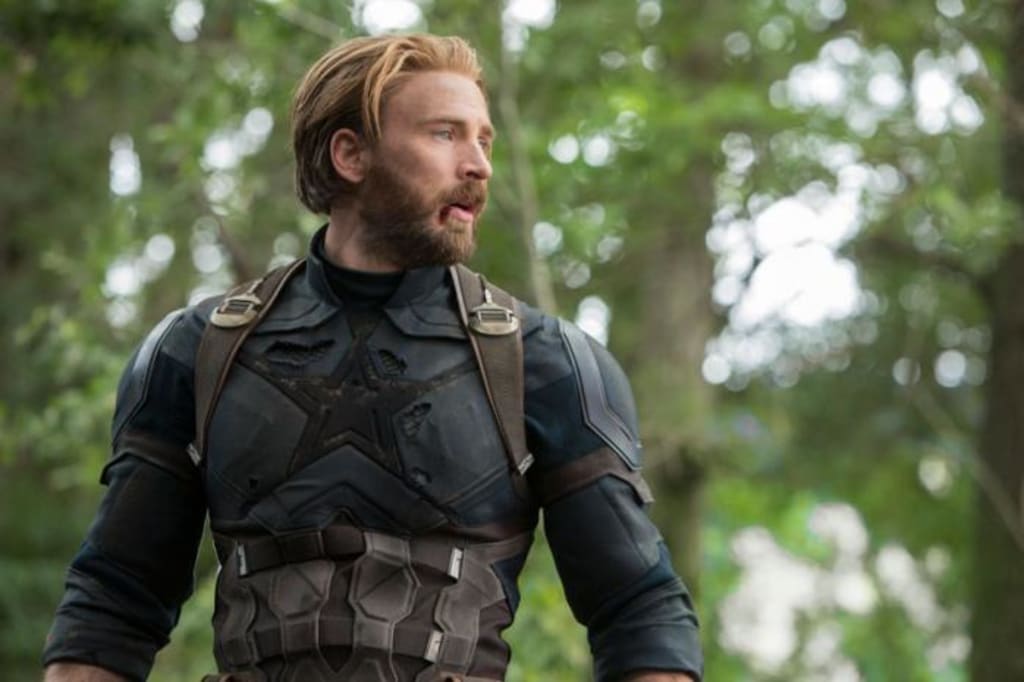 Captain America is a character that has impacted our current society. While in the past it was through the comic book character, today it is mostly with the movie version. Captain Rogers affects different groups of people in different types of ways. To begin with, Captain America, and all other media, influences the economic state of the United States. The website The Numbers demonstrates how in the worldwide box office Captain America: The First Avenger made $370,569,776, Captain America: The Winter Soldier made $714,401,889, and Captain America: Civil War made $1,140,075,017 (the numbers 1). This clearly portrays how successful and popular the character is with today's audiences; as shown by the previous paragraph, his traits and decisions make him an entrancing superhero to watch.
The website exhibits how Avengers made $1,517,935,897, Avengers: Age of Ultron made $1,403,013,963, and Avengers: Infinity War earned $2,048,803,724 (The Numbers 1). To explain, Captain America not only comes out in his solo films, but in group movies with other superheroes. Due to his popularity, the other Marvel team-up movies he partakes in make more money because those who love his character will go watch those movies, simply since he appears. These superhero movies take an extreme amount of work and hundreds of people are employed to make them a reality. Thus, movies like Captain America, lead to the creation of various jobs and high demand for workers.
This character has also brought a tremendous amount of money to Marvel Studios and The Walt Disney Company. The character also has a significance in what people buy; those who are his fans will spend their money on goods of him. There is an abundant amount of varying merchandise available worldwide of Captain America, so money is not just spent in the United States. This includes clothes, toys, books, phone cases, blankets, stickers, mugs, towels, bathing suits, backpacks, lamps, pillows, posters, glasses, and hundreds of more items that are available for purchase. Steve Rogers is cherished in such a degree by his fans that they continuously spend money on merch of him. This once again continues to profit Marvel Studios, as well as stores worldwide who sell these types of items, some of these businesses include Walmart, Target, Hot Topic, and many others. This mostly shows the economic aspects of the character's influence on society, but the actor who plays him also impacts the population.
The actor who actively performs the part of Steven Grant Rogers is Christopher Robert Evans. Captain America influences Chris Evans and vice versa because Chris Evans's fans watch the Captain America movies to support him as an actor and Captain America fans love Chris Evans because of his authentic performance as Steve Rogers. Chris Evans has the power of a celebrity, and a platform where his beliefs and ideas reach a wide amount of people; for example, he has 10.5 million followers on Twitter. In regards to the current president of the United States, Chris Evans exclaimed on Twitter, "You won an election because you ran a campaign predicated on hate, fear, and misinformation. You stirred discord, feigned innocence, bluffed patriotism, and shamelessly wielded schoolyard tactics to distract from your ignorance," (@ChrisEvans, 22 Dec. 2018, 9:51 PM). To clarify, Chris Evans is very open about all his political views and he strongly dislikes Donald Trump and his entire campaign. Due to his role as Captain America, Evans's media influence has become increasingly larger and strong, even enough to sway the political beliefs of fans; the tweet quoted above received 55,210 retweets and 287,402 likes. Chris Evans also brings attention to different situations, like how he repeatedly enforces the statement that everyone should vote during elections; as well as raises awareness on social justice issues that are happening daily. (@ChrisEvans, 17 Oct. 2018, 1:20 PM) There are people who receive the news from social media or their favorite celebrities and in today's society famous people are constantly praised and considered godlike; thus, what they say is listened to and can change a person's opinions. For example, when Chris Evans posts or supports something in relation to current news he alters the thinking and perspective of his fans. In terms of ideology, the character himself impacts what the fangirls and fanboys believe. As illustrated by the paragraph above, Steve exhibits freedom, justice, and leadership in every single one of the movies he appears. As an example, children are very susceptible and their young minds are molded very easily, so their future decisions and actions are influenced by the decisions and actions they have seen Captain America make. The character teaches kids and people of all ages about morality, ethics, and life lessons. As the followers of Captain America and other superhero movies increase, the influence they have becomes more prominent and powerful.
About the Creator
She/Her/Hers-Fandoms-Books-Movies-TV shows-Intersectional Feminist-Slytherin-Aquarius- Just an IB student trying to get CAS hours-
Reader insights
Be the first to share your insights about this piece.
Add your insights