Book Review: "You Let Me In" by Camilla Bruce
5/5 - a deeply disturbing folk horror novel...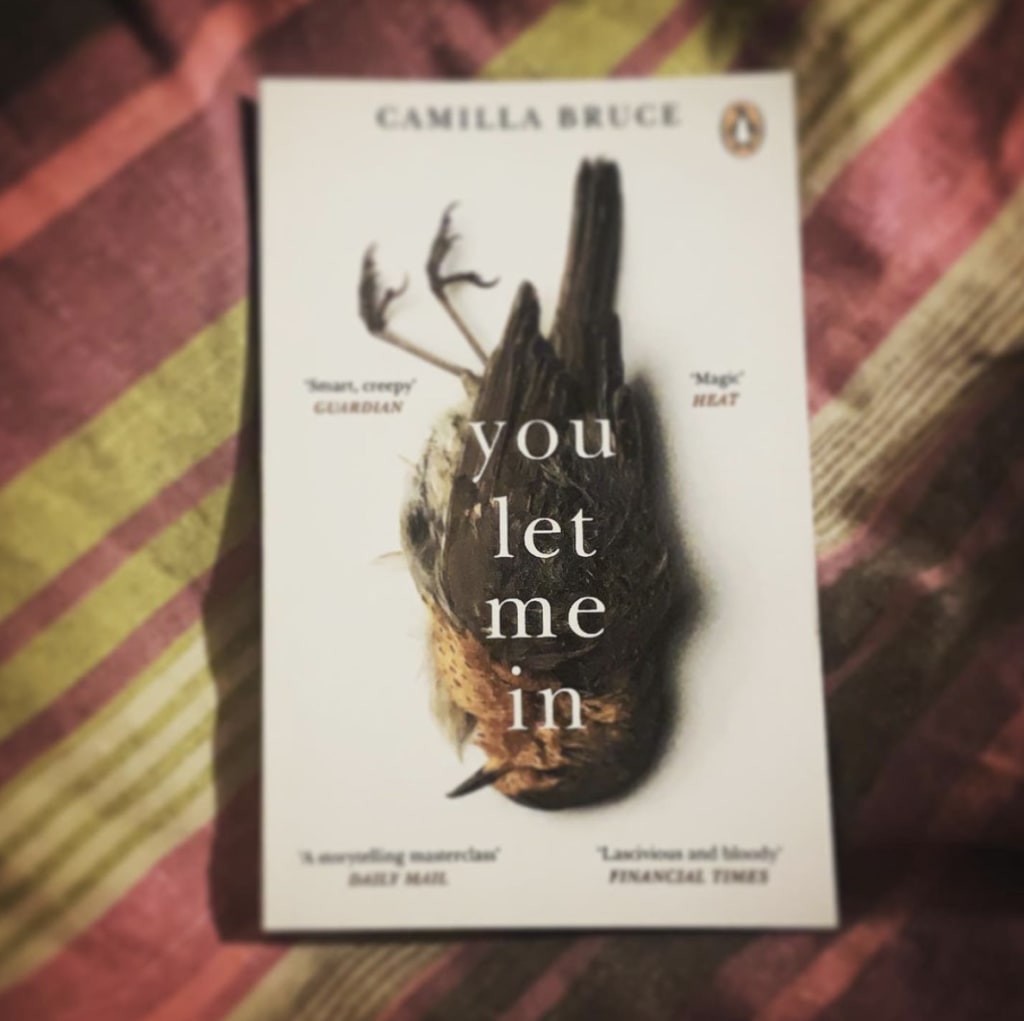 If you know me then you also know that I absolutely adore folk horror with all of my heart and more. Not just the Faustian Pact we see in the play by Christopher Marlowe and Goethe's iconic masterpiece. But also more modern books such as: "Bellman and Black" by Diane Setterfield, "A Cosmology of Monsters" by Shaun Hamill, the modern masterpiece "Tyll" by Daniel Kehlmann and there are many more. Folk horror, I am proud to say, is making a very special comeback amongst the film scene with the films of Ari Aster becoming ever more popular and ever more folkloric, and I can only hope that this spills over into literature and we get a flood of folk horror because I will have so much more to read. Just imagine me as an anime character with those big massive heart eyes and that is pretty much what I will look like. But now you're going to probably ask: what is folk horror? Folk horror is simple. It takes folkloric archetypes such as fairies, magic beings, faustian pacts, etc. and works them into the real world, creating a disturbing mix between the real and unreal. This is exactly what "You Let Me In" by Camilla Bruce does as well. And it does it so well that I almost put the book back down it was that repulsive.
Cassandra Tipp is being accused of a double murder. She writes a long letter which many think to be the last confession of a killer but instead, it is a weaving of darkness in which Cassandra gives away some of her most concealed secrets to two characters called Janus and Penelope. Nobody knows whether she, at this present moment, is alive or dead. But one thing is for sure - there are no lies here. Since she was a young girl, Cassandra has been seeing a person called 'Pepper Man' sitting at the edge of her bed. He has large teeth and thin, black lips. He has pepper coloured hair and he seemingly takes over her entire life step by step. It is absolutely brutal how she is rejected by her family, taken in by the twisted forest and her character changes and grows as wild as her appearance to her, very tidy, mother. As she becomes more and more disassociated from her family, she becomes more and more involved with the fairies, the folkloric characters of the forest. But this may not be for the greater good. From a tale of murder, a husband made of twigs and leaves, a possession of the dead, a bloody and terrifying pregnancy and the cutting of a little girl's hair. Cassandra Tipp details the horrors of her world in eloquent style which makes you shiver to the very bone. A chilling and dark tale of repulsive quality, this book is truly something to be feared.
I thoroughly enjoyed the writing style because not only did it feel like a folk horror novel but it didn't feel like it was trying too hard to weave in the folktale quality to the book. Everything seems to fall into place and whilst you evolve with Cassandra's story, you believe less and less in the people that deny her and you start to overcome this prejudice you have against people who can 'see things'. More than just money, Cassandra's story has a very strange ending and from then, you must make the decision of what is really going on here. Personally, I believe that the book is some sort of metaphor for mental illness, like in 'The Book of Lost Things" by John Connelly - but I cannot be completely sure of anything anymore. This book was absolutely brilliant.

Annie Kapur
Film and Writing (M.A)
(she/her/hers)
Focus in Film: Adaptation from Literature, Horror Filmmaking Styles and Auteur Cinema
Twitter: @AnnieApprox
IG: @AnnieApproximately
See all posts by Annie Kapur →