Book Review: "Thing We Lost in the Fire" by Mariana Enriquez
4/5 - Dark and terrifying with twisted metaphors...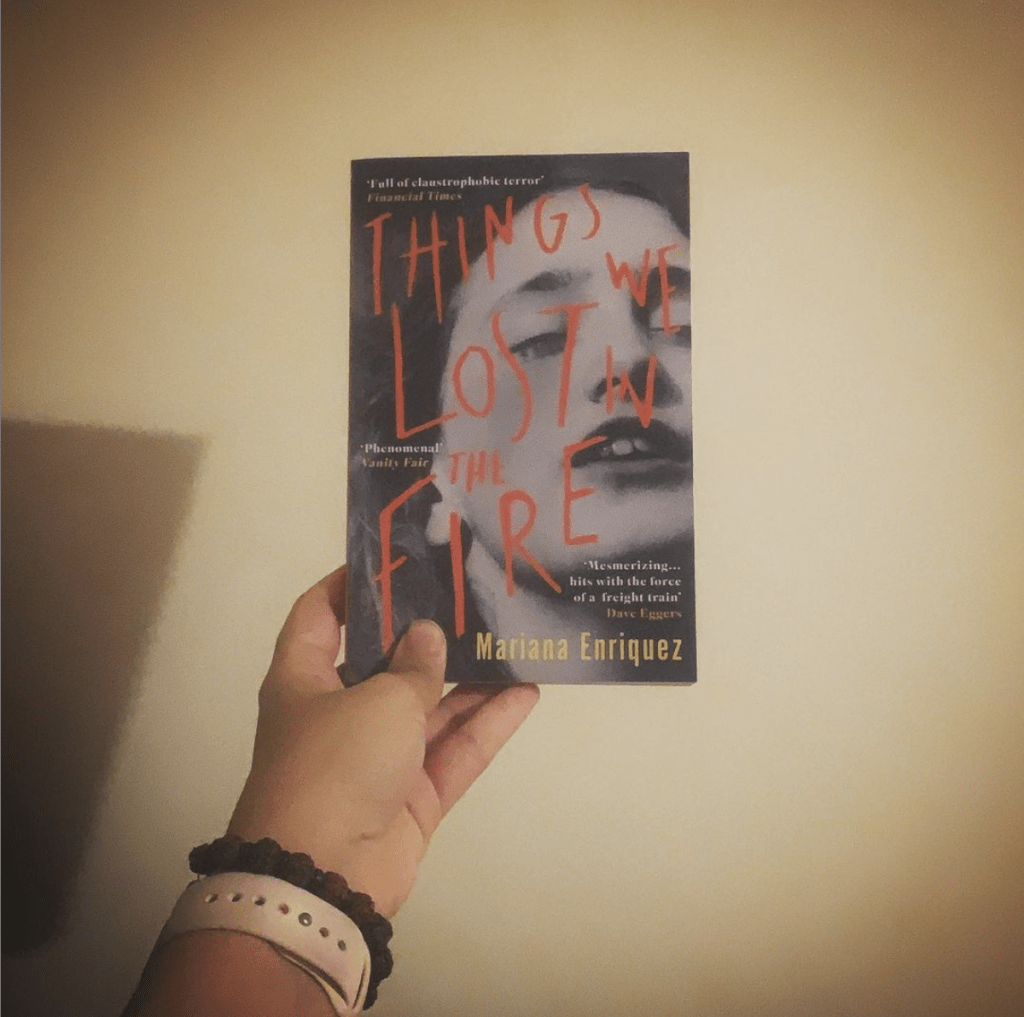 "Things We Lost in the Fire" is the first book I am reading by this author and my gosh, am I excited for what is to come! It's an excellent form of horror in which the psychological implications of the text will disturb your mind with nightmarish images of things that were not meant to be. The writing style is concise and yet terrifying throughout as it goes deep into the graphic descriptions of things with a concentration on the physical happenings plus the psychological implications it puts upon the witnesses. A brilliant book filled with weird frights, it tells of horror stories revolving around women and set in the beautiful city of Buenos Aires. It proves not only that there is more fantastic works to come from this author but it also shows us that troubling, terrifying and strange things can happen, even in one of the world's most beautiful cities.
The book opens with a story called "The Dirty Kid" in which a woman seeks to help a struggling young boy she has seen for some time who has, in that instance, lost his mother as she has left him alone. It sounds like it is going to be a story of hope before you start digging through the details. From a woman who screams at another, to a dead body decapitated turning up and a baby completely gone - this story is just one of the wild ways in which Mariana Enriquez will terrify you into submission to this book of ghosts, demons and secrets so foul.
Each story ends on some sort of extended metaphor, some sort of edge which keeps the reader thinking long after the story is over. The writing style almost makes it sound beautiful even though most of the time, it is debatable as to whether it really is. I thought that one of the paragraphs near the end of a certain story was absolutely gripping because when you realise how much it means overall, there seems to be several layers of meaning to it, but you will have to read the whole thing to find out. Just appreciate the brilliance of the writing here for now:
"I agree and I wait. Now he has nothing more to say, nothing about red rooms or vengeful ghosts. When he stops talking to me for good, I'm going to lie to his mother. I'll invent fabulous conversations; I'll give her hope. Last night, he told me he wants to come out. I'll tell her whilst we sip coffee. I hope he decides to run away while she's sleeping her chemical sleep. I hope the food doesn't start to accumulate in the hallway. I hope we don't have to break down the door."
As with the writing style, each word seems to have been chosen individually for this book and honestly, I am glad to see a short story anthology with so much work having gone into it. They remind me of the ghost stories I used to read when I was in school, something written by Peter Straub or Susan Hill. The whole book, I will say, does not have a single story that I would call 'bad' or even 'badly written'. They are all themed upon similar themes and the superstitions and beliefs that lurk beneath are some of the most terrifying within not only the realm of horror and terror, but also within the culture of Argentinian Literature. This is one of the best short story anthologies I have read in a very long time and yet, I am upset that it is over. I will not forget this.

Annie Kapur
Film and Writing (M.A)
British Born Punjabi Girl.
Focus in Film: Adaptation from Literature, Horror Filmmaking Styles and Auteur Cinema
Twitter: @AnnieApprox
IG: @AnnieApproximately
See all posts by Annie Kapur →