Book Review: "The Atrocity Exhibition" by JG Ballard
3/5 - not his best, not his worst...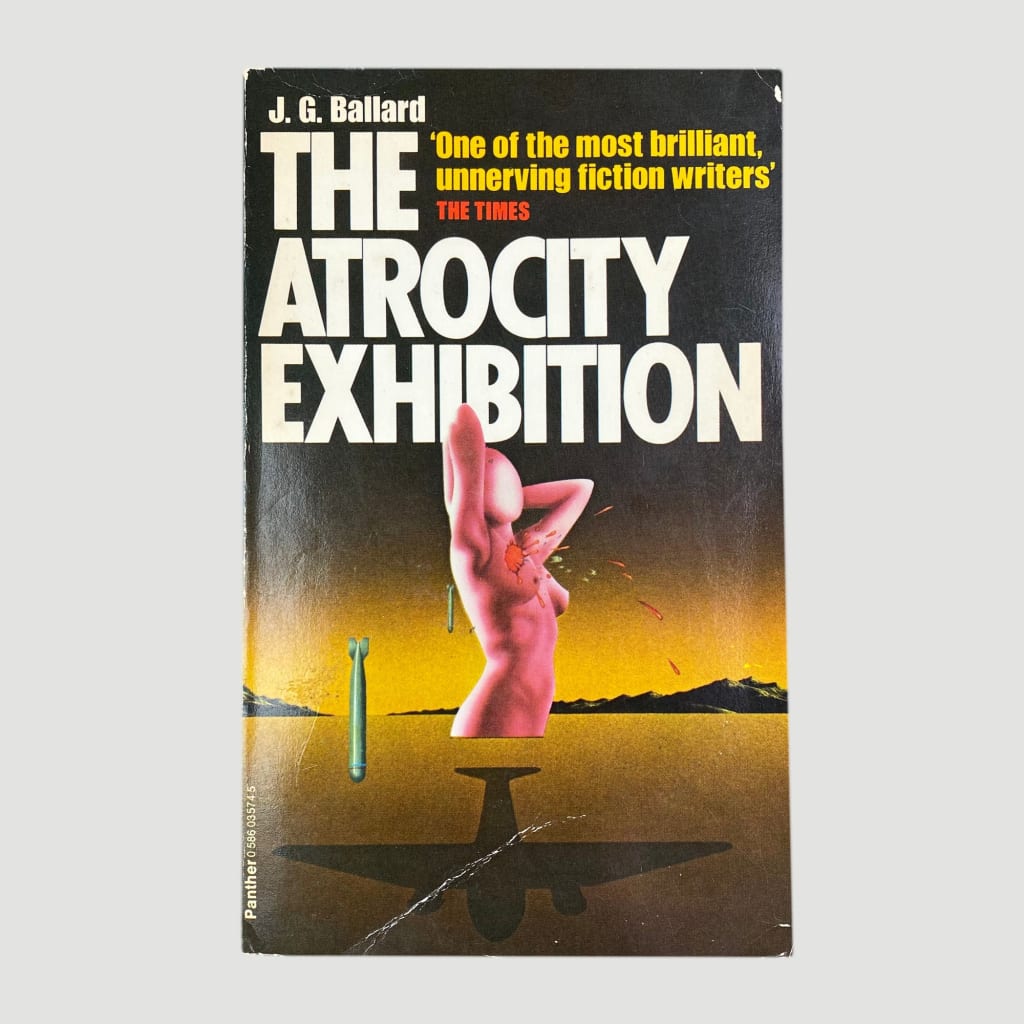 It's been a while since I've read some JG Ballard. From what I remember, I have always had a polarising experience with his books. The first book I ever read by JG Ballard was Empire of the Sun, which, as many of you, was introduced to me by the film starring the then-child Christian Bale. I was a teenager back then and it would be a couple of years until I would read another Ballard novel, this time lent to me by a friend who thought that I 'had to read this!' - it was Cocaine Nights and I was eighteen. A balancing act of dystopia and dark secrets seemed to be a big deal to Ballard when I followed that by reading High Rise, which is pretty much about the same thing. Crash when I was twenty was something I read in between university novels. With its sexualisation of car crashes, it freaked me out enough not to pick up another Ballard until now. It's been almost seven years. And imagine it, the first Ballard I picked up since then had to be The Atrocity Exhibition.
I feel like I did not fully understand what was going on here though I wanted to. I actually read the book twice in order to really try to get into it but instead, I found myself drifting away from what I thought it was supposed to be about in the first place. Well, from what I saw, it was supposed to be an argument of random-but-loosely-linked ideas that try to persuade the protagonist to engage in starting World War 3. The protagonist experiences episodes of psychosis which can often lead the story down some weird paths. But even the chapters alone are split up into these strange little stories that are often difficult to follow and read more like a Burroughs novel than something originating from Ballard's repetoire. I didn't know initially whether I liked it or not and then, after a second read, decided that it was alright but not his best work.
There are a number of public events that are covered so the time at which the novel was set was never really confusing. There's events such as the JFK assassination, the death of Marilyn Monroe and the Space Race, Cold War plus others. However, when we travel into the protagonist's mind, you can't really tell whether these are things he's remembering from the recent past or whether these are things that are happening as he is suffering psychosis and in the hospital. So, this novel could be set between the late 1960s and the novel's publication in 1970-1972. So there is a gap of about five or six years
When it comes to how interesting it is overall, unfortunately, I didn't find the novel as compelling and out-there as Ballard's other novels. Instead, this felt like a desperate attempt at 'difference' and to experiment with the topic of mental illness in the years before he released Crash. However, what I did find interesting was Ballard's ability to make everything link together even though they were all clearly entirely different stories simply starring the same character's mind.
In conclusion, I don't think I'll be reading this again for a while. I appreciate how good it is but the one thing I didn't like was the fact that it is wholeheartedly underwhelming and is more of a showcase of ego than talent. It is also difficult to follow and doesn't make for a great reading experience. I may try again in the future but definitely not in the next year or so. I need a break from whatever that was.
About the Creator
Film and Writing (M.A)
150K+ Reads on Vocal
IG: @AnnieApproximately
Pronouns: (she/her/hers)
Reader insights
Be the first to share your insights about this piece.
Add your insights