Book Review: "So Much Life Left Over" by Louis de Bernieres
5/5 - a seriously great saga of the post-WW1 age...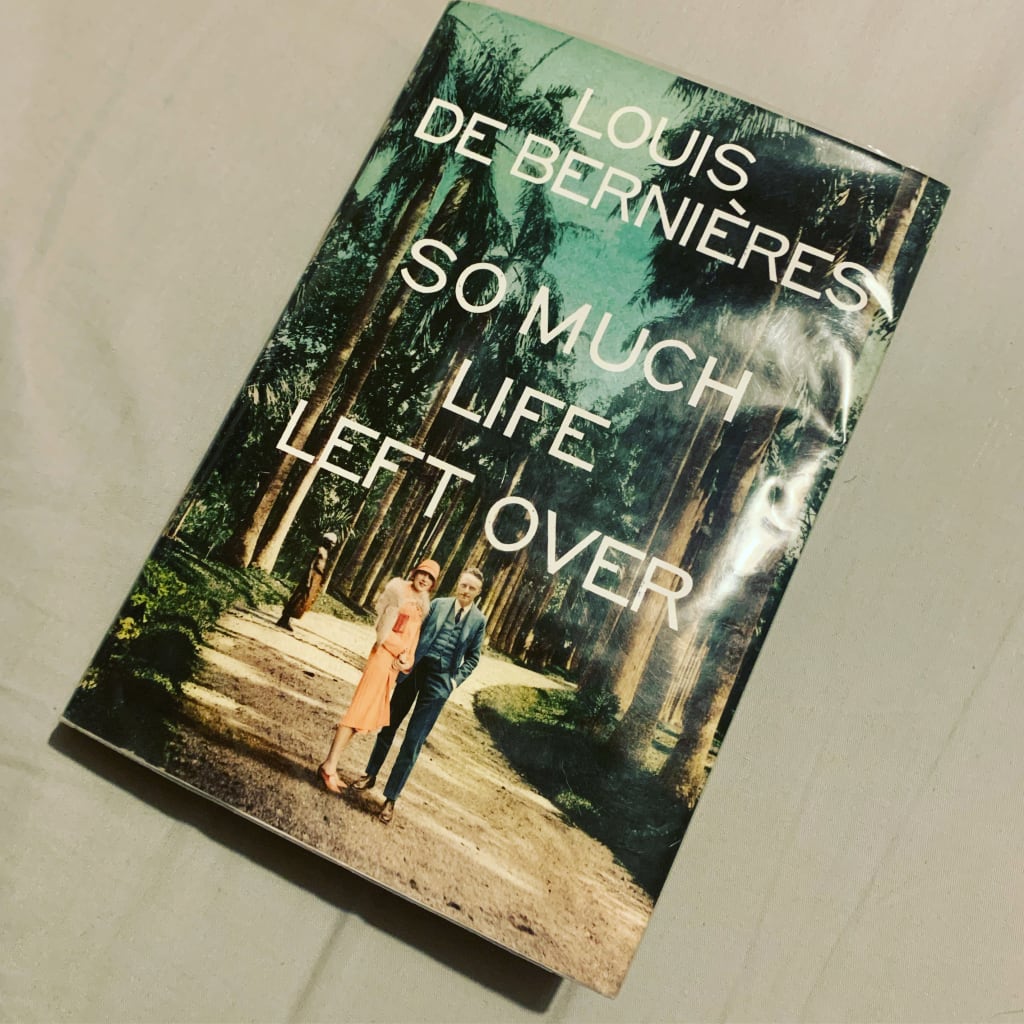 I have absolutely no idea as to why I have started reading so much by Louis de Bernieres. I think you as well may have noticed the fact that I have recently read quite a few books by him including but not limited to Red Dog and Birds Without Wings. It has been years and years since I read what is considered to be Louis de Bernieres' magnum opus, Captain Corelli's Mandolin and it has been a long time since I actually appreciated his writing this way. The funny thing is really this though, throughout the course of the entire book (that I read whilst I was ill by the way - but I guess I'm feeling a bit better now) I always felt as if I were reading a book by Nevil Shute. Now, everyone knows how much I love Nevil Shute. I adore his books. This book felt more like Nevil Shute than it did like Louis de Bernieres. I like that a lot. So, let's take a look at So Much Life Left Over by Louis de Bernieres.
Please forgive me, but spoilers are ahead.
This book has a couple of main characters to it that you need to know to begin with. The first one is Daniel Pitt. Daniel is a guy who feels almost out of place in this novel. He is a little paranoid, a little on edge and a little bit depressed. He often talks about his own wasted time and how he'd like to do something and be somewhere else. And so, the novel starts with him and his wife moving to Ceylon with their daughter. As Daniel and his wife, Rosie, drift apart and fall out of love, Daniel is often making these weird remarks about wanting a different woman or wanting to leave his daughter with someone else because he doesn't want to look after her. It isn't that he doesn't want to look after her though - it is that he doesn't feel adequate to do so.
Rosie is a character of sheer will. She tries and she tries until she can try no more. I believe she is really only there for two reasons: the first reason is her daughter and the second reason is that she is trying to save the marriage even though you can tell she does not really love Daniel anymore. She is trying to save the marriage mainly for the sake of the child. Her father is dying and she tells Daniel, who loves his new life in Ceylon, that she must move back to England to be closer to him.
The next part of this review has spoilers to the plot
Daniel and Rosie are very aware that their marriage is falling apart and, as it does, Rosie begins to go further into her religious beliefs and Daniel can stand it no longer. A short travel with a friend to Germany proves to be just the thing Daniel might need. But, as he starts into Germany - he finds out just how unstable things actually are to become. The post-world war one scene is about to get seriously out of hand.
There are so many other things that happen in this book that I haven't told you about such as Rosie's three sisters in England and their affairs, the whole idea of the second child and the reason for which children should never be used as emotional pawns. This book is a lesson about instability and honestly, if there was anything as unstable as this period, Daniel Pitt has arrived in Germany just on the cusp of what is to become the biggest sense of instability in human history. The next book in the series most obviously covers the Nazi Regime.
literature
About the author
Film and Writing (M.A)
145K+ Reads on Vocal
IG: @AnnieApproximately
Pronouns: (she/her/hers)