Book Review: "Postcards from the Edge" by Carrie Fisher
5/5 - absolutely wonderful writing from the world's greatest princess...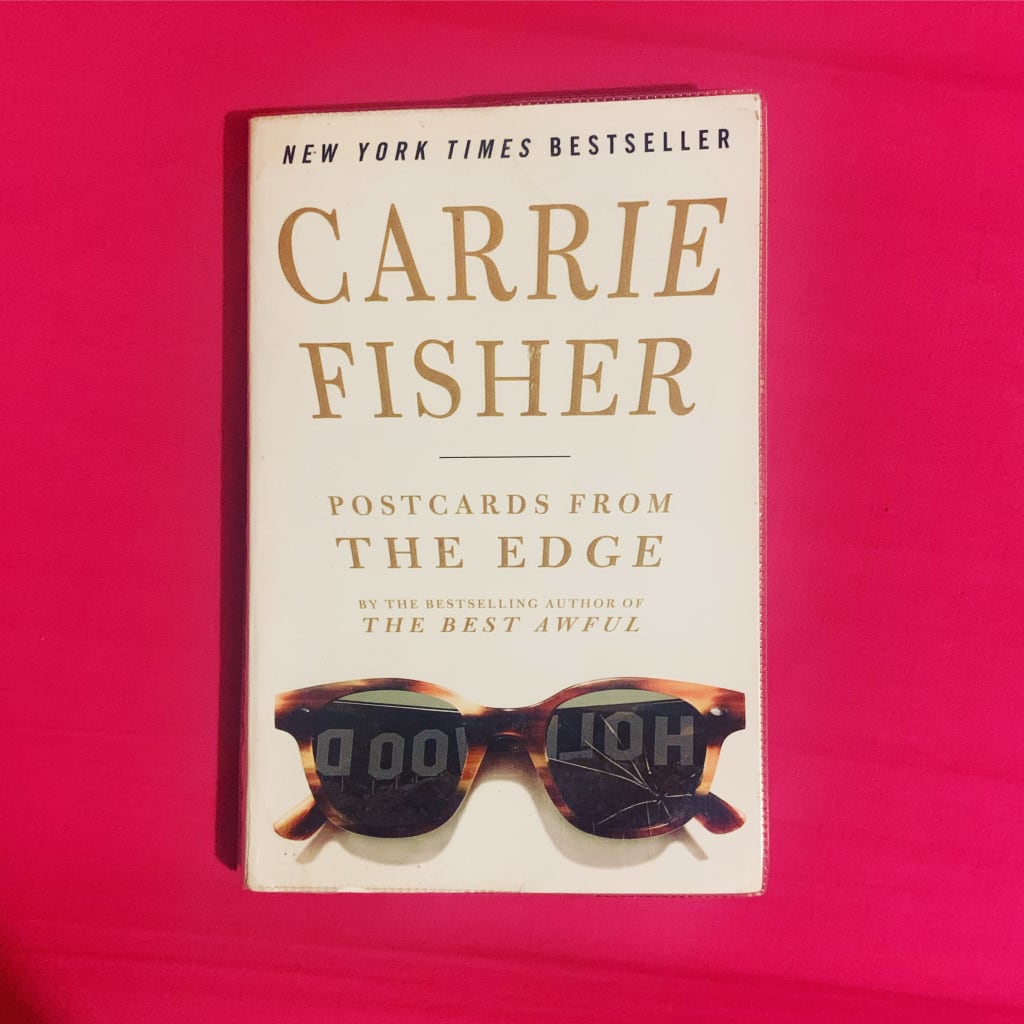 Carrie Fisher's name is often not synonymous with her contribution to literature but honestly, her writing is amazing. I have read her book The Princess Diarist and I have read a number of her other works. Her writing is not only excellent, but its filled with personality, passion and more than often, a certain tone that really lets you enjoy the book. It is not trying to be anything it is not and the book itself ends up becoming a widely read almost modern classic in the sense that it represents a certain age of Hollywood from the inside whilst retaining cultural value. Many of these 'tell-all' books are, as we know, pretty much full of shit - but Carrie Fisher maintains a brilliant, consistent, readable and often very witty writing style that grabs the reader from beginning to the very last page. This time, I read the book Postcards from the Edge which she later transfered into a screenplay that was made into a film starring Meryl Streep (which was also really entertaining).
There are five different parts to this book in which five different things take place - each part with its own 'main event' in a way. These run from postcards from the main character (Suzanne) to her brother, her grandmother and others, the next part is a first person narrative taken straight from Suzanne's journal. She explains things such as how she had to face her drug addiction, how she had to live with the fact that she had been to rehab cllinics etc. We then meet another character called Alex who is in the same clinic as Suzanne. When Suzanne leaves the clinic, the next section deals with her talking to a film producer on their first date and shift towards Suzanne talking to her therapist and the film producer talking to his lawyer. Within this, a number of things about Suzanne's mental state are revealed to us:
She is insecure about her recovery as of yet
She is not comfortable with the fact that she has to see a therapist and seems to keep it hidden as best she can
Her emotions are pretty erratic and she is still coming to terms with trying to control them
A lot has changed since she went in to the clinic.
Within the third person narratives of the story, we get a very stressed Suzanne who is told over and over again that if she wants to do well in the movie, she is going to have to relax. She responds with the fact that she simply cannot relax and that telling her to do so is probably not going to do anything at all. As we move through events such as more therapy, a strange thing happening on her birthday and the anniversary of her getting off drugs, we see life may not be all stable for Suzanne - especially concerning her emotional side.
Suzanne is an interesting character and like someone said about the book relating to Less than Zero - they are correct, Suzanne reminds me a lot of Clayton from Less than Zero as he cannot seem to get to grips with the changes that have happened since he left and returned. Always thinking about what would happen if he turned around and went back the way he came. Even though both Suzanne and Clayton have very different endings (with Clayton's story being continued in Imperial Bedrooms) I think it is safe to say that though there are both very similar characters in terms of what they are truly afraid of. They're afraid of losing control.
In conclusion, I adored this book and if you have not read it already, then you definitely should. Even if it is not 'your thing' to read, I think that everyone should pick this book up - it teaches you a lot about the way we treat others without knowing the bigger picture. It is a brilliant testament to 'the inside'.
About the Creator
Film and Writing (M.A)
150K+ Reads on Vocal
IG: @AnnieApproximately
Pronouns: (she/her/hers)
Reader insights
Be the first to share your insights about this piece.
Add your insights