Book Review: "Normal Women" by Philippa Gregory
5/5 - a near-perfect book of literary historical nonfiction...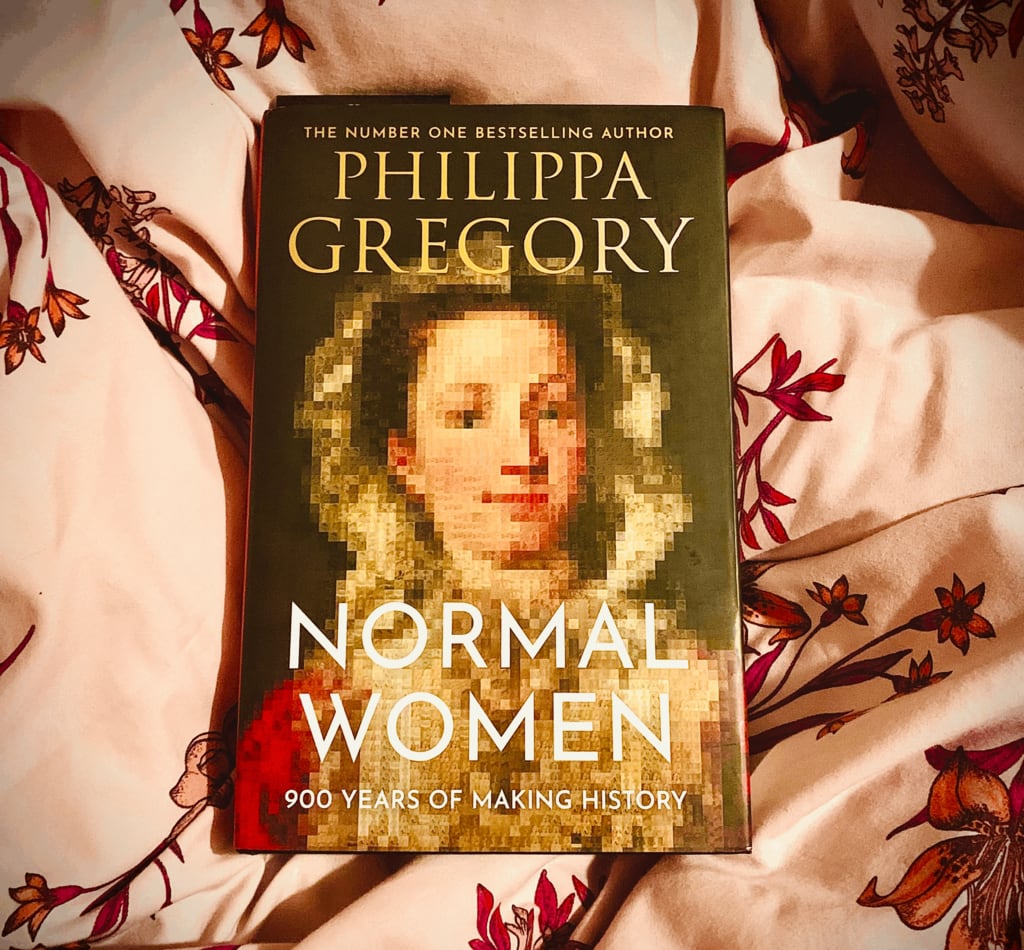 This book is quite big for a Philippa Gregory text, but we are not complaining...
Full Title: Normal Women: Nine Hundred Years of Making History by Philippa Gregory
As you may or may not know by now, I have practically read everything that Philippa Gregory has ever written. As my favourite living writer, she has made a career out of writing some incredible historical fiction about figures I would have never dreamed were worthy enough of telling the stories of. Philippa Gregory proved me wrong and wrote one of the most endearing works of historical fiction ever (in my humble opinion) - The Lady of the Rivers. Now, although my favourite book by Philippa Gregory is The Wise Woman, The Lady of the Rivers is a close second with The King's Curse being third.
She is a fantastic writer with some amazing works that delve deep into the private lives of enigmatic women in power and women who have often been sidelined in favour of others deemed more interesting. In this book Normal Women, Philippa Gregory makes a great case for bringing to life the lives of the ordinary women who made the world a little bit less horrific in any ways they could.
Normal Women is a fantastic book which starts with women who ran business and owned land and yet, were mostly left out of the Doomsday Book. The tyranny of William I meant that there was a lot of land simply owned by the crown and therefore, not to be trespassed by the common folk. For women who would forage, grow and sell fruits and vegetables this meant that there was automatically less land in which they could work. Women being left out of history is something that Philippa Gregory proves to be common throughout history as suppression grew of the female gender.
However, she also shows us the light side where scholars like Julian of Norwich and nuns of the Catholic church have not only dedicated themselves to religion but also managed the entire church with just women. This included jobs like management, accounting, composing church services and every other job that would be done by men in the male part of the monasteries.
Throughout the book, she covers women who work, women who don't, women who marry and women who run from it. The ideas about women owning property and how religious oppression has meant that women are often left out entirely from inheritance, earning or making their own way. The other side is that there were women that did these things and the whole point of the book is to point out that yes, these rules and regulations were in place but there were normal women that transcended these rules and did their own thing.
The book is split up to represent the subsections of 900 years in which women have changed in position and person, where normal women trying to push through the thoroughly male world became women of the 20th century gaining more rights such as the vote, equal pay and equality of opportunity, the likes of which we women enjoy today.
The writing is succint and yet, incredibly descriptive. We get a historical analysis of the time that feels very textbook nonfiction and then, we zoom in on particular lives which feels more like when Philippa Gregory writes her beloved women characters of her novels. A brilliant blend of literary nonfiction and research-style writing, Philippa Gregory has written yet another perfect book which involves her forte topic under the microscope.
I believe that apart from the subject and the writing style, the most incredible thing about this book is the sheer length of it. It is quite a long book with quite a lot of information and so, at the end of each part, you must sit and reflect on the information you have just learnt. With each part split up into subsections of marriage and other subheadings, Philippa Gregory makes it easier to digest each piece of information by providing the reader with smaller, more analytical pages alongside the literary nonfiction of the lives of the normal women involved in the history of the time.
All in all, this has been the one near-perfect historical nonfiction read of the year that I can honestly say is well-written, well researched and feels so immersive that you really do think you know these women personally.
Reader insights
Be the first to share your insights about this piece.
Add your insights