Book Review: "My Father's Tears and Other Stories" by John Updike
5/5 - I almost drowned in this book...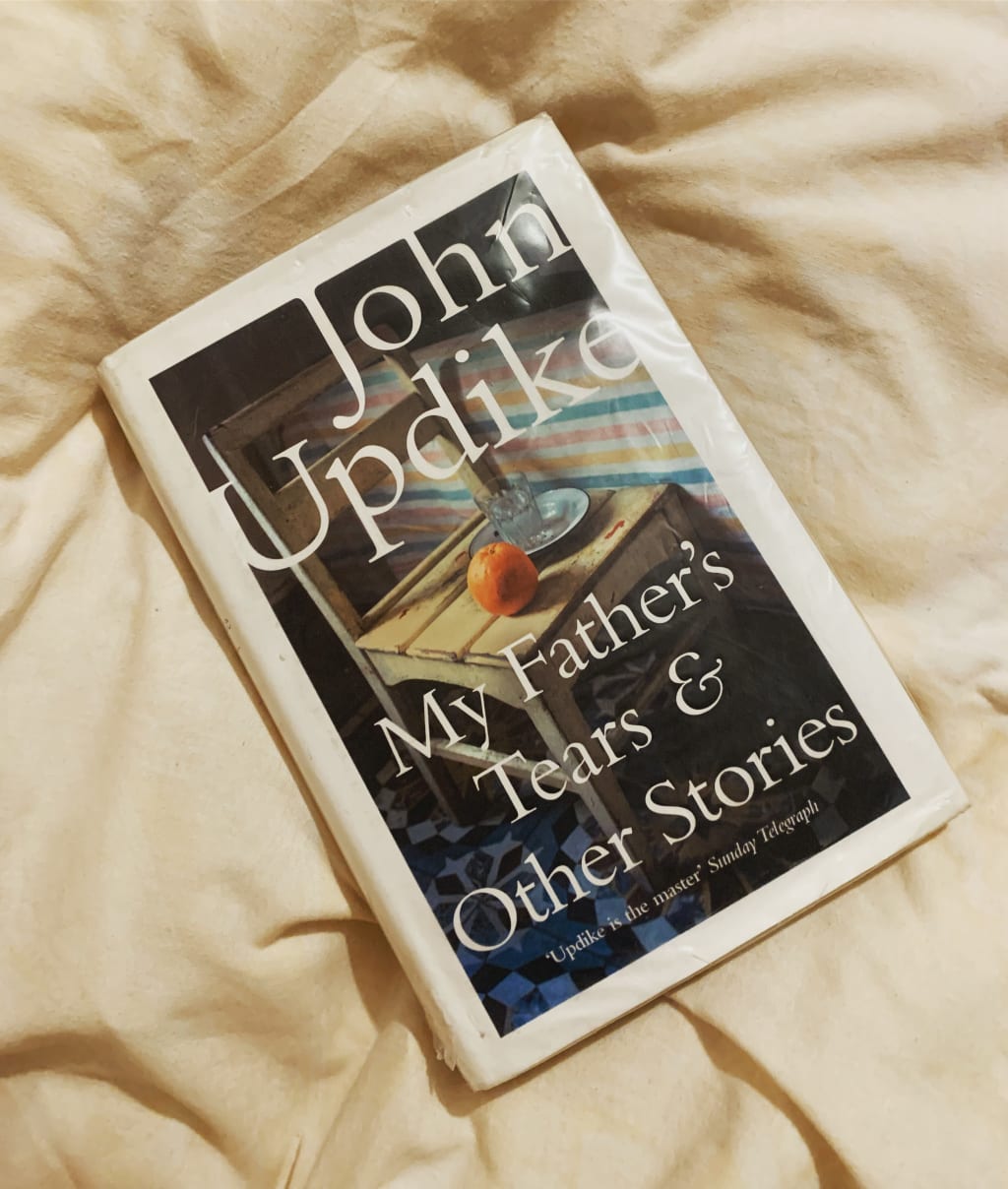 John Updike was one of the seminal writers of the American 20th Century and wrote some great novels - including the Rabbit series. For those of you who have not read the Rabbit series please proceed away from this review and go and read those first. Rabbit Run is probably my favourite because let's face it, the first is always the best. Throughout his career, he was referred to one of the writers of the 'Great American Novel' - which in turn, was also a book from the Rabbit series, though there are arguments about which one it actually is. I remember when John Updike passed away because it was two days after my 13th birthday and I was devastated. By then I had already read Rabbit Run and Rabbit Redux - but hadn't a clue that there were more of them. This book entitled My Father's Tears and Other Stories is something I have never even encountered in style by Updike, so I am very excited to cover it.
One of the stories I enjoyed in this anthology is called Personal Archaeology in which a man tries to piece together the memories he has of a certain place, especially concerning a girl from thirty years' before that he manages to remember through shards of a broken teacup. Whilst other things such as jars bring to life the people who lived at this place almost one hundred years' before, he tries his best to imagine everything that has happened over the course of this time. This is something that is an incredibly lonesome experience since we have to remember that everyone this man is seeing is gone now. The whole aspect of existence is squished into a few items of people that no longer live there, or no longer live at all. It is a horribly lonely existence and this is something that John Updike does over and over again throughout each and every story.
The dissaffected are some great characters that John Updike has managed to perfect. His other characters, from his novels are definitely in this way as well. But to manage to write them so well into a story that is considerably shorter than his novels is a key skill that makes us appreciate John Updike even more than before. There is something almost strangely omniscience about the third person narrator that populates many of these stories:
"The worst seemed to be over when, in mid-afternoon, his computer died under his eyes. The financial figures he had been painstakingly assembling swooned as a group, sucked into the dead blank screen like glittering water pulled down a drain. Around him, the house seemed to sigh, as all its lights and little engines, its computerized timers and indicators, simultaneously shut down. The sound of wind and rain lashing the trees outside infiltrated the silence."
A depressing voice, the lack of meaning, the underlying fear of not existing, the paranoia concerning what we leave behind and what people remember of us is constantly pounded into the main character until all that is left is someone who is only half of a person, raking in the blank surroundings - trying to create meaning from nothingness. A terribly existential situation, I kind of got lost in this anthology as you can see.
In conclusion, I see that John Updike is just as great in his short stories as he is in his novels, being able to write the intense emotions, narratives and existential crises of these characters in absolutely any situation. He is not limited to any type of book and he is definitely a contender for one of the greatest writers of the 20th century.
literature
About the author
Film and Writing (M.A)
145K+ Reads on Vocal
IG: @AnnieApproximately
Pronouns: (she/her/hers)