Book Review: "Licks of Love" by John Updike
5/5 - a nostalgic look into Updike's work...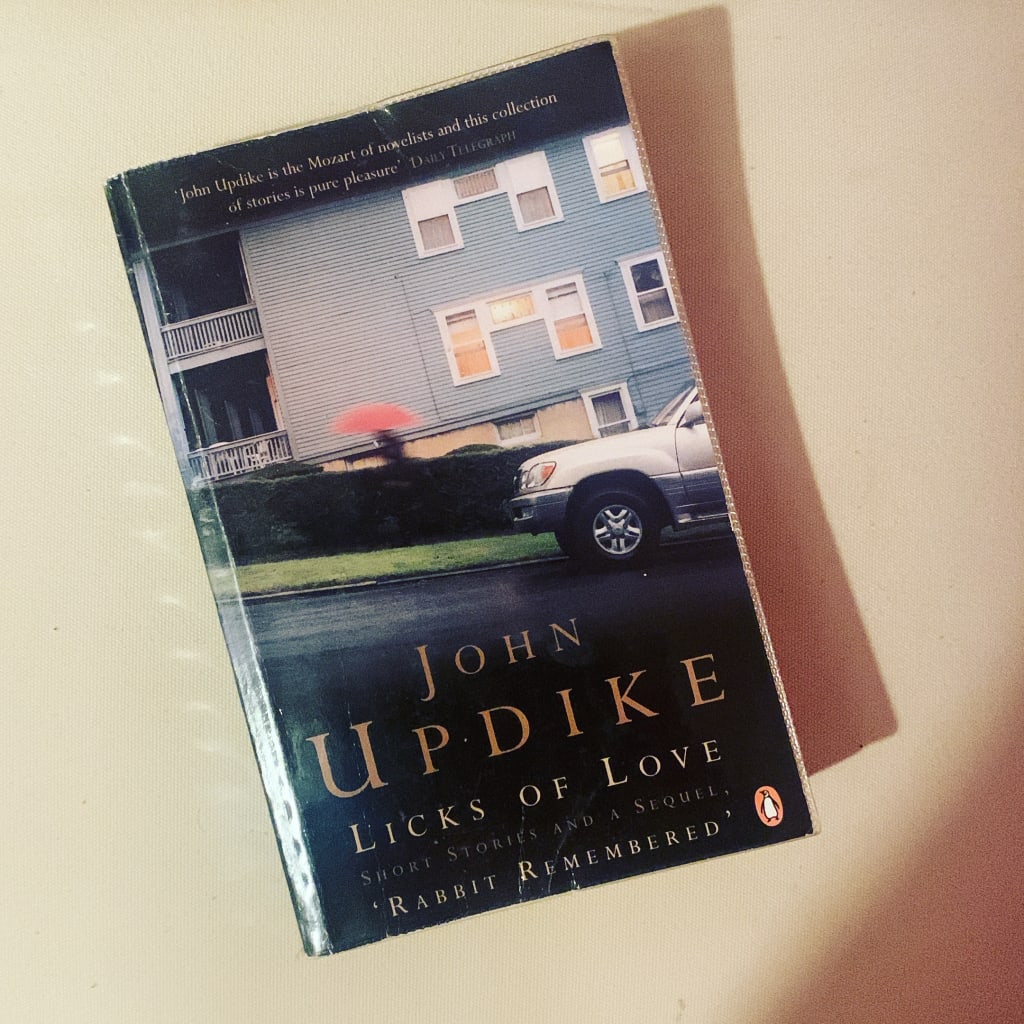 John Updike is someone who initially I was on the fence about reading. I loved the Rabbit Series, but honestly, I could not see myself getting in to much else by him. He was really a passing subject between discussing people in the modern American literary tradition. Not overly interested, but not really shunning him out either. By my 20s, I had read a couple of books by him, here and there, none of them making a huge impact thought I enjoyed them and so, I return to reading John Updike. I return to reading and re-reading any novels that were not in that damn Rabbit Series. We all know that was good - but what about the others? Well, here is Licks of Love if you are interested. And why wouldn't you be if you've been reading your Updike novels? This book has tons of references to his earlier works in it.
One thing I loved about this book was the fact it had a little story titled Rabbit Remembered (if you are confused by why this is in the book then I can tell you've read the Rabbit Series, if you are not confused then you haven't and I won't spoil it for you here). There is a ton of stuff to learn, unanswered questions and finalities made clear, characters and plots draw to a close - and is that a love-child?
Another one of my favourite stories was called My Father on the Verge of Disgrace in which a young boy must learn to face his fear of his socially upstanding father being disgraced. It is a strange story which, in a classic Updike style, teaches us all a very important lesson about what it means to even be alive at a time like this (or any time for that matter!). For Updike novels, the very act of living means that you are constantly teetering on the edge of absolute disgrace. It isn't the story that is important, instead it is the character and how this young boy learns that big lesson and fits himself into an Updike narrative.
I love Updike's ideas of the fact that we are all alive in the wrong way. One of the representations of this idea was best seen in the story How Was It, Really? in which a father looks back on raising his children and how he was always looking forward to a great moment that never happened instead of being present and treating the current moment with importance. Filled with regret, there is no real proper way to live - but he does realise that the act of chasing the great moments to come may have made others feel less important in his life. Another way this is explored is through the story His Oeuvre where a man does a reading in various places and sees a woman he has had an affair with in the audience every single night. Feeling wronged, almost disgusted with himself, the impending doom of his own being begins to slowly close in on him. He will realise that this is simply his reality and nothing more. But there is a lot to answer for first.
In conclusion, this has been a great experience. Updike's themes really shine through in his short stories. They are well-written, have really well-developed characters and are driven by the character's sense of their own morale and how they deal with utter disgrace, whether in private or in public. There is something almost dangerously secretive about it as well, as if the true feelings of the character towards this event remain within themselves for a very good reason.
About the Creator
Film and Writing (M.A)
150K+ Reads on Vocal
IG: @AnnieApproximately
Pronouns: (she/her/hers)
Reader insights
Be the first to share your insights about this piece.
Add your insights