Book Review: "If We Were Villains" by M.L Rio
5/5 - a perfect Shakespearean-inspired thriller...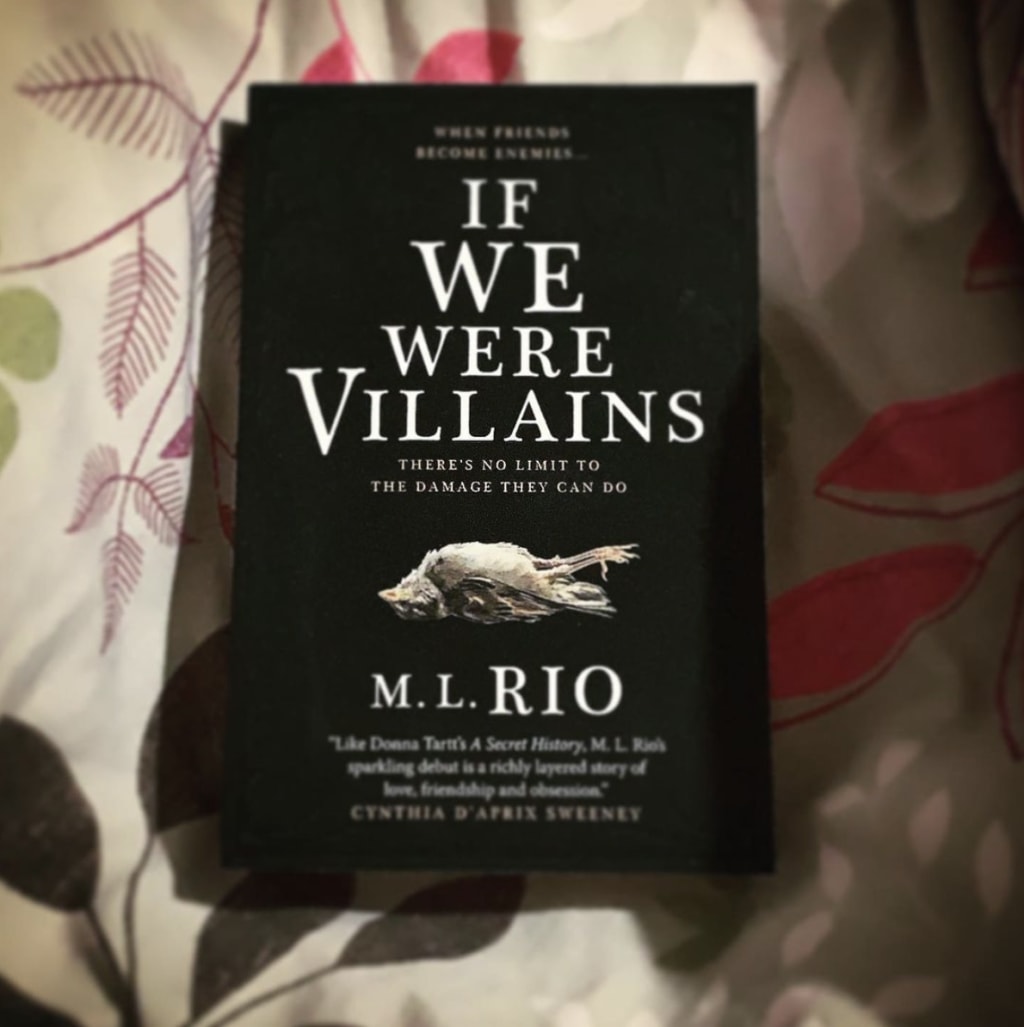 Shakespeare has always been a great inspiration to me. I have numerous posters of him on my bedroom walls and I own many many books and secondary sources on Shakespeare. Studying him for years dating from the age of twelve all the way through to being twenty-three then continuing my studies into Shakespeare on my own has been one hell of a ride. To this day, re-reading "Richard II" and "Richard III" (two of my favourite plays), I have been discovering new things after more than ten years of research. One thing I always love is when a writer entwines the principles, themes, words and characters of Shakespeare with their own work. It shows not only an appreciation and an understanding, but I love reading about how the writer has interpreted the text and obviously, I absolutely adored this one by ML Rio.
ML Rio's book "If We Were Villains" is one of the greatest achievements of modern literature I have seen in a long time. An amazing feat of post-modernist design in which a prisoner recounts a tale in which he believes he is innocent and a murder most foul in which people go wild about their presumed positions in society and art. This book is one of the most interesting and incredible things to come out of the Shakespearean literary inspiration. Oliver narrates the novel as he sits awaiting to see whether the inspector believes his story that he, in fact, did nothing wrong. He backtracks and often feels nostalgic for the days where he studied in a conservatoire with his friends: Richard, Meredith, James, Alexander, Wren and others. His teachers: Frederick, Gwendoline and even his combat teacher are all part of this twisted and insane storyline that could have only come from the depths of a mind that truly appreciates the sheer power of the Shakespearean word, argument and structure. The characterisation of 'life imitates art' are amongst some of the most divinely inspired aspects of the novel.
As it progresses, we get an almost mirror image of things that tend to go wrong in plays such as "Julius Caesar", "Macbeth" and there are even hints at "Richard II" (though I don't know whether that last one was planned or I'm just delving too deep into things). Oliver recounts a tale full of murder, sin, lust and beauty whilst all the while trying to maintain that whatever he did, he did for the greater good but in fact, what he did was not intentional nor wrong. We are forced to judge and make a judgement based on this very modern Shakespearean tragedy which takes place ending up with an argument far from 'This is good vs. This is bad'. ML Rio has managed to twist our minds and in my opinion, the bard would be very proud to see this work and read it with his great and mystical mind.
It is written beautifully. Interspersed with Shakespearean dialogue, sometimes speech is written like a play and also, we get these descriptions of emotions that on occasions, we just cannot handle and must therefore, take pause. When I say that every fan of Shakespeare far and wide requires this book on their reading lists, I am not understating the true power of the novel. It is terrifying, it is romantic, it is tragic, it is beautiful and all over, it is so very Shakespearean. Get lost in this fantasy of good and evil where good and evil are purely subjective. Become engrossed in a Shakespearean-inspired novel in which the lines between good and bad are not just blurred, they are criss-crossing, they are fighting each other and they are also in love with other one still. It is one of the best books I have read for a very long time.
literature
About the author
Film and Writing (M.A)
145K+ Reads on Vocal
IG: @AnnieApproximately
Pronouns: (she/her/hers)