Book Review: "Florence Stories" ed. by Ella Carr
5/5 - a beautiful book with brilliant literature on a great city...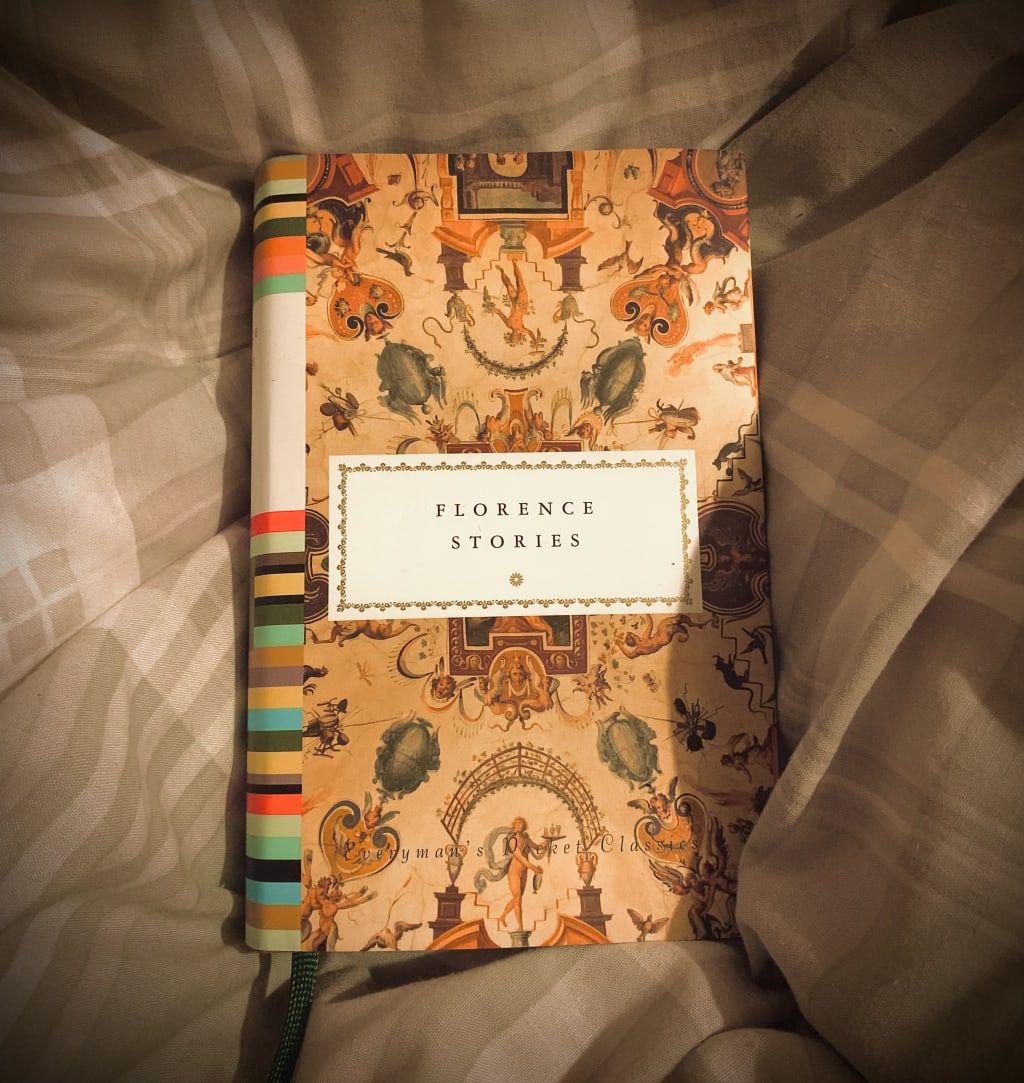 I have always loved stories about Florence, set in Florence and a bunch of other things to do with Florence. For the past almost fifteen years I have been wanting to go to Florence and, for the first time in that period - I had finally saved enough money to go - that was in January of 2020. You can only guess what happened to my luck next. When Italy shut itself down, I wash crushed and before you ask, no I don't have the money to go anymore. But, I still have the want and I will go someday - or I won't, I don't know. It really just depends how Fate wants it to go. But one thing I can be sure of is that these stories were really exciting to read even though I had read many of the books they are from before.
The book opens with an apt preface by the editor, Ella Carr, who tells us about how the book was collated and edited and why it is the way it is. She tells us the importance of the anthology and ultimately, this sets us up for the rest of the book and its historic atmosphere. The book opens with cantos from Dante's The Divine Comedy and then moves swiftly to Giovanni Boccaccio and his Decameron.
As I worked through the book, I noticed there were a couple of things I had not read before, such as the letter to a Venetian from a Florentine. I for one, found this hilarious. It is all about a Florentine boasting about their position in their city and their city's position on the world stage, stating that the Venetian could never be as close to culture and history as the Florentine is. It is ultimately a letter filled with things that would make the Venetian jealous - the ultimate boasting letter.
Another thing that I enjoyed about this book is that it wasn't all fiction, or poetry, or nonfiction. It was clearly a mix between all three. We did not just have the classic literature of Florence, but we also had someone's account of the reign of Lorenzo the Magnificent at the time that he died - writing a literary portrait of him and his achievements. We got to see what Henry James thought when he came to Florence and also what Mark Twain thought in his travellogues. I thought this was a great mixture of things even though I initially thought I would like to see more literature from Florence, I ended up really in love with the apprecitation of the city by people who didn't live there as well.
I was surprised at the amount that writers had to say about the city, there was everything from a written appreciation of travel to stories set in Florence by people who were not even from the place. Yet, everything seemed so real whether it was fiction or not. Penelope Lively, Henry James and so many more wrote about the modernisation of the city and even though I love the Renaissance era, I can see that the change in the city also brought new and exciting perspectives.
In conclusion, I thought this book was a brilliant way of travelling to the city without actually travelling to the city and no matter how long it takes me to actually get there, I already felt like I was actually there. I seemed to be travelling through time with some of the great writers who were, as well, dreaming about being in Florence, really being in Florence or just thinking about the city - a passing thought.
literature
About the author
Film and Writing (M.A)
145K+ Reads on Vocal
IG: @AnnieApproximately
Pronouns: (she/her/hers)