Book Review: "Deacon King Kong" by James McBride
5/5 - A brilliant cross between Chester Himes and James Baldwin...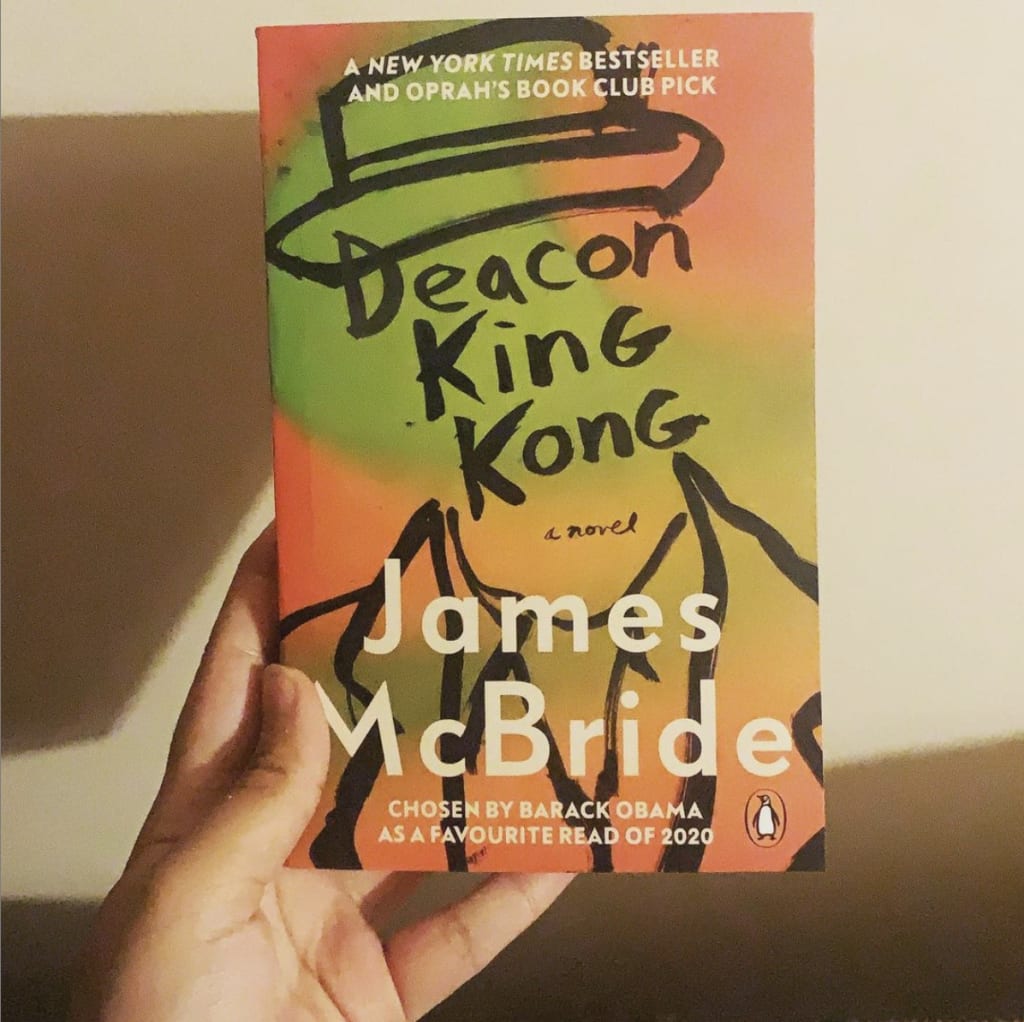 The 60s were one of the most diverse decades in all of literature. With the amount of literature about everything from the Vietnam War to the Civil Rights' Movement, the death of the Kennedy Brothers all the way through to the emergence of Bob Dylan and Joan Baez, the 1960s hardly ran out of cultural topics both at the time and in hindsight. Topics such as classic rock, Malcolm X, the 1968 riots and Stonewall never, ever cease to amaze me with just how much some people can recall those powerful times. In "Deacon King Kong" by James McBride, we are taken to 1969 in which we are placed somewhere unfamiliar to ourselves - a church. We are shown a religious man - a deacon. And we are given a strange storyline - a shooting and a man on the run.
Some people think that the deacon can't die. Whilst he was growing up, he had every affliction under the sun. He did not get any teeth until he was nine years' old, his mother died when he was ten. He grew up with measles, sickness and everything in between. As he got older, this did not stop - reaching the age of 71, he has accumulated many more sicknesses. These include problems with his breathing, a cyst, difficulties with his every day life in which he directly refuses any form of doctoral intervention or medication. Instead, he seeks herbal treatments and homeopathy to cure his ills. But surprisingly enough, he has not yet even come too close to dying (well, apart from the time he was clinically dead for about three minutes!). One day, the deacon shoots a local drug dealer. Now, people are looking for him. Now, the deacon is in trouble and all this good luck might have just run out. As we meet iconic characters such as the cop Potts and the soulful Sister Gee, we are taken on a ride through the most vibrant and violent times of the end of the 1960s. However, it is not this that makes the book truly great.
The writing style of the book is captivating. In some places, you could swear that you are reading one of those Harlem Detective Novels by Chester Himes, through the vibrance of the dialogue, the back and forth of the conversations between Potts and Sister Gee, the way in which we are getting these detailed descriptions of the shooting - it is very much an authentic voice of late-60s divided and debated America. Whereas, in places of internal and personal strife, in places where we are required to be more introspective - you could swear you were reading a James Baldwin novel. The sheer beauty of the metaphors, the way in which every chapter ends with these odd but contemplative images, the way in which we get these deep character analyses - it really does remind me of the early novels of James Baldwin.
In conclusion, I would like to add that I have no idea why I did not read this book earlier. I absolutely adored it with all of my heart, I thought it was one of the best books I have read for a very long time. Not just that, but it opened my eyes to new and exciting forms of modern writing, a mixture between the serene and the chaotic is perfectly balanced between description, dialogue, plot line and the way in which we are taken through every aspect of the build-up. I have to say that not only is it great at its representation of time and place, it is also an amazing work that will stand the test of time.
literature
Film and Writing (M.A)
130K+ Reads on Vocal
IG: @AnnieApproximately
Pronouns: (she/her/hers)