Book Review: "Burning Man" by Frances Wilson
5/5 - the life and opinions of DH Lawrence...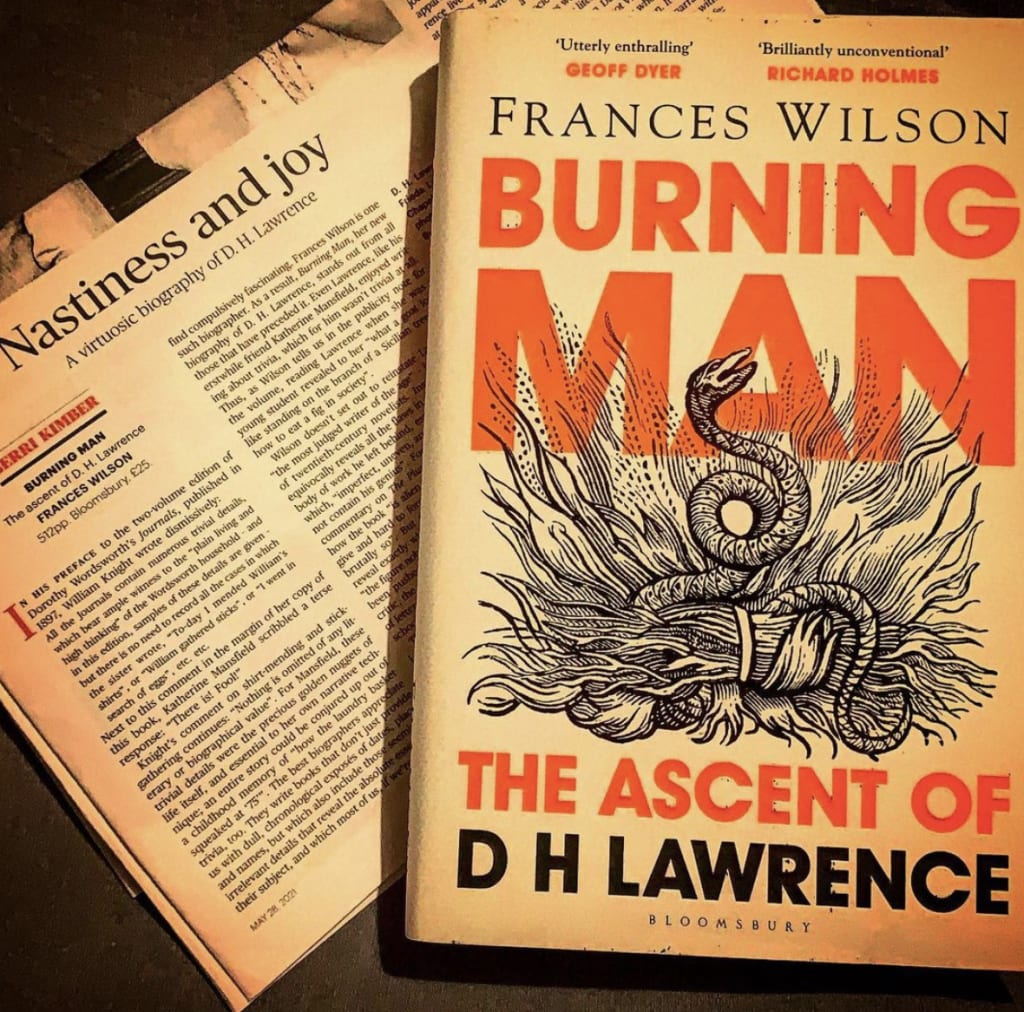 I have read a number of author biographies over the years and honestly, there is nothing more refreshing than reading an author biography that does something different with the story. We are not talking about twisting facts into fiction but rather we speak of the way in which the biography is researched. Many biographies have a secondary source text or two that they will reference in accordance with making their own arguments, but less often is the researcher that goes out of their way to get into the minute details of the life of their subject. The book "Oscar Wilde" by Richard Ellman is a great example of the new-age author biography. Using several sources to make the arguments, tales of people who had seen or wrote about or even heard of Oscar Wilde litter the book and are under the critical eye of the author of the biography, an expert in the life and times of the subject. In this text entitled, "Burning Man" by Frances Wilson, we see a similar yet newer method in this practice.
There are many great things that I would like to cover about this book but I am going to have to focus on the most important ones for now. I think that my favourite part of the book was when Wilson discussed DH Lawrence's aversion to coming over to the East Coast of the USA. When Lawrence went to Ceylon, much to the rage of a woman named Mabel. There is a clear aversion that we see in the text as one of the most perplexing things about the book - but Wilson manages to gain access to writings by DH Lawrence whilst he was upon boats and diary entries of him in various places to piece together why this is. Lawrence's further disconnection to the east is characterised the same way and when he returns to peace in his mind, we find out that it is not really all that peaceful at all. It is such an engaging section of the text and really, I could not imagine it could have been written any better by anyone else. There is a clear amount of grand research that has gone into writing this section on its own let alone the rest of the book. The research is written down so well that it almost feels like a story instead of a true account of someone's life and times. I think that with the backdrop that DH Lawrence lived against, this would have been more difficult as the time itself was not so open, diverse or economically stable. There was a lack of colour that the author needed to put back in and ultimately succeeded in doing just that.
I can also state that one of the best things about the book is that we do not have much on biographies of DH Lawrence - a man who wrote the sexually explicit "Lady Chatterley's Lover" which shocks even some to this day with its graphic descriptions. But, I think we lack a story of his life and what made him want to break these conventions and boundaries. We lack the stability to say that 'these are his own opinions' except for his own books. We have no collected book that includes all of his greatest triumphs and darkest hours. Frances Wilson has given that to us with her book "Burning Man" and we must never forget that there are some incredible things about DH Lawrence's own life that, in fact, can be made into a psychological drama filled with love, loss, confusion and fear - much like Lawrence's own novels.

Annie Kapur
Film and Writing (M.A)
(she/her/hers)
Focus in Film: Adaptation from Literature, Horror Filmmaking Styles and Auteur Cinema
Twitter: @AnnieApprox
IG: @AnnieApproximately
See all posts by Annie Kapur →