Book Review: "An Artist of the Floating World" by Kazuo Ishiguro
5/5 - one of his greatest novels...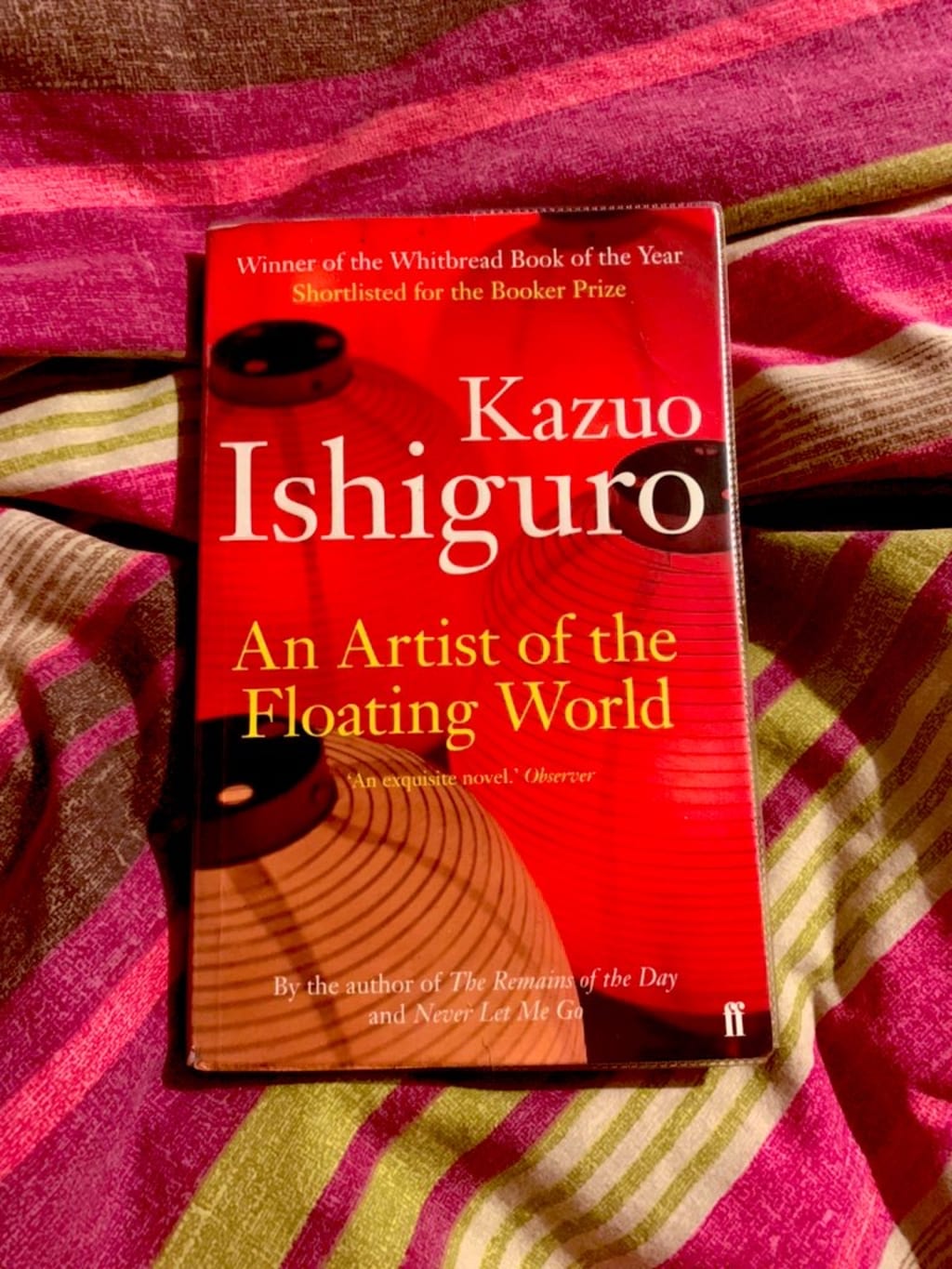 You know when you're reading a book and you come across certain sections where you think: please don't get anymore emotionally destructive and then it does? Well that is exactly how I feel whenever I read Kazuo Ishiguro. A while back, I went on an Ishiguro binge, this was around the same time The Buried Giant was released and honestly, I never actually made it on to An Artist of the Floating World for some reason. I just completely missed it. Well, now I have read it and it is so beautiful I almost started to cry by the end. I am absolutely in love with this book.
Normally hailed as one of Ishiguro's greatest books, it is about an painter who is getting older as Japan seems to be moving on. He looks back on the years of the second World War and concentrates on how his reputation has changed from painter, to father to friend. The theme of responsibility is really quite heavy with not only Ono (the painter) requiring to be responsible for his actions in the art world but also he needs to be responsible for his actions as a father.
One thing I noticed is that his daughter Noriko did not respect how impulsive he was when it came to greater decisions but how mundane he was when it came to his own career and life. For example: as his career falters, Ono takes more to tending to his garden, which can be seen as some sort of coping mechanism. But Noriko mentions that the garden has been planted wrong. Since the representation of the garden means that it cannot be uprooted (a symbol for what Ono thought his own career was), Ono makes her feel foolish by stating she is wrong and isn't artistic, just like her mother has no artistic talent. But, there is a great argument which Ono does not take seriously later when he tries to feed an 8-year-old grandson some Sake. He is in two minds, possibly losing it from the stress of having his career go down the drain, but it is a really strange image of him by the end of the book.
Apart from that, the writing is magnificent. I recall page 58 where I read that quotation about Kenji that sounded like someone had made a small speech out of Bob Dylan's Masters of War - it was absolutely brilliant and really shows off Kazuo Ishiguro's best writing. It was really quite a visceral quotation and I think that the whole book sort of centres around how people react towards the changing world and whether they succeed in it. There are moments of just complete sadness in the book. The part about Mr. Naguchi's songs being sung on the battlefront is something that I probably won't forget for a while because it is such a strange scene of regret and terror - but at the same time it's about music and the comfort of music in times of trouble.
In conclusion, this has to be up there with The Buried Giant as being one of the best Kazuo Ishiguro books I have ever read. There is something really existential and almost supernatural in the way this book is told to us. It is not just a look back at someone's life, but it is a preparation for the present. It almost reads as both a comfort tale and a warning of the new world. Amazingly written, deeply insightful and at times, even really depressing and upsetting - this book has truly moved me in some new and strange ways.
Reader insights
Be the first to share your insights about this piece.
Add your insights