Book Review: "Absolutely and Forever" by Rose Tremain
3.5/5 - a bildungsroman and an anti-love-story...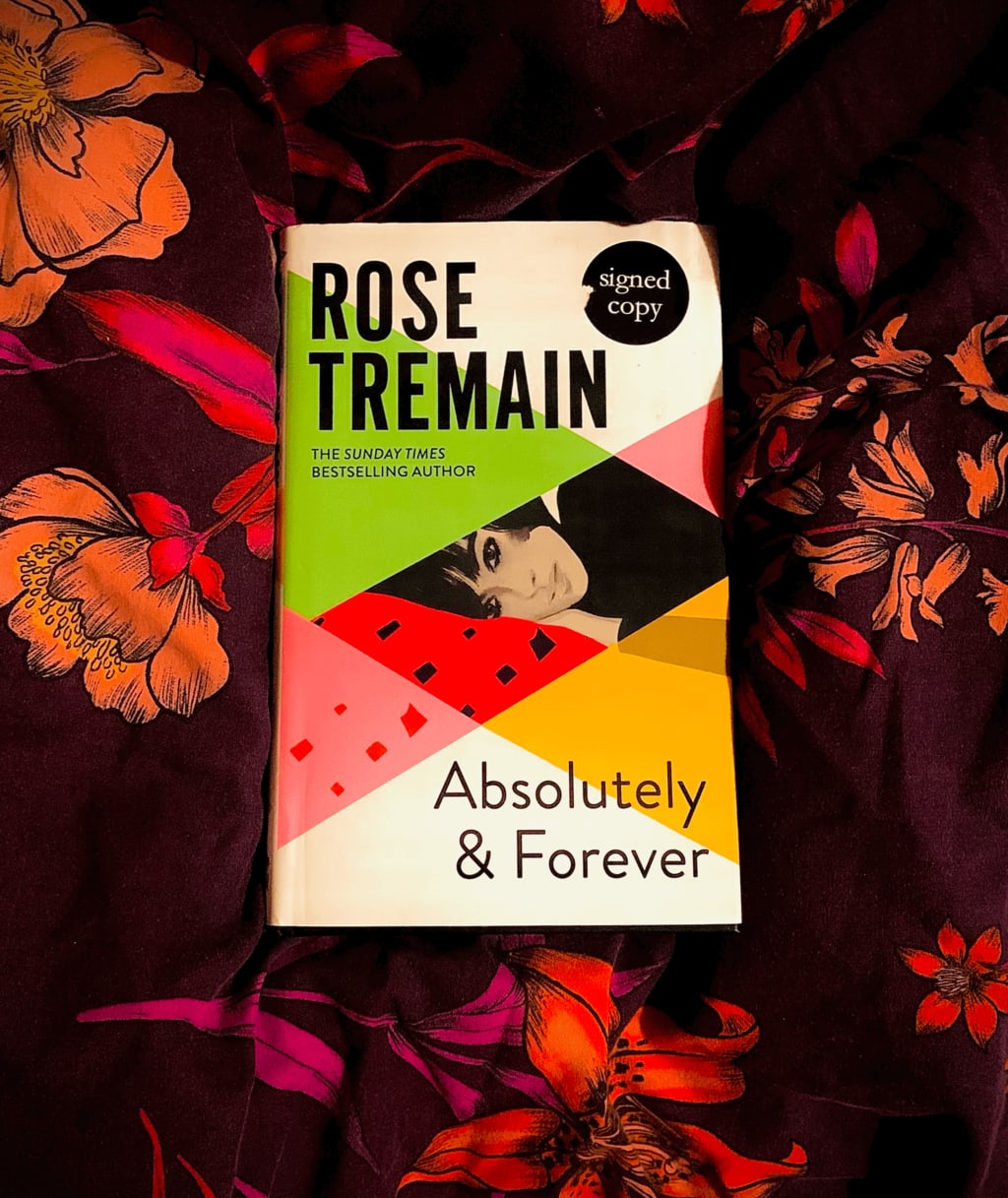 I love the colours on the cover though...
Rose Tremain's writing is always a treat to read. Her books of the Restoration series are awesome and I love the vivid historical atmosphere she creates. In this new book titled Absolutely and Forever, we see her grapple with 50s and 60s London in a way that seems almost a little too romanticised and a little too on the sentimental side. However, Rose Tremain also shows off her incredible writing talent and though the story itself seems a bit flawed and all over the place, the writing makes up for what it lacks. There are good and bad points to this narrative which is why I have awarded it such marks as above.
The book is told in 5 separate parts which seems excessive because the book itself is so short - but I entrust that Rose Tremain knows more about writing structure than I do, so there's no problem there. It is about a young girl of fifteen called Marianne who falls in love with a boy of eighteen called Simon Hurst. Marianne narrates the story of her life through her failings at school, her love for Simon, her moving and getting a job only to be penniless sooner or later, her bad luck and misfortune whilst also being incredibly privileged, her wedding to someone who is not Simon and that little nagging sound in her mind that knows Simon has a secret. She knows that Simon dreamt of going to Oxford University and they wanted to end up together, but something much more than simply circumstance forces them apart. It is something that none of the people around them can confront until it is too late to amend relationships.
The character of Marianne is a kind-hearted and well-meaning soul if not a little naive and out of touch with reality. She really does have the real teenager experience of not actually knowing the bigger picture of what's going on and diving head first into a series of unfortunate events and horrific mistakes. There is a theme of horses and horse-riding that follows her around which, if I'm not mistaken, as in the works of Mary Elizabeth Braddon represents the freedom of female sexuality.
The negative points of this story have to start with the fact that the giant reveal at the end was not really a reveal as a) most of the readers of this book would have already guessed it a long time ago, b) it was not really elaborated on or explored in any way, there were no hints that guided us into getting more involved with the secret and c) it was not really much of a secret or a reveal at all and did not change the way the reader feels about the story as it has pretty much nothing to do with Marianne.
Another negative point was that it was a little too sentimental in places. This is just my personal opinion but I found that sometimes the book got a bit out of hand with its own sense of the whole 'wandering soul' idea and all those references direct and indirect to Romeo and Juliet. One or two were alright but after a while it begins to drag and no longer has the same lasting impact, instead it seems to annoy the reader who would like to know more about the other characters in the book.
One more negative was the fact that the final part of the book was not as good as say, the first or the second. I understand how it has been split up but I found that the writing and the story of the final section was much much weaker than that of the previous parts. The writing in the final part was far more bland and had less description. I felt like the narrative kind of gave up after the death of (we do not do spoilers here, read the book if you want to know who dies) and did not even try to finish itself off. The ending from then on out became a little dry and emotionless. It felt like it just dropped off and did not really close as well as I had hoped.
All in all, though this is a good book and I really enjoyed reading it, it does have its flaws. Even though Rose Tremain is one of my favourite writers of the modern age, I do have to be fair and honest when it comes to my opinion of her work as well. However, I will say it was definitely worth the read.
Reader insights
Be the first to share your insights about this piece.
Add your insights