Beyond the Wand
All the love and laughter of a beautiful, shy man.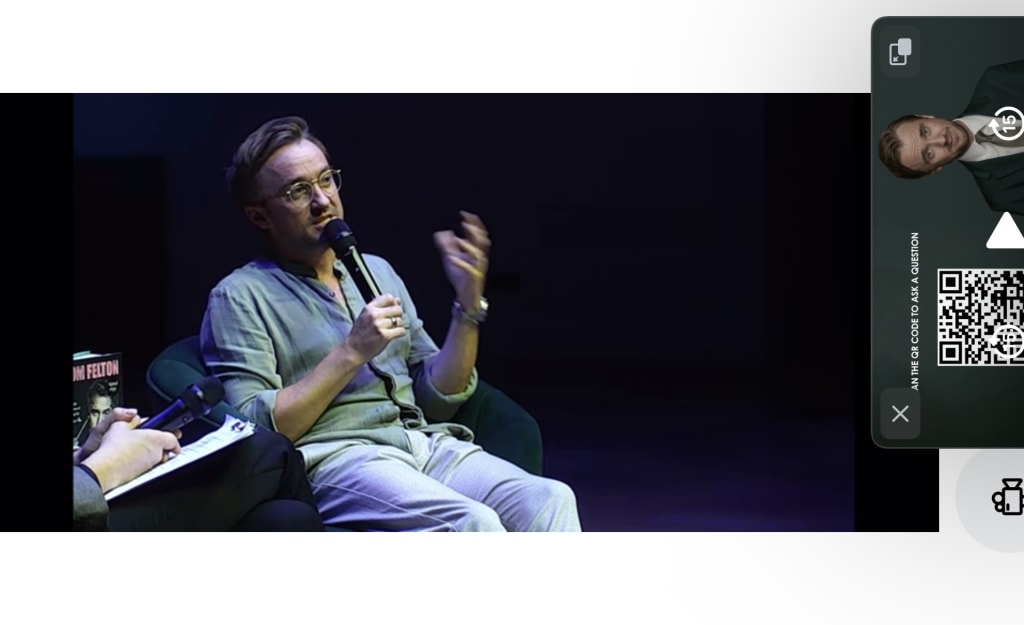 Tom Felton in session
I didn't notice Tom Felton for a long time. Not him as a person, although of course I knew him for his most famous character.
Draco Malfoy, along with Severus Snape and Lucius of course, was my favourite slytherin. Whilst many of my contemporaries found him slimy and bullying I saw beneath the mask he presented, I knew that Draco was not as bad as he seemed.
I think that's probably why I end up in slytherin house, whilst everybody else wanted to be a Gryffindor, I looked at the films and said 'hey that's not very fair really is it?'. I knew very early on that not every good person does good things all the time, and most supposedly bad people have good tucked away inside them. It is a lesson I've lived my life by, I try not to judge because we all shades of grey, just some of us fall on the darker side, with just a hint of green and the sly hiss of a parcelmouth.
It turned out that Tom was probably one of the major the reason I ended up in green, his performance was slinky, cocky and from the heart. He knew Draco wasn't a bad person, just a misunderstood child with a horrible family, one who had moulded him into a mirror of themselves, except not quite.
And that was all Tom.
I started following him on instagram about two years ago, that's how I heard about his book, beyond the wand. It's also how I discovered what an amazing, normal and generous hearted person he was.
I went to his book launch and it was a day to remember. He is genuinely funny, self deprecating and so very humble.
Much of his book is dedicated to his years with the potter franchise, it is funny and touching and honestly I cannot help but ship him and Emma Watson, even though I hate real life ships, because they just seem to love each other so much and I just feel there is something deeper there. But it is not my place to hope for such things, he, having been through a very strange childhood and an even stranger time in his early adulthood, seems happy with his dogs and with how his career is working. Not wishing to give spoilers I will say he has had his struggles, ones that are touched on in his book, and those experiences have shaped him into a tough but beautiful human being.
He has had his own issues with mental health, and he candidly shares his journey through that negative space in order to help others, to let them know they are not alone. I was surprised by these stories, just as he himself was surprised. It took him a long time to accept his own problems, and it took a journey, a bus ride and the kindness of strangers to help him find his way to healing.
I must recommend his book, it is a fantastic read, even for those not into the potter fandom.
I finished my proudly owned signed copy in three days, I also recommend his audible reading, which is beautifully personal, his reading of it just perfect.
As you may be able to tell, I've moved from not noticing Tom to becoming a true fan of his. Because he is kind, he is gentle and warm and sweet to everyone he meets. His humbleness is beautiful to behold, because I think he underestimates how many peoples lives he has touched, how he has quietly made a difference.
And he's still slytherin, proving the old adage - not all slytherin's are bad.
My house pride is intact and will be for my entire life, and our leader, our champion will always be Tom.
🐍🐍🐍
About the Creator
dark romance writer, poet, relationship councillor and sci-fantasy geek. Geek culture reviewer.
Reader insights
Be the first to share your insights about this piece.
Add your insights