Best 'The Walking Dead' Funko Pop!
'The Walking Dead' Funko Pop! figures are the best way to show your love for the most epic zombie series on TV.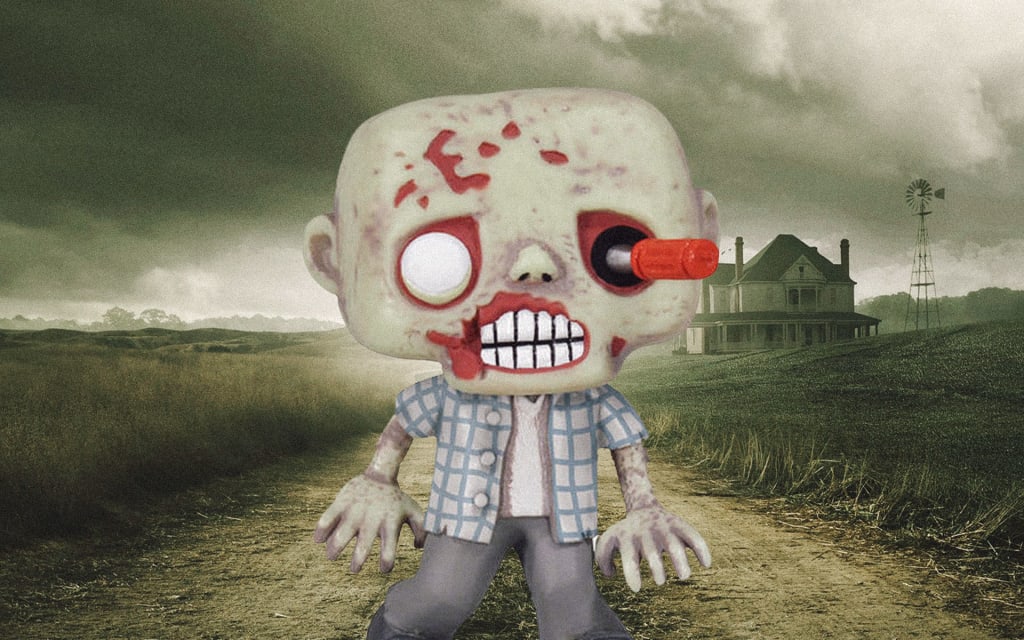 The Walking Dead has picked up a huge following thanks to its cast of killer characters, dramatic story arcs, and zombie slaying action. They also have an awesome collection of The Walking Dead Funko Pop! Figures commemorating all of our favorite heroes and villains. The best Funko Pop! figures make a great accessory for your bedroom or office. Show off your love for kickass characters like Michonne, Daryl Dixon, and Rick Grimes, and add a bit of style to your display shelf while you do it! We've brought together the best in a list of The Walking Dead Funko Pop! figures that every true fan of the show is guaranteed to find themselves drooling over.
If we had to choose just one hero from The Walking Dead then it would have to be Rick Grimes; after-all, Robert Kirkman's original series centers around his journey through the infected US, and the TV series that these figures are based on has followed suit. Demonstrating his skills as a natural leader by making tough decisions and taking his trusty band of followers from one safe zone to the next, it's Rick's tenacity that keeps people alive. So, if you are only going to add one Funko Pop! figure to your collection, it has to be Rick.
While there are a few different Rick Grimes models available, we think that he really comes into his own during Series 3, when the gang takes control of a semi-abandoned prison. After-all, this is when he first shows that he's got what it takes to be their cutthroat leader—and this model shows him ready for action.
Speaking of Series 3, this is when we meet The Governor—the villain that every Walking Dead fan loves to hate. The perfect companion for Prison Yard Rick, this Bandaged Governor figurine looks utterly formidable with a bloody bandage strapped over his missing eye. It was the Governor's ability to seemingly rise from the dead that made him such an utterly memorable character in both the graphic novels and the TV series, so his bloody and bandaged Governor model simply has to be one of the must-have The Walking Dead Funko Pop! figures.
If you're looking for a tough female character then The Walking Dead has plenty to choose from, but our favourite has to be Carol—perhaps more than any other character, the zombie apocalypse is her chance to show just what she's made of, and her development as the series goes on has made her a fan favorite. While there are bloody Carol models available too, we think it's this original design that shows her in all of her true glory. Of course, for everybody who shipped Carol and Daryl from the very beginning, the set isn't really complete until you have the two of them stood side by side—speaking of which, we've got just the figure for die hard Daryl fans…
While Daryl and his bloodthirsty brother Merle might not have been featured in the show's source material, nobody complained about his addition when they saw just how spectacular his fighting skills are. In fact, this bad boy with a sensitive side quickly became a firm fan favorite, and this slick, stylish black and white exclusive really brings the character to life.
With his classic leather vest and trusty crossbow in hand, this is a Daryl Dixon who's ready to protect his adopted family by any means necessary—so it's the best The Walking Dead Funko Pop! figure for anybody who wants somebody fierce to put on display. You can also pick up Injured Daryl and Rocket Launcher Daryl if you want a complete collection.
What's a Walking Dead miniature collection without a zombie or two? There's no point gathering together a band of your favorite fighters if there isn't anything there for them to actually fight, and luckily Funko have zombies a-plenty—including this "RV Walker," which doesn't look too intimidating thanks to the screwdriver that's been wedged through its eye.
It's this sort of detail that sets Funko apart; through this zombie figure, they're both capturing an exciting moment from the show (everybody remembers Andrea wielding that screwdriver), and creating a surprisingly sweet zombie figurine to set alongside your favorite zombie slayers.
Negan might be a relatively recent addition to the series, but that doesn't make him any less popular. Widely considered to be the best antagonist since the Governor, he's deliciously evil ramped up the conflict in an already tense series. Looking tough and ready to rough someone up with his barbed baseball bat "Lucille," the Negan figure is an instant classic.
Sit Negan and the Governor together for pure The Walking Dead villainy, or just enjoy Negan on his own—after all, there's plenty of charm in Funko's little model of this charismatic leader.
SPOILER ALERT… although if you don't already know that Hershel Greene meets an unfortunately bloody end then we have to ask where you've been for the past few years. This gory figure, complete with a bloody, severed neck lets us remember that tragic moment—and the detailing here is absolutely incredible, meaning that any Hershel fans will probably prefer this to the standard figure.
Hershel may have been gone from the series for a while now, but that doesn't make this bloody Hershel Greene any less essential for a The Walking Dead Funko Pop! figure collection: his position as the reluctant "Dad" of the group means that he'll always be one of our favorite characters.
You didn't think we'd forgotten about Michonne did you? When all is said and done, there's just about nobody who is as strong as Michonne. She's able to come out on top of almost every situation the apocalyptic environment can throw at her. Like many of the other characters on this list there are several different Michonne figures available, but we've chosen the classic model because of how many details Funko have included… in fact, this may well be one of the most detailed figures out there.
This includes a flexible cape, intricately styled head band and, of course, the blood splattered katana that shows just how tough Michonne really is.
For the last two items on the list, we've headed back to the prison—what can we say, as exceptional as every other series has been, for us that will always be one of the stand out story arcs! First up it's Glenn, complete with a full loaded (we can only assume) gun, bursting muscles, and that trademark hair flick. As one of the original members of the team, we think that Glenn deserves his place on the shelf alongside all those other Walking Dead stars.
Last but not least, we've got another zombie for you, and this infected prison guard looks pretty menacing. With bulging white eyes, blood dripping down his face, and even scratches on the helmet, Funko pulled out all the stops to ensure that this walker looks both stylized and somehow true to life. Flip up the helmet's visor to get a better look at the walker's pockmarked face, and enjoy recreating one of the most epic battles in the show to date—the moment that the survivors clear out the prison cells, coming up against a whole horde of these formidable guards.
So there you have it, some of the best The Walking Dead Funko Pop! figures out there, bringing all of your favorite characters to life with some impressive details and a unique style. Just be warned, once you start collecting The Walking Dead Funko Pop! figures, it's pretty difficult to stop!
About the Creator
Raised on a steady diet of makeup and games. Eager to share my experiences with the world and make a difference, article by article! :)
Reader insights
Be the first to share your insights about this piece.
Add your insights