Best Bruce Lee Movies
Bow down to the kung-fu master as you watch the best Bruce Lee movies.
It is rumored that Bruce Lee was reincarnated as Chuck Norris's beard. Perhaps that's why Bruce Lee is so aptly nicknamed "The Little Phoenix." Or maybe it's because he's a kung-fu master. Yeah, that sounds about right. Getting his start as a child actor in Hong Kong, Bruce Lee eventually made his way to the United States and opened up several martial arts schools. He was devoted to the art of teaching and was successful. He gained recognition as an actor when he starred in The Green Hornet in 1966. From there, he and his family moved back to Hong Kong where he worked on a number of films. Bruce Lee set the standard as a kung-fu god which others strive to reach. Even after his death, Lee is known as the master of martial arts.
The Legend of Bruce Lee: Martial Arts Movie Star
It's unlikely you've never heard of Bruce Lee, regardless of whether you're into martial arts. The legendary actor and martial arts star has long been a household name and mainstay of pop culture, starring in movies that are still popular today. But what was it that propelled him to this immortal success? Read on to discover the past, present and yes, even future of Bruce Lee's unique legacy.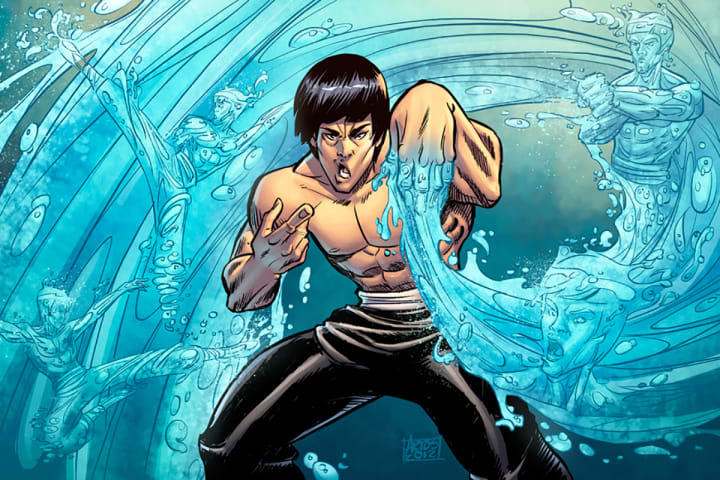 The Beginning
Bruce Lee (born Lee Jun Fan) was born on November 27th 1940 – the year of the Dragon, in San Francisco, California. His father was the Cantonese opera star Lee Hoi-Chuen, who was on tour in the US with the Chinese Opera. He got his first movie role just one year later in 1941 as an uncredited infant and went on to score five more acting roles before even turning ten years old (and around 20 in total as a child actor). In the early 1940s, the family returned to their home in Hong Kong, where Lee was raised. At 13, Lee began training in martial arts. He also took an interest in dance and went on to win the Hong Kong 'cha cha' competition. Lee was also an accomplished poet. But after experiencing bullying from British expat students at school, he joined a street gang. In 1953, he began learning the art of Chinese Gung Fu under the instruction of Master Yip Man.
Later that decade, he moved to the US to complete high school, living with friends of the family and finding work as a dance instructor. At 18, he began his studies in Philosophy at the University of Washington, where he began spending his spare time training students in Gung Fu. Later into his college years, he opened the Jun Fan Gung Fu Institute and also met Linda Emery, who later became his wife in 1964. Together, they raised their children Brandon and Shannon in Los Angeles, where Lee set up a further institution. So how did Bruce Lee go from child actor and Gung Fu instructor to legendary martial arts movie star?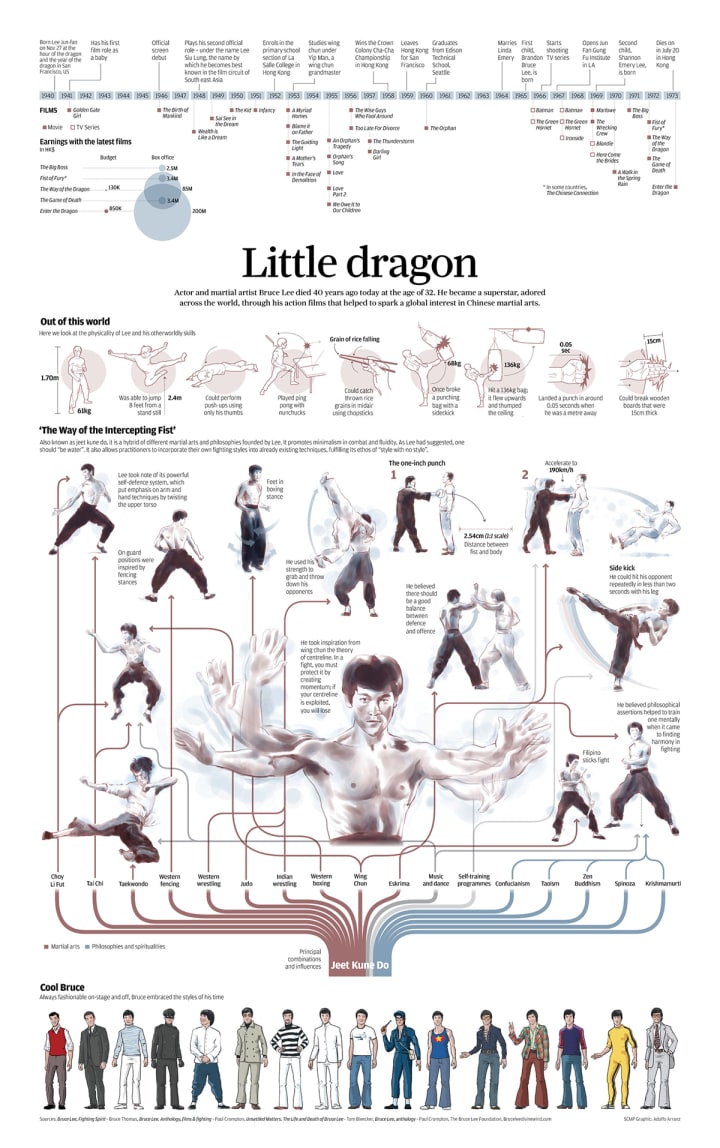 Celebrity Trainer to Celebrity Status
After setting up his institutions and developing his training in martial arts, Lee later developed his own form of martial arts called Jeet Kune Do. Through his inarguable skill and dedication, Lee eventually went on to train many famous clients including Steve McQueen and James Coburn, leading him to become a celebrity in his own right. His first step into the American media was his role as Kato on the TV Series The Green Hornet between 1966 and 1967.
He later went on to star in hit movies that propelled him to superstar status. His most notable feature-length roles were in The Big Boss (1971), Fist of Fury (1972), Way of the Dragon (1972), Enter the Dragon (1973) and The Game of Death, which was never completed due to Lee's death. However, over 100 minutes of footage had been shot and the incomplete film featuring Lee was released in 1978.
Cultural Effect
Bruce Lee has been credited with changing the way the rest of the world views Asian people in film, as well as being the key factor in the improved popularity of martial arts in Western productions. Prior to Lee's era, characters of Asian ethnicities were often depicted in a derogatory way or poked fun of, such as Charlie Chan and his stereotypical phrases. Then came Enter the Dragon, with Lee playing a strong, proud Asian man full of action and power. He wasn't a stereotype and he wasn't a sidekick – he was the main role and he rocked it. Needless to say, this made quite an impression on Chinese-American and Asian-American viewers.
Not only that, Lee's action-filled performance helped to improve the Hong Kong film industry as audiences worldwide sought out more martial arts on their screens. Today, Hong Kong's movie industry comes only second to Hollywood and that may not have been the case without Lee. As for Lee's effect on martial arts? More students began training in martial arts during the 1970s than ever before. You can't deny that's down to his movies.
The Future
While Bruce Lee is no longer with us, that's not to say he can't hold his place in mainstream media. In addition to the ongoing sale and popularity of his movies, it was announced in March 2016 that the first installment of the first official Bruce Lee comic book series will be released in April. 'The Dragon Rises" comic book features accurate illustrations of Lee and is written as a "present day adventure" full of both action and comedy.
The comic book is the creation of Lee's daughter–Shannon Lee–artist Brandon McKinney and artists Jeff Kline and Bernard Chang. The story is based on a 'what if' scenario – what if Bruce Lee hadn't died, hadn't aged and is out there in the modern world, trying to make sense of it all.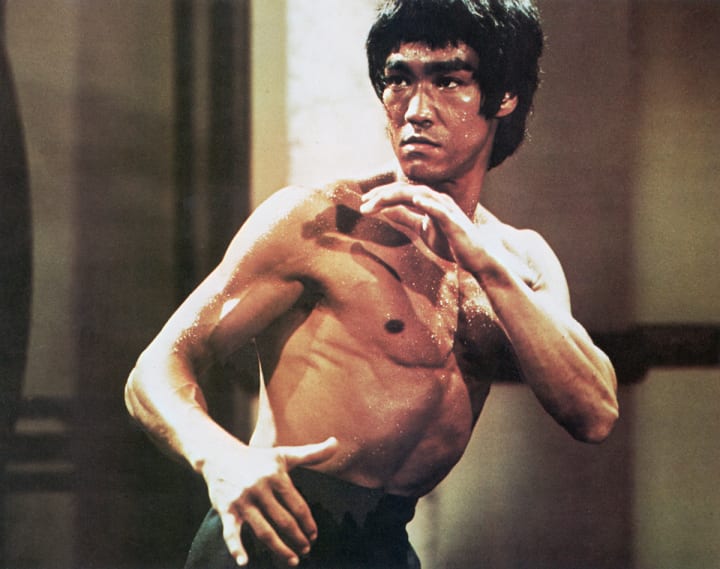 Bruce Lee's Legacy
Although he tragically passed away in Kowloon Tong on July 20th 1973 at just 32 years old after an allergic reaction to a pain medication he was taking, Bruce Lee's legacy lives on. His movies are available all over the world and fans of the martial arts movie star can pay their respects by visiting his final resting place at Lakeview Cemetery in Seattle, Washington, or represent their icon by purchasing from the wide range of merchandise available at brucelee.com. You'll find books, movies, posters, apparel and even "Bruce Tea," a line of natural, energy infused "superpower" teas said to be Bruce Lee's original recipe.
Lee drank tea every day, enhanced with powerful supplements to boost his training. You can also support the Bruce Lee Foundation, or follow them on Twitter at @brucelee. So whether you want to learn more about Bruce Lee, stay updated on his family news, rep his apparel or try out some new beverages, the internet has you covered. But in the meantime, celebrate his legacy by checking out our list of the best Bruce Lee Movies of all time.
The Way of the Dragon is a 1972 martial arts action comedy film. This movie is where the well-knownBruce Lee and Chuck Norris fight scene resides. It was written, directed, and produced by Bruce Lee and, as if that's not enough, he also starred in it as the main character. The protagonist Tang Lung is enlisted from Hong Kong to help his relatives when their family-owned restaurant in Rome is threatened by a local mafia boss who wants their property. Through martial arts, the gangsters and Tang, with help from the restaurant staff, engage in physical battles. The mob boss will stop at nothing to get what he wants so he hires the best Japanese and European martial artists to defeat Tang. The final epic showdown takes place in none other than Rome's Colosseum, but you'll have to watch the movie to see who hails as victor.
Bruce Lee starred in his first leading role as Kid Cheung in this adaptation of a comic strip by Yuen Po-wan. Cheung is a ten-year-old orphan who sells comics in the slums as a way to make a living for his family. He and his siblings are being raised by their Uncle Yee. After an encounter with the vicious thief Blade Lee, Cheung befriends the bad guy and is taken under his wing as a sort of apprentice. As Cheung struggles with wrong and right, a kind factory owner, played by Lee's real life father, comes to his rescue and tries to help the young boy develop a better value of life and living.
Shoalin martial artist, Lee, turns undercover agent, in the 1973 film, Enter the Dragon. Bruce Lee plays Lee, who is recruited by the British Intelligence Agency to spy on a crime lord and uncover his illegal businesses. The evil villain holds a martial arts tournament every year, so Lee uses his skills to get an invitation, then heads to the criminal's island on a secret mission. With showdown after showdown, the fighting sequences are perfectly executed and offer a wide variety of martial arts.
Well known for being "unfinished," Game of Death is the 1972 film directed, written, produced by, and starring Bruce Lee. In the film, Bruce Lee played the character Hai Tien, who is a retired martial arts champion. He is confronted by underworld gangs and asked to participate in the seizure of something that is being protected in a pagoda guarded by highly skilled martial artists. When he refuses, his younger siblings are kidnapped, forcing him to participate. Hai and four others then battle their way up the pagoda, encountering a new challenge on each of the five tiers. The other four martial artists on Hai's team are beaten and Hai has to compete in one-on-one combat. Hai defeats the giant guardian successfully, but heads down the stairs instead of towards the top of the pagoda to retrieve the awaiting object. There is no surviving material of the film to explain how this affects Hai or his family.
Cheng Chao-an, played by Bruce Lee, is a Chinese man who moves to Thailand to live with his cousins. He works in an ice factory. When a block of ice is dropped, some workers accidentally discover there are drugs frozen in random ice blocks, and it is suspected that the factory is a cover for a larger drug business. The workers refuse to cooperate with the bosses and, as a result, they mysteriously disappear. Some of these workers are Cheng's cousins. As unrest erupts in the factory with the missing people, Cheng is promoted to foreman to keep the peace, and he is given alcohol and prostitutes. More secrets are uncovered that ultimately lead to more action and violence among characters. Cheng encounters an epic battle with the crime lord and his gangsters before the movie concludes in a surprising ending.
This martial arts and fantasy movie was co-written by Bruce Lee. He intended to star in the film himself, but died before its production. The screen play was completed after his death and released in 1978. The movie opens with a martial arts tournament in which the winner will begin a quest to challenge Zetan, who possesses a book that supposedly contains all the world's wisdom. After he is disqualified from the competition, Cord stumbles upon a blind man who has just easily fended off a gang of thugs who attacked him. Cord asks the old man to teach him his ways but the blind man refuses and they part ways. Cord then experiences a series of obstacles that require him to make a conscious decision about right and wrong. Cord makes a wrong decision and someone is dead as a result. He eventually crosses paths with the old blind man again and Cord is taught life lessons when the man agrees to be his teacher. With an ending that is both deep and surprising, this movie is a look into the mind of Bruce Lee as a writer.
An Orphan's Tragedy is a movie of twists and turns within the plot. After being framed for selling counterfeit medicine, Dickson Fan was wrongfully convicted and spent ten years imprisoned. Before his sentence is over, he escapes prison to a farm and meets young Frank Wong, who helps Fan elude the police. Eventually, Fan discovers that Frank is his biological son and gets a job in order to anonymously give his son money to study medicine. Upon graduating school, Frank begins work at a medical company owned by To Chai-yan, the man responsible for Fan's imprisonment. History repeats itself and Frank finds himself in a compromising position.
Bruce Lee was second to none when it came to being a martial arts star. He has set the standard for which martial arts heroes are constantly measured against. Bruce Lee: A Warrior's Journey is a documentary about the life, career, and unfortunate death to show us the talented actor we knew and the man behind the scenes. With interviews, behind the scenes footage, and never before scene action from Lee's last unfinished film, Game of Death, we are offered a complex look at one of the world's most famous kung-fu masters.
In his second major role following The Big Boss, Bruce Lee plays Chen Zen in this major film. Upon his arrival back to a martial arts school to be married, he is met with tragic news that his master died from illness. Plagued with an angry side, Chen is often retaliating or fighting. When Chen uncovers a secret about his martial arts master's death, Chen can't hold back. This action packed movie is about revenge for the fallen.
This movie is a biographical drama based on the life of Bruce Lee that starts with him as a child, chronicles his rise to fame, and ends with his untimely death. The 1993 film opens having a horrible nightmare that haunts him his whole life. Lee is shown receiving martial arts training in a montage that leads us to his teenage years. After leaving Hong Kong, he travels to America, meets the woman who will be his wife, opens a martial arts school, and raises a family. The biography follows his success and failures as a human, a businessman, and an actor. As a unique look into Bruce Lee's life, this film is a must see for any of the fans of this martial arts expert.
About the Creator
Definitive movie buff. Quickly realized that it was more financially prudent to write about film than trying to beg for millions of dollars to make his own.
Reader insights
Be the first to share your insights about this piece.
Add your insights