Adam Savage - 'Every Tool's a Hammer: Life Is What You Make It' (Book Review)
Mythbusters host dives into what made him who he is today

Adam Savage - 'Every Tool's A Hammer: Life Is What You Make It' - Out Now!
Adam Savage. Many know him from his time as one of the hosts of the hit Discovery Channel show Mythbusters alongside Jamie Hyneman. Mythbusters ran for 14 years and in that time Adam became a firm favourite due to his passion for building, innovating and all around nice guy persona. Since the show ended, Adam went on to run another science and invention based show on YouTube called Tested (there is also Tested.com which I recommend checking out if you have a spare 10,000 hours). Tested continued to grow with people loving Adam's 'One Day Builds' series, where he has 24 hours to complete a project. This passion for making, building, tinkering and curiosity of finding solutions to problems had to come from somewhere.
This is when Adam announced he had written a book about his life and the people along the way who had helped him become the building and making icon he is today titled - Every Tool's A Hammer: Life Is What You Make It.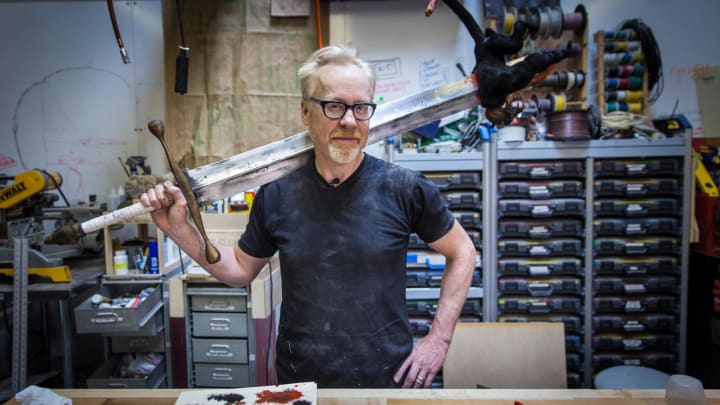 Every Tool's a Hammer is a no holds barred look into Adam's young life and what inspired him to pick up a scalpel or pencil and draw, cut, and find solutions to the problems that life threw at him.
From a young age, Adam showed his expression for making (especially making lists), repairing his old teddy using his father's tool, even after his father told him not to. This would spark a life long passion for Adam which has left him as one of the world's most loved nerds whilst remaining down to earth and just as giddy about completing things as the rest of us!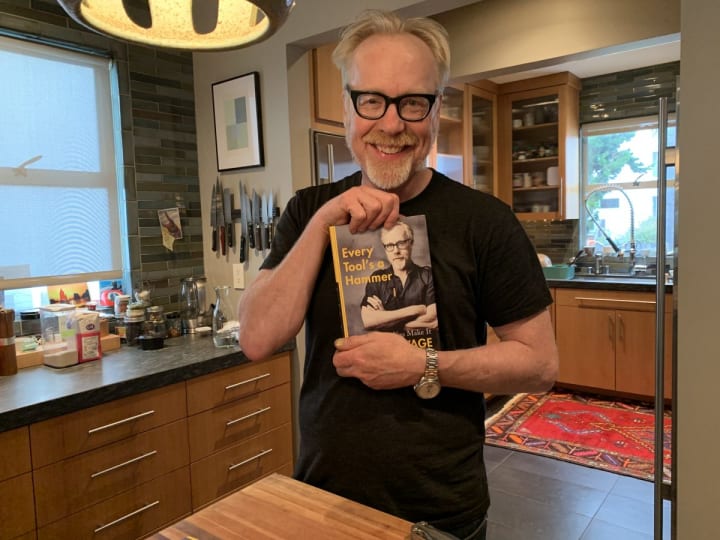 I thoroughly enjoyed every page of this memoir/autobiography/help guide, despite having the building abilities of a goldfish I felt as though this book would be able to change my approach to things, especially to my studies! Finding new ways to make my workspace more inviting and my lists more concise and understandable are all hugely beneficial and all things I can thank Adam for.
The personal look into his life, his times and his failures along the way really allow for an emotional and funny insight into how things wound up like they are. The diagrams and images used throughout are very high quality and provide great additions to the topic he's talking about. Also, it's great to finally see some of his sketches and lists created for those well loved Mythbusters and Tested projects.
I only wish it was a little longer with more diagrams, images, lists, plans and stories from work he'd done and what he is planning on doing in the future. As well as maybe a few stories about how Tested has changed his approach to projects further or his continued love for cosplay and Comic-Con. I hope Adam continues to write books in the future, it is obvious from his style that he thoroughly enjoys everything he does and frankly its contagious. I would love to see a book of all the 'One-Day Builds', that would be a great follow up.
Honest, intriguing, and personal Every Tools a Hammer: Life Is What You Make It is a must have for any nerd, maker, builder, cosplayer or lover of people who are really passionate about what they do.
Rating: 4 1/2 stars (****1/2)
Links to buy Every Tool's a Hammer:
Follow Adam Savage:
Facebook: @therealadamsavage
Instagram: @therealadamsavage
Twitter: @donttrythis
Tested YouTube: Adam Savage's Tested
Tested Web: https://www.tested.com/
Follow Me (Tom):
Instagram: @tomsturtridge
Twitter: @tomsturtridge
Goodreads: Tom Sturtridge
Vocal.Media: Tom Sturtridge