"A Lesson Before Dying" by Ernest J Gaines
A Reading Experience (Pt.45)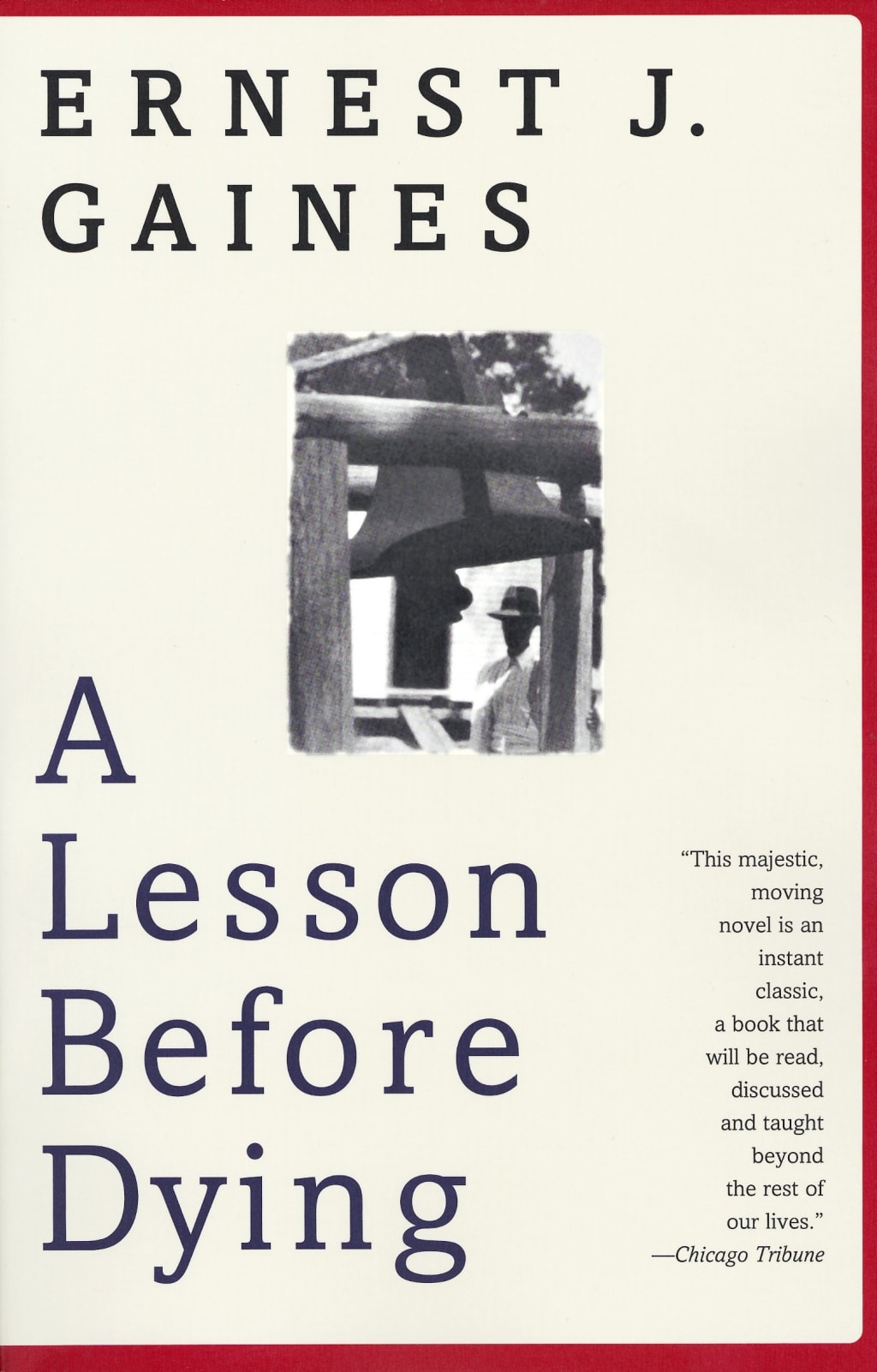 I first read this book in school whilst I was first reading "To Kill a Mockingbird" by Harper Lee and even though Harper Lee's book absolutely wowed me, this book hurt me in ways I couldn't even imagine. If you want to read about how African American people are mistreated by the justice system, and how they are systemically made to look evil and violent then you definitely need this book. I recently re-read it and it made me cry yet again like it did last time. There's something incredibly dark and uncomfortable about this book and yet, it is enlightening because it teaches us so many things about injustice, prejudice and the value of human life as seen by three different sides: the teacher, the individual and the reader. It is unbelievably moving in its writing style, its storytelling technique, its politics, its time, era and order, the way in which America is prejudice against the outsider and finally, we get various lessons in what it means to be alive and what it means to die. The high emotional stress of this book gets me every time I pick it up and ever since I first read it, I have been moved by it every single time. There's nothing more emotional than seeing someone convicted of something they didn't do and absolutely nobody believes them. They turn to their teacher and yet, it almost feels like it could never be enough. There's something holding it back and stopping it from having a contented ending. You're left feeling a little hollow and a little guilty, as if you wanted to scream out that this man is innocent. It is heartbreakingly good and the book will always remain with me for as long as I live.
My favourite character was Jefferson. Jefferson is the character convicted of a crime he did not commit. When he is sentenced to death, his teacher comes to teach him morality and how to be a man in his death. Jefferson is beaten down and knows he can do nothing about it, but when his teacher turns up and it is known that people on the outside care about him, he seems to pick up his mood ever so slightly. An unbelievably moving book, it has a character with an amazing amount of emotional range and humanity. Jefferson is the most three-dimensional character in the book and one of the most humane characters in African American Literature, but he seems to be detached from the entire outside world when he goes to jail. He's an innocent man but he doesn't stand up for himself, he doesn't even try because in his world, in this America, it is no use. He will be convicted anyway. After this, all he needs to do is learn the last thing he wanted to learn before he dies - how to turn from boy to man and how to accept whatever fate may bring him. It is touching and his ending is just moving in all kinds of ways. Hyper-realistic and possibly one of the best written characters in 20th Century Literature, Jefferson represents every black person who has ever been convicted of something they didn't commit, had to pay for a crime they didn't do, paid with their lives because of brutal figures of service and protection and all of the prejudices against them for which they have suffered greatly. Jefferson is an amazing character with an intense, deep and emotional story which you just become so attached to - it's just so upsetting to see him go.
In terms of themes, dying and death is a big theme and the acceptance of it is even bigger. We have a great amount of teachings in the book about the acceptance of death and Jefferson's teacher Grant makes a great argument for learning about one's self before the inevitable demise comes around. The execution scene is possibly one of the most touching parts of the whole book because it represents that even though all the learning and humanity, innocence and education is right there in front of us, there is still no justice, no progress and no saving this poor, innocent man from his fate made by a system that convicts him on the colour of his skin. It is a touching story yes, but ultimately it is a sad one and yet, it is one that seems to never end. We see it every day, all the time and we will continue to see it still until something is done.
I think that this book is more important than ever today with the police brutality against black people and the racial profiling which seeks them out and convicts them, sentencing them to death without trial or arrest in the USA. Jefferson is all of them, from Emmett Till to Breonna Taylor and further. And he will continue to be all of them until this is stopped. All of the innocents who have learnt, been taught about themselves and then, in the prime of this education - die. He is all of them and so much more.